2010 CECAFA Senior Challenge Cup
November 2nd, 2010 | by: sscouser |

Comments(6)
PREVIOUS WINNERS: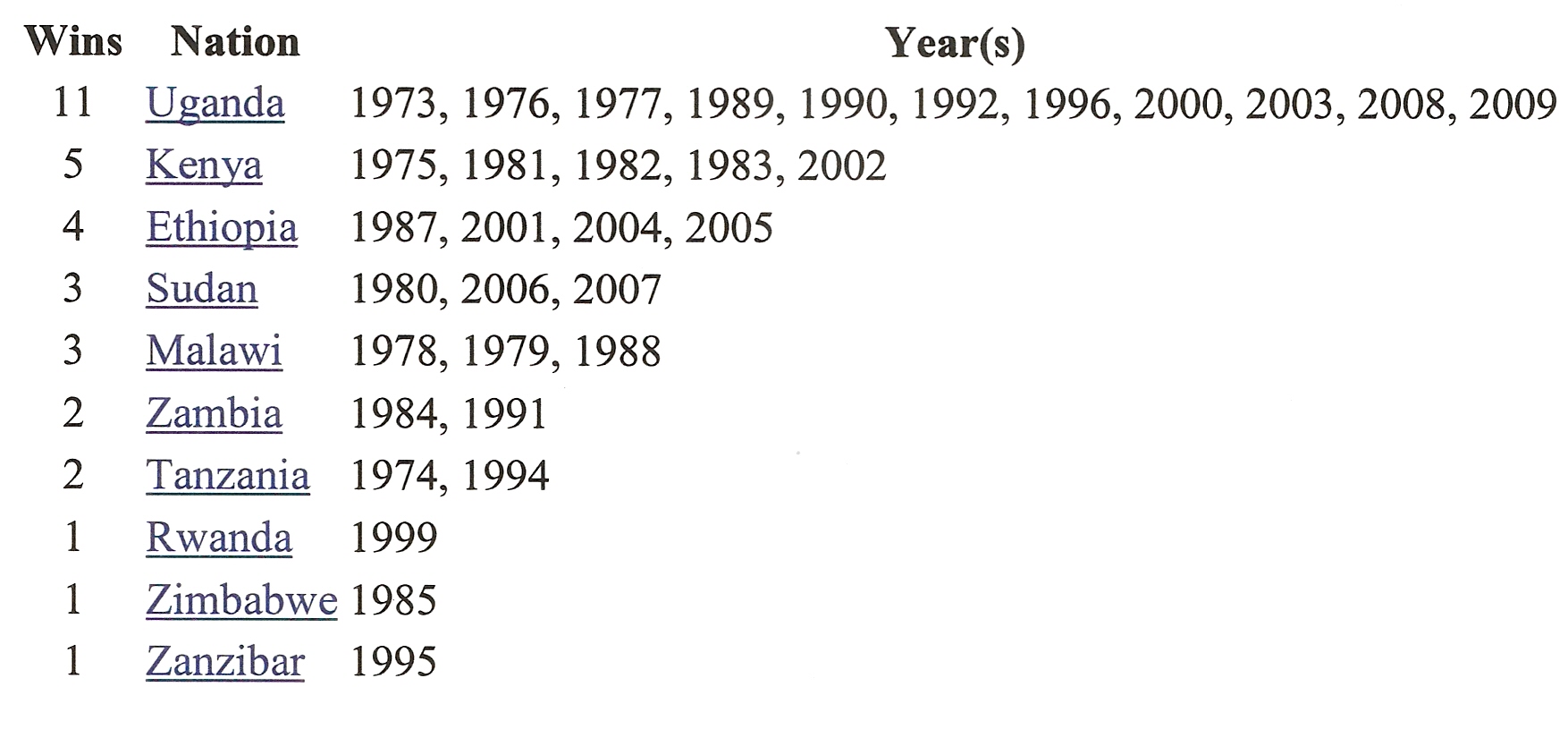 The CECAFA Senior Challenge Cup is the oldest football (soccer) tournament in Africa. It is organised by the Council of East and Central Africa Football Associations (CECAFA). Teams that take part in CECAFA include Central and East Africa teams (Kenya, Uganda, Tanzania, Sudan, Ethiopia, Eritrea, Zanzibar, Somalia, Rwanda, Burundi and Djibouti). Former participants include Malawi, Zambia and Zimbabwe. In 2005 and 2006 the tournament was sponsored by Ethiopian/Saudi businessman Sheikh Mohammed Al Amoudi, and was dubbed the Al Amoudi Senior Challenge Cup.
The CECAFA Senior Challenge Cup is the successor tournament of the Gossage Cup, held 37 times from 1926 until 1966, and the East and Central Africa Senior Challenge Cup, held 7 times between 1965 and 1971.
In 1994 Malawi and Zambia pulled out of CECAFA and joined COSAFA. The COSAFA Senior Challenge is an annual tournament for teams from Southern Africa and it is organized by Council of Southern Africa Football Associations. It was inaugurated after the ban against the Republic of South Africa had been lifted and the Africa Cup of Nations had been staged there in 1996. It features "the very best of Southern Africa's talent and affords spectators the opportunity to see not only the finest talent of today, but the stars of tomorrow." The following teams have participated in the tournament in the past: Angola, Botswana, Comoros, Lesotho, Madagascar, Malawi, Mauritius, Mozambique, Namibia, Seychelles, South Africa, Swaziland, Zambia and Zimbabwe.
On July 13, 2009 I wrote: MALAWI SHOULD RECONSIDER PARTICIPATION IN CECAFA
This year's regional Council for East and Central African Football (CECAFA) Senior Challenge Cup promises to be a thriller because Ivory Coast, Zambia and Malawi have confirmed participation. Serengeti Breweries will sponsor the tournament to a tune of US$450,000, which will cater for transportation of teams, accommodation, etc. The tournament will take place in Tanzania between November 27 and December 11 and the games will be played in Dar es Salaam and Mwanza. Mainland Tanzania hosted the tournament in 2007. Uganda hosted the tournament last year. Last year GTV coughed US$500,000 (Approx Kshs 40 M). Winners (Uganda) received US$ 30,000. Runners up received US$ 20,000 while the third placed team received US$10,000. It's not about the money. Team cohesion?
CECAFA Secretary General Nicholas Musonye confirmed to Cafonline.com this morning (Tuesday) that although Cameroon who had showed willingness to take part they have remained silent on confirming their participation, the draws will be made tomorrow without them. The Indomitable Lions together with Cote d'Ivoire, Zambia and Malawi were the teams outside the CECAFA region invited for the two week tourney, to give the event a competitive edge.
Uganda Cranes assistant Coach Moses Basena has welcomed the development that African giants Ivory Coast will be taking part in the event. He said this year's tourney provides a significant warm up for Cranes ahead of the 2011 Africa Nations Championship (CHAN) to be held in Khartoum, Sudan in January. Cote d'Ivoire will feature "local" players as Drogba and the other international players will be away with their respective clubs across Europe.
"Of course facing Ivory Coast in Dar es Salaam would give us a chance because you never know we may face off again in CHAN ," Basena said. Teams that will take part in the 2010 CECAFA Challenge Cup and also qualified for CHAN Sudan 2011: Cote d'Ivoire, Rwanda, Uganda, and Sudan.
Cameroon, Djibouti and Eritrea have opted out of 2010 CECAFA Senior Challenge, leaving only 12 nations: Kenya, Ethiopia, Burundi, Rwanda, Somalia, Sudan, Zanzibar, Tanzania, Ivory Coast, Malawi (guest), Zambia (guest) and defending champions Uganda. "We have 12 confirmed teams, which will make drawing of the fixtures easy for us and we hope the event will be successful," – Nicholas Musonye, CECAFA Secretary General.
Since the tournament is not on FIFA Calendar most teams will feature "local" players. Malawi will feature the same "local" players that were supposed to make it to the 2010 COSAFA Senior challege Cup (Postponed).
November 17: Malawi vs. Tanzania Rwanda (friendly). Botswana vs. Tunisia; Togo vs. Chad (AFCON 2012 Qualifiers Group K)
Subscribe

Malawi World Cup Team Blog RSS Feed

Share
Comments

The Draw for the 2010 CECAFA SENIOR CHALLENGE
http://malawi.worldcupblog.org/team-news/the-draw-for-the-2010-cecafa-senior-challenge.html
Posted from
United States

malawi and zambia should remain cosafa members. They should continue participating in cecafa as guests because cecafa is weaker. no cecafa team made it to the last edition of africa cup of nations while cosafa had zambia, malawi, mozambique and angola

Marcus, please don't forget that during COSAFA Senior Challenge most teams feature their reserve or junior sides mainly consisting of local players because COSAFA Senior Challenge is not on FIFA Calendar. Though CECAFA Senior Challenge is not on FIFA Calendar, not being on FIFA calendar doesn't matter much because most teams in CECAFA do not have foreign based players.
Posted from
United States

But honestly speaking, what will Malawi and Zambia benefit from CECAFA? I want to agree with Marcus Mulenga that the two countries must remain in COSAFA.

Limbani, before I answer your good question, could you tell us what Malawi benefits from COSAFA.
Posted from
United States

2010 CECAFA : Group Games – Match 1
http://malawi.worldcupblog.org/team-news/2010-cecafa-group-games-match-1.html
Posted from
United States
Comments are closed