2010 CECAFA SENIOR CHALLENGE CUP 1/4 FINALS
December 5th, 2010 | by: sscouser |

Comments(11)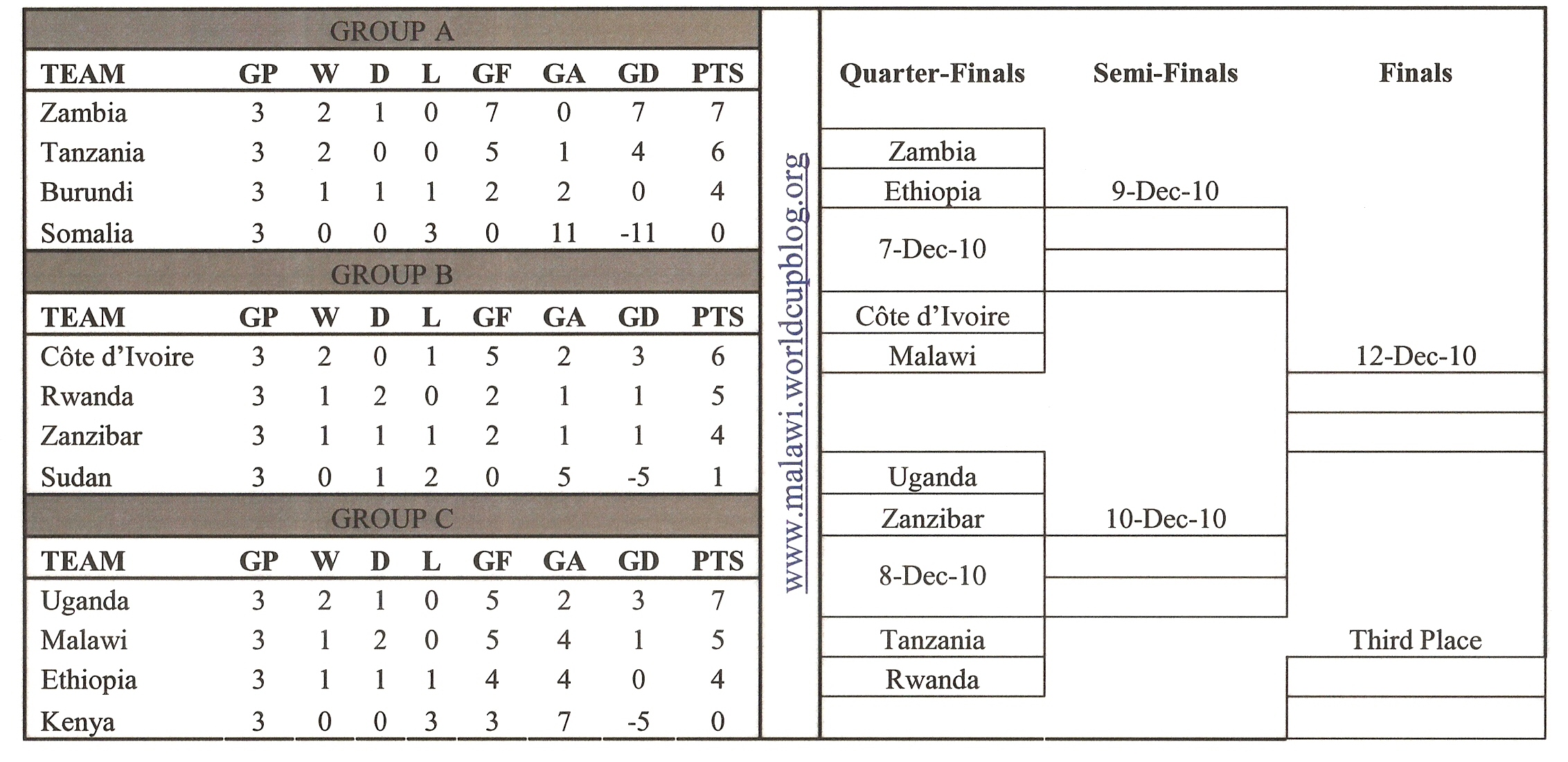 Two top placed teams from each group have advanced into the quarter-finals and have been joined by two best third placed teams. Click here for Group Matches Results.
CECAFA at it again: At the unveiling of the 2010 CECAFA Senior Challenge Cup (Tusker Trophy) in Tanzania on 24 November, 2010 CECAFA Secretary General Nicholas Musonye said should the guest team win the final, then the first runners-up would clinch the actual trophy, but the Sh45 million cash prize will go to the former. However, the CECAFA official pointed out that should the three of them take the top positions, they would take the prizes and the actual trophy.
Malawi, Zambia and Côte d'Ivoire are guest teams at the tournament. Malawi and Côte d'Ivoire will face each other in the 1/4 finals. And the winners will face the winners of the Zambia/Ethiopia match. This means that the guest teams will not take the three top positions and therefore if one of the guest teams will make it to the finals and win it all then the guest team will only win the prize money and a replica trophy. "Yes, they can win the prize money and replica trophy if they win the tournament," Musonye said.
Subscribe

Malawi World Cup Team Blog RSS Feed

Share
Comments

Flames it's now or never. This is the time to win something.

Well done and good luck Flames.

Will the hosts (Tanzania) make it to the Finals? By the way, home hopes were dashed on the opening day of the Metropolitan COSAFA Under-20 Youth Championships in Gaborone on Friday as Zimbabwe beat hosts Botswana 3-0. No wonder our cousins have been quiet.
Other (COSAFA Under 20) Results (Weekend):
Group B: Lesotho 2:2 Namibia
Group C: Zambia 2:2 Angola
Group D: Madagascar 5:0 Seychelles
COSAFA Under-20 Matches played today:
(Group A): Botswana 3:0 (2:0) Swaziland (at 1-0 Swaziland had a goal disallowed).
(Group B): South Africa 1:2 (0:2) Lesotho (Lesotho through to Semi-Finals?)
(Group C): Mauritius 0:2 (0:2) Angola.
(Group D) Seychelles 0:2 (0:2) Mozambique (2nd half: 2 Seychelles Red cards: off the ball headbutt and …)
Winners of each group go straight to Semi-Finals. The Junior Flames (Malawi U-20) were in Group A but withdrew. Lucky Botswana!
Posted from
United States

Go Zambia!

I see Malawi and Zambia going to the semis.
However, CIV is growing with each game so the Flames should watch out.
The Cranes are coasting thanks to their experience. However, Zanzibar is their bogey and could cause them problems.
Rwanda are a favorite to win it all.
Caveat: The 1/4 finals have no extra time. So any team can park the bus for 90min and wait for penalties.

Zambia 1:2 Ethiopia (Ethiopia through to the Semi-Finals)
17′ Goaaaaaaaaaaaaaaaaaaaal!!!!!! (Ethiopia 1 Zambia 0)
24′ Goaaaaaaaaaaaaaaaaaaaal!!!!!! (Ethiopia 2 Zambia 0)
37′ Red Card (Zambia: Thomas Nyirenda sent off for second bookable offence)
55′ Goaaaaaaaaaaaaaaaaaaaal!!!!! (Ethiopia 2 Zambia 1)
After the match, Zambia coach Dario Bonetti was furious with the officiating.
"It's difficult to play a match when the referee has a bad game. Why did he deny us a goal in the first half," posed Bonetti adding, "he made many mistakes and they are important in the final analysis of the game. Am sorry but the quality of officiating was poor."
Ethiopia Coach Ife Onoura: "We were good value for our win but we made it hard for ourselves. It was a long second half as the ten men of Zambia worked hard and for sometime we could not deal with them but that happens at times when a team is reduced to 10 men they find energy from somewhere. I am delighted and happy that we have made the semis, the boys have worked hard and we can now sit back and wait for our next opponents."
Posted from
United States

I see Malawi winning by 2-0 margin to book their semi finals in a rematch against Ethiopia.Malawi will then win by a 1-0 margin all the way to the Finals where they will meet Rwanda and win it all.

Malawi 0:1 Cote d'Ivoire (Cote d'Ivoire through to the Semi-Finals). 80′ Goal!!!!!!!!!!!!!!!!!!!!!!!!!!!!!!!!!!!
Malawi Coach Kinnah Phiri: "We did not deserve to lose but we have all learnt a lot from this tournament and look forward to being invited again next year."
Cote d'Ivoire Coach Koudio Georges: "We are learning a lot from every match and now we look forward to meeting Ethiopia"
Ukraine bound Elvis Kafoteka fractured his wrist 7 minutes into the game and was substituted there and then. No wonder we lost? Reportedly, he will be out of action for about 4 weeks. Get well soon. Fortunately, Malawi's next competitive game will be against Togo in March, 2011 (Africa Cup of Nations 2012 Qualifiers Group K)
Posted from
United States

2010 CECAFA Matches played today:
Uganda 2:2 (5:3 PSO) Zanzibar (Uganda through to Semi-Finals)
Tanzania 1:0 Rwanda (Tanzania through to Semi-Finals)
2010 CECAFA Senior Challenge: Semi-Finals
http://malawi.worldcupblog.org/team-news/2010-cecafa-senior-challenge-semi-finals.html
2010 COSAFA U-20 Matches played today:
GROUP A: Zimbabwe 3:1 Swaziland (Zimbabwe through to Semi-Finals)
GROUP B: Namibia 2:0 South South (Namibia through to Semi-Finals)
GROUP C: Zambia 2:0 Mauritius (Zambia through to Semi-Finals)
GROUP D: Madagascar 2:0 Mozambique (Madagascar through to Semi-Finals)
The hosts (Botswana) have failed to make it to the Semi-Finals.
Our cousins are stressed out. Just imagine how stressed out they will be if they fail to qualify for the 2012 AFCON.
Posted from
United States

The headline of the article should say CECAFA quarter-finals not COSAFA quarter-finals.

Thanks Mark. Fixed. Do you remember that you also corrected me here. Which auditing firm do you work for?
Keep me in check. I am human.
Posted from
United States
Comments are closed