2011 CECAFA Senior Challenge Semi-Finals
December 6th, 2011 | by: sscouser |

Comments(10)
Rwanda, Sudan, Uganda and Tanzania are through to the Semi-Finals of the 2011 CECAFA Senior Challenge. In the Quarter-Finals, Rwanda beat Zanzibar 2-1; Sudan beat Burundi 2-0; Uganda beat Zimbabwe 1:0; Tanzania beat Malawi 1:0

Semi Finals (8 December 2011): Rwanda vs Sudan; Uganda vs Tanzania
Finals (10 December 2011)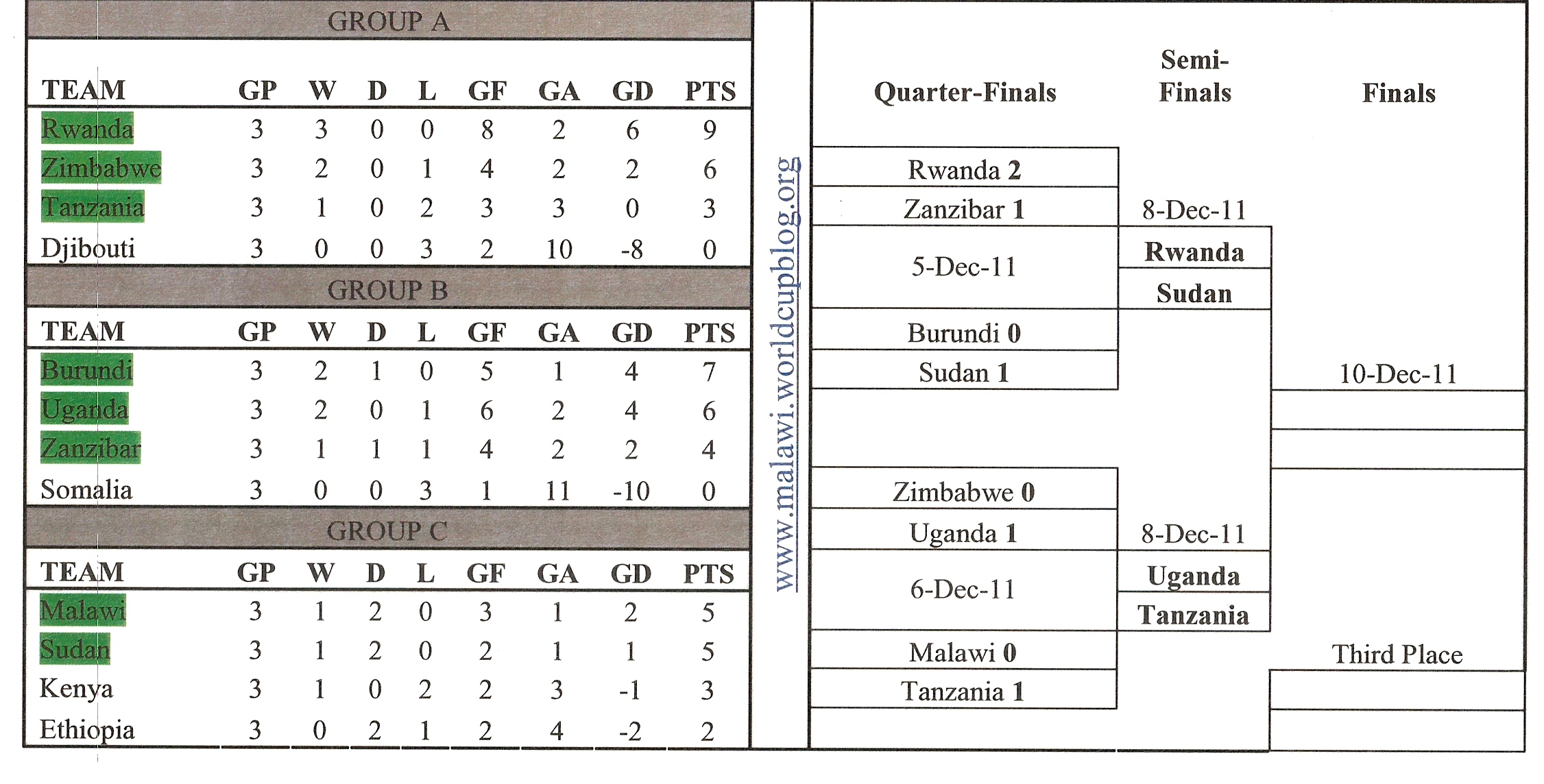 Subscribe

Malawi World Cup Team Blog RSS Feed

Share
Comments

2011 COSAFA U-20 Tournament being held in Botswana
Group A: Botswana, Comoros (withdrew), Swaziland, Mozambique
Group B: Seychelles, Malawi, Lesotho
Group C: Zambia, Tanzania, South Africa, Mauritius
Group D: Angola, Madagascar, Namibia, Zimbabwe
1 Dec: Botswana 0:0 Mozambique; Malawi 2:0 Seychelles
2 Dec: Angola 1:0 Madagascar; Namibia 1:1 Zimbabwe; South Africa 4:0 Mauritius
3 Dec: Zambia 3:3 Tanzania (guests)
4 Dec: Malawi 3:2 Lesotho; Swaziland 1:3 Mozambique; Tanzania 1:1 South Africa; Mauritius 0:4 Zambia
5 Dec: Zimbabwe 2:3 Angola; Lesotho 3:1 Seychelles; Madagascar 1:3 Namibia
6 Dec: South Africa 1:5 Zambia; Tanzania 3:1 Mauritius; Swaziland 0:3 Botswana; Madagascar 5:5 Zimbabwe; Namibia 3:4 Angola
8 Dec: Semi-Finals:
Botswana (Winner A) vs Angola (Winner D); Malawi (Winner B) vs Zambia (Winner C)
9 Dec: 3rd Place Play-Off
10 Dec: Finals
Posted from
United States

Bakari puts out the Flames
SuperSport 6 December 2011
Nurdin Bakari's 37th minute strike was enough to hand Tusker Cecafa Senior Challenge Cup hosts, Tanzania, a semifinal slot after beating Malawi 1-0 at the National Stadium on Tuesday.
The defending champions will now face the Uganda Cranes, who earlier saw off Zimbabwe with a similar score line, on Thursday.
The Malawi Flames saw better of the ball overall but it is the Stars who put their chances to count.
Bakari, who had for long troubled Pililani Makupe, Ndaziona Chilemba and company in defence, controlled Mrisho Ngasa's pass inside the area.
If his 37th minute fine execution with the outside of his right boot was sweet to over 40,000 home fans, it was bitter to the Malawians and goalkeeper Charles Swini as it beat him to his far right.
Thomas Ulimwengu should have given Boniface Mkwasa's side the lead earlier after Ngasa's deft work on the right but his weak shot was cleared out of danger by the Malawians.
Coach Kinnah Phiri's Flames were to return a different package after recess and Tanzanian skipper and goalkeeper Juma Kasseja will have attested.
Ndaziona Chatsalira, John Banda and Joseph Kamwendo all tested Kasseja as the Flames turned up the pressure cooker.
But counter attacks from Tanzania kept them at bay. Ngasa's solo run from his own half, beating a forest of bodies before Malawi's James Sangala made a desperate interception, was one of those checks.
Mkwasa's men held off Malawi's late challenge to book a repeat of last year's edition semifinal against Uganda. Then, the Kilimanjaro Stars carried the day 5-4 on spot kicks after normal time had ended goalless
Posted from
United States

Botswana thru to semifinals of u-20 cosafa. We beat Swaziland 3-0.

Letsego, don't forget to send a "Thank You" card to Swaziland.
Posted from
United States

Tanzania 1:0 Malawi Line-Ups
Tanzania:
Juma Kaseja, Shomari Kapombe, Juma Jabu, Erasto Nyoni, Juma Nyoso, Shaaban Nditi, mwinyi Kazimoto, mrisho Ngasa, Nurdin Bakari, ramadhan Chombo
Malawi:
Goalkeeper: Charles Swini
Defenders: Pililani Makupe, James Sangala, Steve Chagoma
Midfielders: Joseph Kamwendo, John Banda, Phillip Masiye, Chimango Kayira, Ndaziona Chatsalira
Strikers: Ishmael Thindwa, Loti Chawinga
Posted from
United States

sscouser in the semifinals Malawi u-20 will play against Angola and not Zambia.

So against Tanzania Malawi played 3-5-2?

Thanks Toto. At first I had Malawi vs Winner Group D but I changed to Malawi vs Winner Group C after COSAFA official website stated: "The winners of each pool will play in Thursday's semifinals, with the Malawians awaiting the winners of Group C. The top teams in Group A and Group D will meet in the other semi." Was I having an optical illusion? On the COSAFA Official website it now reads: "The winners of each pool will play in Thursday's semifinals, with the Malawians awaiting the winners of Group D. The top teams in Group A and Group C will meet in the other semi." What's interesting is that the last paragraph is not in bold. (You can see it here). Edited? I have saved a copy for my records.
8 Dec: Semi-Finals:
Botswana (Winner A) vs Zambia (Winner C); Malawi (Winner B) vs Angola (Winner D)
9 Dec: 3rd Place Play-Off
10 Dec: Finals
Posted from
United States

Toto, yes, Malawi played 3-5-2 but with midfielder Ndaziona Chatsalira also playing as a left back. The 3-5-2 formation relies heavily on the left and right fullbacks/midfielders. The midfielders have to play as wing-backs and work twice as hard to both defend and attack. You must have a strong and hard as nails player to protect the defense/defence, who is not afraid of tackling. Think of players like Roy Keane or Gatusso.
Again, we need a formation that suits the players that we have.
Posted from
United States

Semi Finals (8 December 2011): Rwanda 2:1 Sudan; Uganda 3:1 Tanzania
Finals
http://malawi.worldcupblog.org/team-news/2011-cecafa-senior-challenge-finals.html
Posted from
United States
Comments are closed