2011 COSAFA U-20 FINALS: Zambia 2:1 Angola
December 10th, 2011 | by: sscouser |

Comments(5)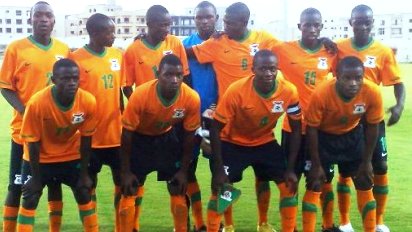 Defending Champions Zambia U-20 retained the title after beating Angola 2-1 today. Angola were the first to score on minute 33 when Paciencia Cristovao headed the ball home. The Young Chipolopolo equalised on minute 66 when Evans Kangwa netted his seventh goal at the tournament. They took the lead a minute into injury time when Kampamba lobbed the ball over Angolan keeper Francisco Lirio.
Earlier, the hosts Botswana beat Malawi 1-0 for third place.
Subscribe

Malawi World Cup Team Blog RSS Feed

Share
Comments

Congrats Young Bullets. Evans Kangwa, the 17-year-old Zambian striker who is wanted by Orlando Pirates, was voted player of the tournament and took home the Golden Boot Award for his seven strikes. This young mn will take us to a higher level. He has been included in the Zambia Squad for the upcoming Africa Nations Cup.

The Botswana goal was supposed to be a free-kick to Malawi. Even the Batswana I sat next to said that it was supposed to be a freekick. Our goal-keeper was fouled and was rushed to hospital a few minutes later.

Andrew, I understand Orlando Pirates have already signed Evans Kangwa and reportedly, Chiukepo Msowoya (Malawi National Team Player) will be loaned out in the January Transfer Window.
Henry, home ground advantage? Were the match officials from countries neighbouring Botswana?
Posted from
United States

@ Henry that's not true. What happened is a Botswana winger smashed in a low cross. The Malawian keeper spilled it onto the path of the on-running young Zebras midfielder, Kegomoditswe Baoleni who scored beating the goal keeper to the ball. There was no contact between the goalkeeper and the goal scorer. The goal keeper hurt his neck (he was not kicked) in a desperate attempt to catch the ball for the second time after spilling it.
He did not spill it close enough to himself to make a timeous recovery. Others even thought that he was not injured but rather too embarrassed with himself to continue with the game. Apparently the young lad thought he had blown away his chances of impressing scouts and buried his head in shame

Evans Kangwa is NOT 17 years old. If he is indeed 17, he must be a full time junior high/high school pupil. He is a full time football player in the Zambian super league. His FACE does not look 17 let alone 20.
Footballers can be beefy and gangly at any age because of physical training and special diet but the FACE tells it all. I looked at the guy up close and personal and realised that he has seen at least 23 festive seasons. You can tell if a girl is a virgin by just looking at her face. You can tell if a guy is an alcoholic/smoker by just looking at his face. It also applies to age irrespective of the diet or the genetical make-up.
Comments are closed