2013 AFCON Finals: Nigeria 1:0 Burkina Faso
February 6th, 2013 | by: sscouser |

Comments(41)
AFRICA CUP OF NATIONS SOUTH AFRICA 2013 (19 January – 10 February, 2013)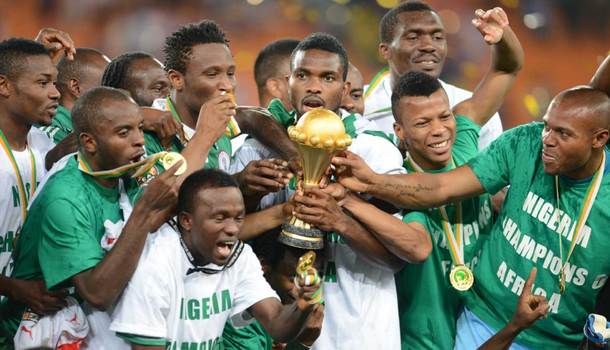 The road to the Finals
- Click here for Match Day 1 Results and Video Highlights
- Click here for Match Day 2 Results and Video Highlights
- Click here for Match Day 3 Results and Video Highlights
- Click here for 1/4 Finals Results and Video Highlights
- Click here for Semi-Finals Results and Video Highlights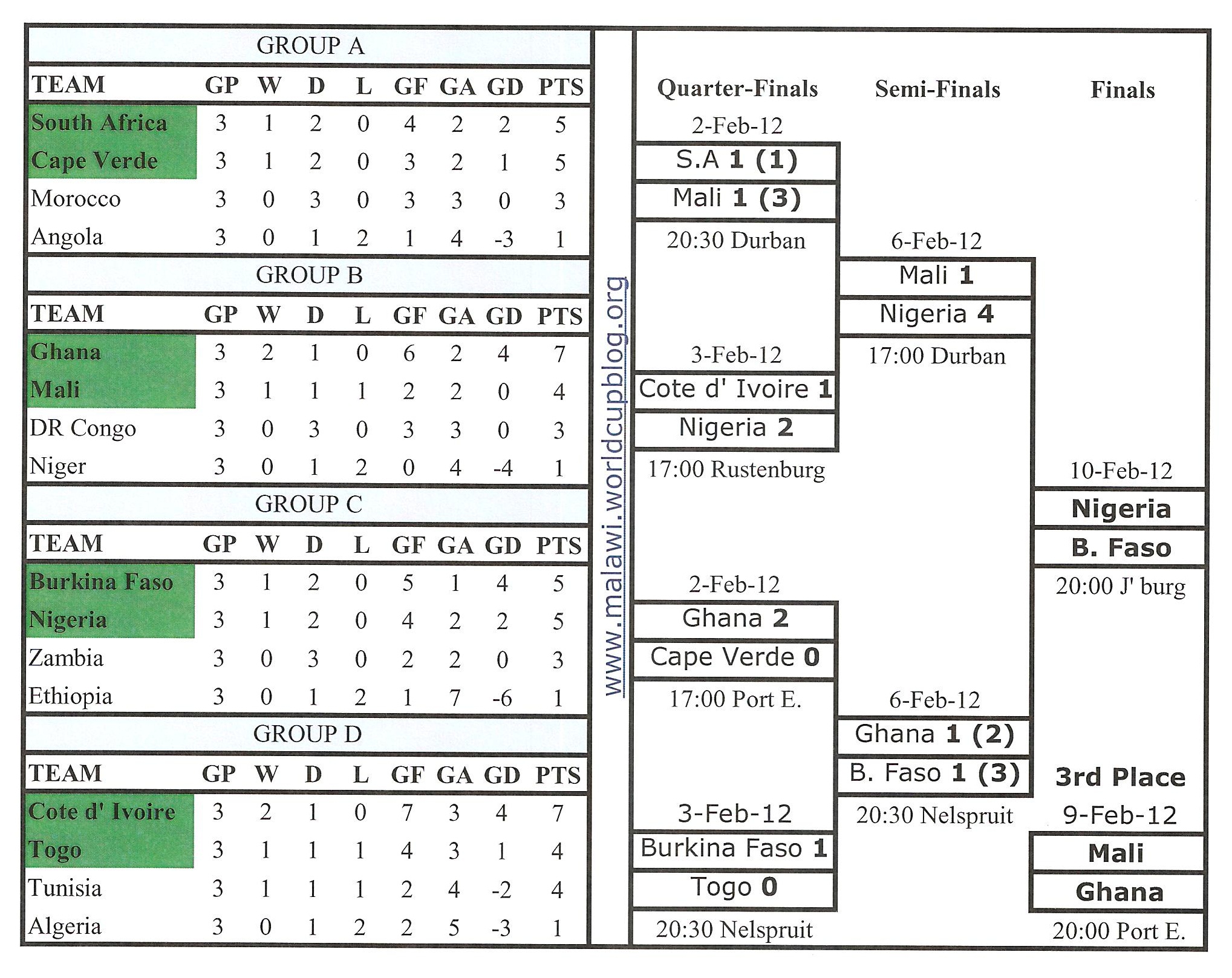 Finals and 3rd Place Play-off Fixtures (Time = Local Time = UTC/GMT +02 hours):
3rd Place Play-Off
9 Feb 2012: Mali 3:1 Ghana (20:00 Port Elizabeth)

Finals
10 Feb 2012: Nigeria 1:0 Burkina Faso (20:00 J'burg)

This poll is now closed. Here is a new poll:
Related Posts:
- 2013 Africa Cup of Nations Open Thread
- 2013 AFCON: South Africa vs Malawi (Friendly)
- 2013 Africa Cup of Nations Tournament Draw Held
- 2013 Africa Cup of Nations Tournament Draw
Subscribe to the Malawi World Cup Blog RSS Feed
Subscribe

Malawi World Cup Team Blog RSS Feed

Share
Comments

3rd Place Play-Off (Malawi Mali vs Ghana)
"It's an important game for us because it's really hard to finish in third place. Most of the big nations – Ivory Coast, Morocco, Algeria, Tunisia – didn't [manage] it. So we have to appreciate having been in the semi-final, and we have to focus on this game against Ghana. Of course the players were disappointed but now they have to be realistic and realise it's a good thing to play this game and try to become the third place [team] for the second year [running]." – Mali coach Patrice Carteron
"I'm going to put the best team on the field tomorrow, but I have to take care of the situation. Most of the players gave 100 percent and are very tired both mentally and physically. The best thing might be to put some young players in, because they will want to show me that I can trust them for the future. Maybe the best team will be the ones who want to show something and want to become pivotal in the future." – Mali coach Patrice Carteron
"Blaming other people is a waste of time and takes us nowhere. We did well against South Africa because we played as a team. We did not play well against Nigeria and there must be a collective sharing of the responsibility for that failure." – Mali captain Seydou Keita
"Third place is equally good, that's the medal zone. Playing against Mali and getting that medal I think will be very, very good for the team. [It will] also boost the young players and get them on their feet for next month's World Cup qualifiers. We are here to compete and we want to be in the medals, so we have to go all out and play well and get a win to prove we are a good side." – Ghana defender John Pantsil
"Everyone back home was expecting us to win the Cup, but it didn't happen. But all is not lost. We will go out and fight against Mali for third place, and then re-organise ourselves for the 2014 World Cup qualifiers. It's our responsibility to motivate the team, to encourage them. We'll do our best." – Ghana Assistant Coach Maxwell Konadu
"The first day after the semi-final, the players were really down. I had a meeting with them and they themselves have had two or three meetings between them. This afternoon I had a last meeting with them and today they went to training singing, really motivated. I believe they will go out there tomorrow highly motivated and they will go out there tomorrow to perform their best." – Ghana coach Kwesi Appiah

Mali v Ghana preview – Mali eye revenge for opening-game defeat
Betting Pro (8 February 2013)
For obvious reasons this is a risky match for bettors no matter what international tournament you're talking about. Often called the game nobody wants to play, the third-place play-off is the one game where it is hard to know what to expect from players whose morale may be low or whose thoughts may have already returned to club commitments.
Looking past at recent African Cup of Nations third-place games, the trend is clearly for low goals. Four of the last six games have featured under 2.5 goals, with three of those games ending in a 1-0 scoreline. At least one of the sides has failed to find the net in four of those six games.
At these finals Ghana have played the better football. The Black Stars picked up more points than Mali (seven versus four) in the opening round, winning 1-0 in the head-to-head clash between the sides in Group B. Ghana ran out comfortable winners of their quarter-finals v Cape Verde (2-0) whereas Mali needed penalties to overcome South Africa). Ghana lost only on penalties in the semi-finals while Mali were thrashed 4-1 by Nigeria. It's therefore no surprise to see Ghana installed as 2.24 favourites to win this game in 90 minutes.
Yet I would say the strong form pattern has limited bearing on a game like this. You could argue, for example, that Ghana's motivation would be lower than Mali's because Ghana's disappointment at failing to reach the final (they were tournament favourites going into the last-four clashes) will be all the greater, and Mali will also be motivated to make up for losing 1-0 in that clash in the first round. Against that, you could also argue Ghana will be looking for revenge having lost 2-0 to Mali in the third-place play-off 12 months ago.
Taking all factors into account, I would back the underdogs with some sort of Asian Handicap start. I think Ghana will struggle to be in the right frame of mind for this game because they know they have missed a massive opportunity to lift the trophy, having gone into the semi-finals with tournament favourites Ivory Coast's elimination having left the route to glory wide-open for them. Mali are more likely to go out and purely play for pleasure, which could reap benefits in a game with nothing at stake.

Mali vs Ghana
Referee: Eric Otogo-Castane (Gabon)
Assistant 1: Evarist Menkouande (Cameroon)
Assistant 2: Aden Marwa Range (Kenya)
Eric Otogo-Castane (37) was in charge during the following group matches: Zambia vs Ethiopia; Cote d' Ivoire vs Algeria
During AFCON 2012 3rd Place Play-off match between Ghana and Mali, the following were the match officials:
Referee: Grisha Gihed (Egypt)
Assistant 1: Peter Edibe (Nigeria)
Assistant 2: Moffat Champiti (Malawi)

Who is going to be the referee for tomorrow? We don't want the game to be marred by poor officiation. May the best team win and Nigeria will win.

Denis, the names of match officials for the Finals haven't been announced yet. I think the referee will be Algerian.

Mali vs Ghana (18:00 GMT)
MALI: Samassa, Diawara, Tamboura, Wague, Ndiaye, Sissoko, K Traore, Keita, M Traore, Maiga, Samassa
GHANA: Dauda, R Boateng, Pantsil, Vorsah, Boye, Afful, Atsu, Asante, Asamoah, Wakaso, Gyan
You can watch the match live HERE or HERE
Click here for live commentary

Half-Time: Mali 1:0 Ghana
19′ Goal!!! Mali 1:0 Ghana (Samassa)

48′ Goal!!! Mali 2:0 Ghana (Keita)
60′ Missed Penalty Mali 2:0 Ghana (Wakaso – Ghana)
82′ Goal!!! Mali 2:1 Ghana (Asamoah)
90′ + 4 Goal!!! Mali 3:1 Ghana (Diarra)
Full Time: Mali 3:1 Ghana
"I'm proud of the achievement of my players. They worked hard to get the bronze medals. I think the people back home will be very happy with our performance." – Mali coach Patrice Carteron
"I believe the players performed very well. We had our chances and did not take them. These players can do well if given further opportunities because they have gained much experience." – Ghana coach Kwesi Appiah

I am very disappointed. We are where were last year. No improvement. Kwesi needs to go. I don't see him taking us to Brazil.

Andy, before the tournament kicked off did you think that the Black Stars would be the 2013 AFCON Champions? I think 4th place is not bad.
TUNIS (Reuters) – Tunisia have accepted the resignation of coach Sami Trabelsi following their failure to get past the first round at the African Nations Cup in South Africa, a federation statement said.

The federation said it had accepted a request from the 45-year-old coach to prematurely end his contract.

Three possible successors have been identified and the federation said a decision would be taken in the coming days, after they had been interviewed.

The three are Nabil Maaloul, who led Esperance to the African Champions League title in 2011, Khaled Ben Yahia and Maher Kenzari.

Tunisia failed to get past the first round after finishing third in Group D. At last year's Nations Cup, Trabelsi had led the side into the quarter-finals before Ghana knocked them out.

A former World Cup defender, Trabelsi was appointed Tunisia coach in March 2011. He is the first coaching casualty of this year's Nations Cup.

CAN 2013: Mor Alim Kaboré aurait prédit le sacre des Étalons!

Les Étalons vont remporter la Coupe d'Afrique des Nations (CAN) 2013. C'est la prédiction qu'aurait fait le prédicateur aujourd'hui disparu, Mahamadi Kaboré dit Mor Alim Kaboré. En son temps, on ne l'aurait pas cru parce que la CAN se jouait en année paire.

Les Étalons du Burkina seront face aux Black Stars du Ghana en demi-finale de la Coupe d'Afrique des Nations (CAN) ce mercredi soir à Nelspruit. A croire les prédictions de l'exorciste et prédicateur Mor Alim Kaboré (Mahamadi Kaboré de son vrai nom), les Étalons devraient passer cette étape et même remporter le trophée. L'homme qui dit-on était en contact avec des génies aurait été consulté en 1998 pour permettre aux Étalons de remporter cette édition. Mor Alim Kaboré avait plutôt prédit le sacre des Pharaons d'Egypte qui s'étaient effectivement imposés cette année là avec à leur tête Hossam Hassan.

Par contre, le prédicateur a prédit la victoire des Étalons pour la CAN 2013. A l'époque, les intéressés auraient fait comprendre que cette compétition ne se déroulait pas pendant les années impaires. Compte tenu de son insistance, il a été traité de fou. Mais avec la prestation des Etalons à la CAN 2013 qui se déroule en Afrique du Sud, les Burkinabè commencent à croire ces prédictions.

Mor Alim Kaboré décédé en juin 2003 dans des circonstances douteuses avait aussi prédit l'incendie du marché Rood Wooko, des tentatives de Coups contre le régime de Blaise Compaoré en 2003. En attendant, les supporters Burkinabè verront si leur onze national passera effectivement le cap du Ghana ce mercredi 6 novembre 2013.
"Mor Alim Kabore contacted the spirits in 1998 to find out whether Burkina Faso would win the tournament that year. He is understood to have said that the spirits correctly predicted Egypt would win, but that Burkina Faso would be victorious in 2013. Strange, because at that time the tournament was played in even-numbered years." – Saj Chowdhury, BBC Sport

Nations Cup Final: Eagles Will Win, Says T.B. Joshua
PM News (8 February 2013)

The General Overseer of The Synagogue Church Of All Nations, Prophet Temitope Balogun Joshua, says Nigeria's Super Eagles would defeat Burkina Faso in Sunday's final of the Africa Cup of Nations in South Africa.

T.B. Joshua, who warned Eagles' coach, Stephen Keshi to avoid conceding a late minute goal in their AFCON Group C opener against the Burkinabe, told P.M.NEWS that Nigeria's case in the Nations Cup final this year is like the biblical Jacob who wrestled with God, saying that "on Sunday we'll tell God unless He gives us our heart's desire we'll not let Him go.

"The cloud is darker over Nigeria's Super Eagles, but with God we'll scale through. If it were not to be the final, anything could have happened. The first match we played with Burkina Faso, it was just by the grace of God that it ended in a draw.

"On Sunday, our opponents will play defensively because they will be looking out for penalty shootout at the end of the game. They will also play through three of their strikers upfront; one of them very tall and huge player and two others.

"What I'm seeing I don't want to say it because it would be too frightening, but I want to assure that we'll scale through the challenge on Sunday."

The prophet who established a football club, My People FC to groom young players, however, warned the Eagles not to allow Burkina Faso to score first in the final, saying that "if this happened the Burkinabe would fall back to defend the goal, which will be very dangerous for our team. I still repeat that no matter the situation, we'll scale through.

"The Burkina Faso that we played in the group stage will not be the same team we'll play on Sunday, even though some of their players are out of the squad due to injuries. They are still a team. But I hope for celebration."

Joshua said as the giant of Africa, Nigeria last won the Nations Cup 13 years ago, which was too long ago for a great football nation like Nigeria.

"I think God should give us this cup to make the youths of this country happy. Winning this cup at this time of religious intolerance and violence will calm down the youths. I want to appeal to all Nigerians to pray for Eagles' victory. I would have told you the scoreline but I would rather delay it till Sunday morning in order not psychologically distract the players and their coaches and not to demoralise the losing team."

Prophet Joshua concluded that he would not want Keshi and his team to come to his church to celebrate their victory after the match because he is not the only one praying for the Eagles to win.

"My voice may be the one louder among the men of God in the country but this doesn't mean that the team should come to my church to celebrate. I would rather prefer that they celebrate their victory with all Nigerians," he said.
Comment by Tanisha (February 9, 2013 – 9:48 am)
TBJ also prophesied Zambia's amazing victory over Ivory Coast in AFCON 2010
http://www.youtube.com/watch?feature=player_embedded&v=am8bZhQQxQk
He prophesied the AFCON 2010 qualifying match between Nigeria and Guinea
http://www.youtube.com/watch?v=qhwqKomF0_o
He prophesied the opening match of FIFA 2010 between South Africa and Mexico
http://www.youtube.com/watch?v=RPrOsQfgDb8
TB prophesied the FIFA 2010 final match between Spain and The Netherlands
http://www.youtube.com/watch?feature=player_embedded&v=5xRd_TZMU74
In 2011, he prophesied the FIFA U20 World Cup Quarter Final match between Nigeria and France
http://www.youtube.com/watch?v=z2WP8EIJu5s&list=PLFXyqE7wNYI41DCsacIP8QMrDR2-CpJT0&index=65
TBJ even prophesied the AFCON 2008 qualifying match between Nigeria and Ghana!
http://www.youtube.com/watch?feature=player_embedded&v=nSqge5oLXHY#!
TB prophesied the FIFA 2010 final match between Spain and The Netherlands
http://www.youtube.com/watch?feature=player_embedded&v=5xRd_TZMU74
In 2011, he prophesied the FIFA U20 World Cup Quarter Final match between Nigeria and France
http://www.youtube.com/watch?v=z2WP8EIJu5s&list=PLFXyqE7wNYI41DCsacIP8QMrDR2-CpJT0&index=65
TBJ even prophesied the AFCON 2008 qualifying match between Nigeria and Ghana!
http://www.youtube.com/watch?feature=player_embedded&v=nSqge5oLXHY#!

CAF appoints Algerian referee for Nigeria Vs Burkina Faso match
Premium Times
The Confederation of African Football, CAF, has named an Algerian, Djamel Haimoudi, the referee of the 2013 Africa Cup of Nations, AFCON, final match between Nigeria and Burkina Faso.
Mr. Haimoudi was recently voted by CAF as the African Referee of the Year at the 2012 CAF Awards in Accra, Ghana.
The Algerian was an official at the 2008 Africa Cup of Nations, the 2011 FIFA U-20 World Cup and the 2012 Africa Cup of Nations. He has also supervised CAF Champions League matches and FIFA World Cup qualifiers.
The 2013 Nations Cup has been rattled by poor officiating with at least two centre referees being dismissed by CAF.
The final of the competition comes up on Sunday between two West African countries, Nigeria and Burkina Faso.

Keshi applauds CAF decision to clear Pitroipa
CT Post (9 February 2013)
JOHANNESBURG (AP) — Nigeria coach Stephen Keshi sportingly welcomed the decision by the Confederation of African Football to clear Burkina Faso's Jonathan Pitroipa to play in Sunday's African Cup of Nations final, but still doesn't know if his own leading strikers will be available.
Keshi said on Saturday it was "very clear" that Pitroipa didn't deserve his red card for diving in the semifinal win over Ghana. The coach added that CAF's decision to rescind the red card and clear the France-based forward for the Burkinabes' first final was correct — and good for the game at Soccer City.
However, Keshi could not yet say if his leading scorer, Emmanuel Emenike, and Chelsea's Victor Moses would recover from their injuries in time. Moses' prospects were improving after he trained on Saturday.
Pitroipa was cleared by CAF on Friday after Tunisian referee Slim Jdidi conceded he made a mistake in sending the player off for diving in Wednesday's match with Ghana.
"It's not every day you get to play in the African Cup of Nations final so denying him that would have been tough," Keshi said at Soccer City. "I applaud the decision taken by CAF by rescinding the red card on Jonathan. When you look at the video … it's very clear. It's obvious this guy does not deserve a red card."
Keshi said he was "happy" that Pitroipa would now get to play if he was picked for Burkina Faso.
"Having Jonathan should be entertaining, so I'm happy, I'm happy," Keshi said.
Burkina Faso coach Paul Put said he was now able to forgive the referee for a poor performance in Nelspruit before Burkina Faso won in a penalty shootout. If Burkina Faso had lost, it might have been different for Keshi's counterpart.
"He (referee Jdidi) is a professional so everyone can make mistakes," Put said. "At that moment we were angry, but we won so we can forget. If we hadn't won, then I could still have a headache. We are very happy that CAF made a decision that Pitroipa can play this final."
While Pitroipa was available again to boost the Burkinabes, there wasn't any clear good news for the Nigerians as to whether Emenike or Moses would play in the team's first final in over a decade.
Moses did work out at the showpiece stadium and appeared to have a better chance of playing than Emenike, who is the joint-leading scorer at the tournament with four goals.
Emenike did not appear on the pitch during the time reporters were allowed to watch the session. The forward has been struggling with a muscle injury.
"We're not 100 percent sure if he's (Emenike) out," Keshi said. "We'll know tomorrow morning. There's a lot of improvement. If he's not going to be there tomorrow … someone has to pick up (from him)."
Keshi said he would be prepared to risk Moses in the final, even if the Chelsea man wasn't fully recovered from his twisted left ankle.
"Even if he's 80 percent fit, I'll take that," Keshi said.
Nigeria is hoping for a third cup, while Burkina Faso will play its first final having gone past the group stage for only the second time.

Nigeria vs Burkina Faso (18:30 GMT)
You can watch the match live HERE or HERE or HERE
Click here for live commentary
Nigeria: Enyeama, Echiejile, Omeruo, Oboabona, Ambrose, Onanzi, Mikel, Mba, Moses, Ideye, Uche.
Burkina Faso: Diakite, Koffi, Kone, Koulibaly, Panandetiguiri, Kone, Kabore, Rouamba, Nakoulma, Pitroipa, Bance.
Referee: Djamel Haimoudi (Algeria)
"We are looking forward to facing one of the biggest footballing nations in Africa with so many top players in their team. We are the underdogs, so for us it is already a victory to be in the final, and anything can happen in football, as we know. We have seen a big progression in the Nigeria team since that first game, but our team has improved as well. I think we have matured since that first game – but the final will still be very tough. The two games won't have much in common." – Burkina Faso coach Paul Put:
About playing Burkina Faso for the 2nd time,
"I think it is more beneficial, because we didn't know Burkina Faso before that game, and maybe they didn't know us. But we have learnt from the mistakes we made in that game, and now have to prepare for the final accordingly." – Nigeria Coach Stephen Keshi

Half-Time: Nigeria 1:0 Burkina Faso
40′ Goal!!! Nigeria 1:0 Burkina Faso (Sunday Mba)

Full Time: Nigeria 1:0 Burkina Faso
AFCON 2013 Champions: Nigeria
Congratulations!!!!!!!!!!!!!!!!!!!!
"Winning this is mainly for my nation – when I came on board a year and a half ago my dream was to make all Nigerians happy, and to construct a great Nigerian team, We are not there yet, it's still in process. You don't want to know what was going through my head (in the final five minutes)! To represent Africa in Brazil at the Confed Cup is an honour for Nigeria." – Nigeria coach Stephen Keshi (By the way, Nigeria Coach Stephen Keshi was captain of the team that last won Nigeria the Nations Cup in 1994)
"We showed Nigeria a bit too much respect in the first half – in the second half we tried to do everything possible. But you have to be big when you lose and small when you win. Possibly, we were a little tired after two matches that went to extra-time, but I'm not going to look for excuses. The whole of Burkina Faso can be proud of their players…..I saw a team that was fighting to the last minute and that is the value we have. So I am very happy and I think all Burkinabe can be proud." – Burkina Faso coach Paul Put
"We did our best and if we got into the final it's because we deserved it." Burkina Faso captain Charles Kabore
Player of the Tournament: Jonathan Pitoipa (Burkina Faso)
At home, supporters came out in cars and on motorbikes to show their pride and joy, even after Nigeria's victory, and fireworks even lit up the sky in one part of the capital, Ouagadougou.

Fans also crowded the house of star player Jonathan Pitoipa's father to show their support after Pitroipa was chosen as the player of the tournament in South Africa to cap the Burkina Faso team's fairytale ride.

"We need to be united around the players because we have achieved our goals," Jean Baptiste Pitroipa, father of forward Jonathan, said.
"What we have seen is a team playing with a lot of spirit, a lot of mentality. Also I don't think we received a lot of luck so we did it really through our own quality. We have to be very proud of the players because we have now played in a final. We lost the final but I think we deserved to be there more than any other team. It's possible we were a little bit tired, because we played extra-time in our matches and also only had 10 men against 11 sometimes. But I don't want to make excuses. There is always a winner and a loser and you have to accept that. It's hard but it's life." – Burkina Faso coach Paul Put
Put added: "We have a good group of players but we have to be realistic, there is still a long way to go because the most difficult thing is to maintain your success. In football, you lose today and tomorrow you have to get up for the next game. If we cannot prepare properly for the Niger game (World Cup Brazil 2014 Qualifiers) I will be very disappointed."
Next AFCON: AFCON Morocco 2015
Next FIFA Ranking: 14 February 2013
CAF Top 5 (14 February 2013 FIFA Ranking):
1. Cote d' Ivoire
2. Ghana
3. Mali
4. Nigeria
5. Algeria

We are the champions. Proud Nigerian.

Brazil here we come

Nigeria coach Stephen Keshi resigns after winning 2013 AFCON title
Yahoo (posted an hour ago)

Nigeria coach Stephen Keshi has announced his resignation from his post just a day after the Super Eagles' 2013 Africa Cup of Nations triumph.

The coach's future had been subject to speculation throughout the tournament, and he has now revealed that he gave the Nigerian Football Federation (NFF) his notice shortly after the 1-0 final win over Burkina Faso.

"I did what I feel is right by resigning," Keshi told Metro FM. "I gave the NFF a letter last night [Sunday] after the celebrations."

The 51-year-old Keshi made 51 appearances for the Super Eagles as a player, and he has held coaching posts with the Togolese and Malian national teams. With Keshi stepping down, someone else will be charged with leading Nigeria at this summer's FIFA Confederations Cup, a tournament for which Nigeria qualified by virtue of winning the Cup of Nations.
Reportedly, Keshi is said to have explained his reason for resignation by claiming that he was already sacked as the team's coach before the quarterfinal clash over Cote d'Ivoire.
The Nigerian manager had hinted last week of quitting.
"You know what, it doesn't matter what people think about what I'm doing," Keshi said when asked about his opinion of his constant critics. "What matters is what I'm passing on to my team, if my team is doing well or not.

"If back home in my country they don't appreciate what I'm doing with the team, so be it. "You can't force somebody to love you and you can't force somebody to accept you."

He then dropped the bombshell. He said: "I'm a professional and if God grants me the wish to win the cup for Nigeria I could pack my load and move to another country. I'm a pro and I could be like (Jose) Mourinho who wins trophies then leaves for somewhere else.

"I could stay in Nigeria, I could leave. I'm a professional coach and we'll see how it goes. But Nigeria is where my heart is. This is a team that I captained for 14 years and I've also been here as assistant coach. I'm here for now but we'll see after the tournament. We'll see."
Meanwhile, Nigerian President Goodluck Jonathan today congratulated the Super Eagles for winning the Africa Cup of Nations title with a 1-0 final victory over Burkina Faso.
"President Jonathan thanks coach Stephen Keshi and all members of the team who have worked very hard…to make Nigeria the proud champions of Africa once again after 19 years of setbacks in the competition," his office said in a statement.
"The President also believes that having conquered Africa, the new Super Eagles can go on to achieve even greater glory at the World Cup in Brazil next year," it said.
Not so fast…
World Cup Brazil 2014 Qualifiers -Remaining Fixtures (Group F – CAF 2nd Round):

22-26 Marc 2013: Namibia vs Malawi; Nigeria vs Kenya
07-11 June 2013: Malawi vs Namibia; Kenya vs Nigeria
14-18 June 2013: Malawi vs Kenya; Namibia vs Nigeria
06-10 Sept 2013: Nigeria vs Malawi; Kenya vs Namibia

So far the four teams have played 2 matches each

Nigeria = 4 points (Nigeria 1:0 Namibia; Malawi 1:1 Nigeria)
Namibia = 3 points (Nigeria 1:0 Namibia; Namibia 1:0 Kenya)
Malawi = 2 points (Kenya 0:0 Malawi; Malawi 1:1 Nigeria)
Kenya = 1 point (Kenya 0:0 Malawi; Namibia 1:0 Kenya)
and then 3rd/final round.

Flames stars not moved by Nigeria Afcon exploits
Nation Sports (7 February 2013?)

Some South Africa-based Flames stars Limbikani 'Pupa' Mzava and Robert Ng'ambi have said they are not in a cold sweat with Nigeria's remarkable run at the ongoing 2013 Africa Cup of Nations.

The Flames are in the same group with the Super Eagles in the 2014 World Cup qualification campaign and they are set to meet in Nigeria later this year.

Nigeria demolished Mali 4-1 on Wednesday to qualify for the 2013 Africa Cup of Nations finals against Burkina Faso who beat Ghana 3-2 in post-match penalties.

Mzava, Ng'ambi and newly appointed Flames interim assistant coach Patrick Mabedi said while Nigeria have displayed strong character, they are not scared of their exploits.

"I have watched all their games at the tournament and it is clear that they have improved a lot and they have good players such as Emmanuel Emenike, Sunday Ba, John Mikel Obi and Victor Moses. They are dangerous operating from the wings and at the heart of the pitch," said Mzava. "But that should not send a shiver down our spines because dangerous operating from the wings and at the heart of the pitch," said Mzava.

"But that should not send a shiver down our spines because it will be a different game and with good preparations, we should get a result in Nigeria," he said.

On his part, Ng'ambi said: "It is not a secret that Nigerians have made tremendous improvement, but they are not that good when playing at home. We just need to develop self-belief and have determination that we can do it."

Mabedi noted that while the Nigerians are dangerous in attack, they are vulnerable at the back.

Nigeria top Flames' World Cup group with four points from two games. They are two points ahead of Flames who are on third position. Namibia's Brave Warriors are second with three points whereas Kenya's Harambee Stars anchor the group with a single point.

Flames' next game is against Namibia on March 23 in Windhoek.
By the way, the Flames are still coachless. Football Association of Malawi (FAM) is yet to offer the new Flames interim technical panel contractual terms of reference.

This was truly a minnows Afcon. Groups A & B were very weak.
How in the world did Burkina Faso, eliminated last year and Nigeria who did not even qualify at all, make it to the final this year?

Talks prompt disgruntled Keshi to continue Nigeria role
BBC Sport (12 February 2013)
Coach Stephen Keshi has decided against resigning his post just hours after leading Nigeria to their first Africa Cup of Nations crown since 1994.
Reports emerged that Keshi had offered to quit after Sunday night's defeat of Burkina Faso, following disputes with the Nigeria Football Federation (NFF).
"I am pleased to say that I have reconsidered my position and have decided to continue with my job," Keshi said in a statement.
Keshi took charge of Nigeria in 2011.
On Tuesday, the former Nigeria captain is set to return to rapturous acclaim in the capital Abuja as the squad returns home from South Africa.
The 51-year-old, who became only the second man to win the Nations Cup as both a coach and a player on Sunday, paid tribute to Nigeria's Sports Minister Bolaji Abdullahi for helping to resolve his rift with the NFF.
On Monday, Keshi told a South African radio station that he had informed NFF officials that he no longer wanted to continue working with them – although he never submitted a formal letter of resignation.
Keshi cited frustration as well as a lack of support and respect on the part of the NFF for his reasons.
But after an emergency meeting with Abdullahi in the early hours of Tuesday in Johannesburg, Keshi rescinded his decision to quit.
"While I have had cause to express my displeasure over some issues that happened in the course of our (Nations Cup) participation, especially concerning my relationship with the NFF, I have since had opportunity to discuss the various issues with all concerned," his statement said.
"I want to thank the Honourable Minister of Sports, Bolaji Abdullahi, for his swift and kind intervention."
In an interview with BBC Sport, the Nigeria coach explained how he had been upset by hearing constant rumours during the group stage of the competition that he was set to be replaced.
"A coach's job is to be hired and then fired, so that doesn't really matter," Keshi told the BBC.
"The only thing that annoyed me was that there was no respect in all this activity – because even if you are looking for a coach, you still have to let me know that this is what you are going to do."
"I am not really angry but they need to show me a little bit of respect. Because I am a black person and also a Nigerian, they think they are doing me a favour by allowing me to coach the Super Eagles.
"They are not doing me a favour because I am working day and night (to succeed) and we thank God that we have the cup and that Nigerians are happy."
NFF spokesman Ademola Olajire reacted to Keshi's claims by denying that they were true.
"Rumours were flying around during the group games but no one can prove these things. The NFF continues to support and back the coach amidst all this media speculation," he told BBC Sport.
Keshi's Nigeria host Kenya in a World Cup qualifier next month – before travelling to both Nairobi and Namibia for further ties in June.
It is unclear whether the team leading Group F of the African standings will reschedule the Namibia tie, which is set to be played three days before the Super Eagles start their Confederations Cup campaign.
The African champions face Tahiti in the Brazilian city Belo Horizonte on 17 June, before meeting Uruguay and Spain in Group B of the global competition.

THE COSAFA CUP WILL RETURN THIS YEAR WITH THE RE-LAUNCHED TOURNAMENT BEING HELD IN ZAMBIA IN JULY
KickOff (11 february 2013)

The Cosafa Cup, suspended since 2010, will return this year with the re-launched tournament being held in Zambia in July, and Castle returning as the main sponsor.

The announcement was made at the opening of the new offices of the Council of Southern Africa Football Associations (Cosafa). Cosafa House, in Johannesburg.
The Cosafa Senior Challenge, an annual tournament which has seen participation by Angola, Botswana, Comoros, Lesotho, Madagascar, Malawi, Mauritius, Mozambique, Namibia, Seychelles, South Africa, Swaziland, Zambia and Zimbabwe is being revived, with South African Breweries (SAB), under the Castle brand, back as sponsor.

Castle was the original sponsor of the competition in 1997 on a 10-year deal before pulling out in 2006, leaving the tournament without a sponsor from 2007-2009. The 2010 tournament, due to be held in Angola, was cancelled.

Speaking at the opening of the new Cosafa house in Johannesburg, Suketu Patel, the president of Cosafa, said: "We agreed on a deal today with Castle regarding the sponsorship of the tournament which will be played in July in Zambia.

"The agreement that we have is that we will have the tournament this year with the option of extending if we have a successful competition this.

Patel, who is also a CAF vice-president, said although Cosafa would retain their headquarters in Botswana, Cosafa House in Johannesburg would become the regional body's administrative and commercial wing.

"Having our own offices is an important step forward for Cosafa and is in line with the exciting plans that we have for the future. It is important that we are able to function in a professional environment that helps the organisation in our day-to-day operations," said Patel
Adiós CECAFA!

Where has Johnny been hiding lately?
The Ugandan…, this was truly a minnows afcon?
"How in the world did Burkina Faso, eliminated last year and Nigeria who did not even qualify at all, make it to the final this year?"
The Rose that Grew from Concrete – 2Pac

Did you hear about the rose that grew
from a crack in the concrete?
Proving nature's law is wrong it
learned to walk without having feet.
Funny it seems, but by keeping its dreams,
it learned to breathe fresh air.
Long live the rose that grew from concrete
when no one else ever cared.

…

You see you wouldn't ask why the rose that grew
from the concrete had damaged petals. On the contrary,
we would all celebrate its tenacity. We would all love its
will to reach the sun.
…
The Ugandan…, how in the world did Ivory Coast, Ghana, the then defending champions Zambia… fail to reach the finals?
Comments are closed