2013 AFCON 1/4 Finals: Win or Get Out!
January 30th, 2013 | by: sscouser |

Comments(48)
AFRICA CUP OF NATIONS SOUTH AFRICA 2013 (19 January – 10 February, 2013)
The road to the 1/4 Finals
- Click here for Match Day 1 Results and Video Highlights
- Click here for Match Day 2 Results and Video Highlights
- Click here for Match Day 3 Results and Video Highlights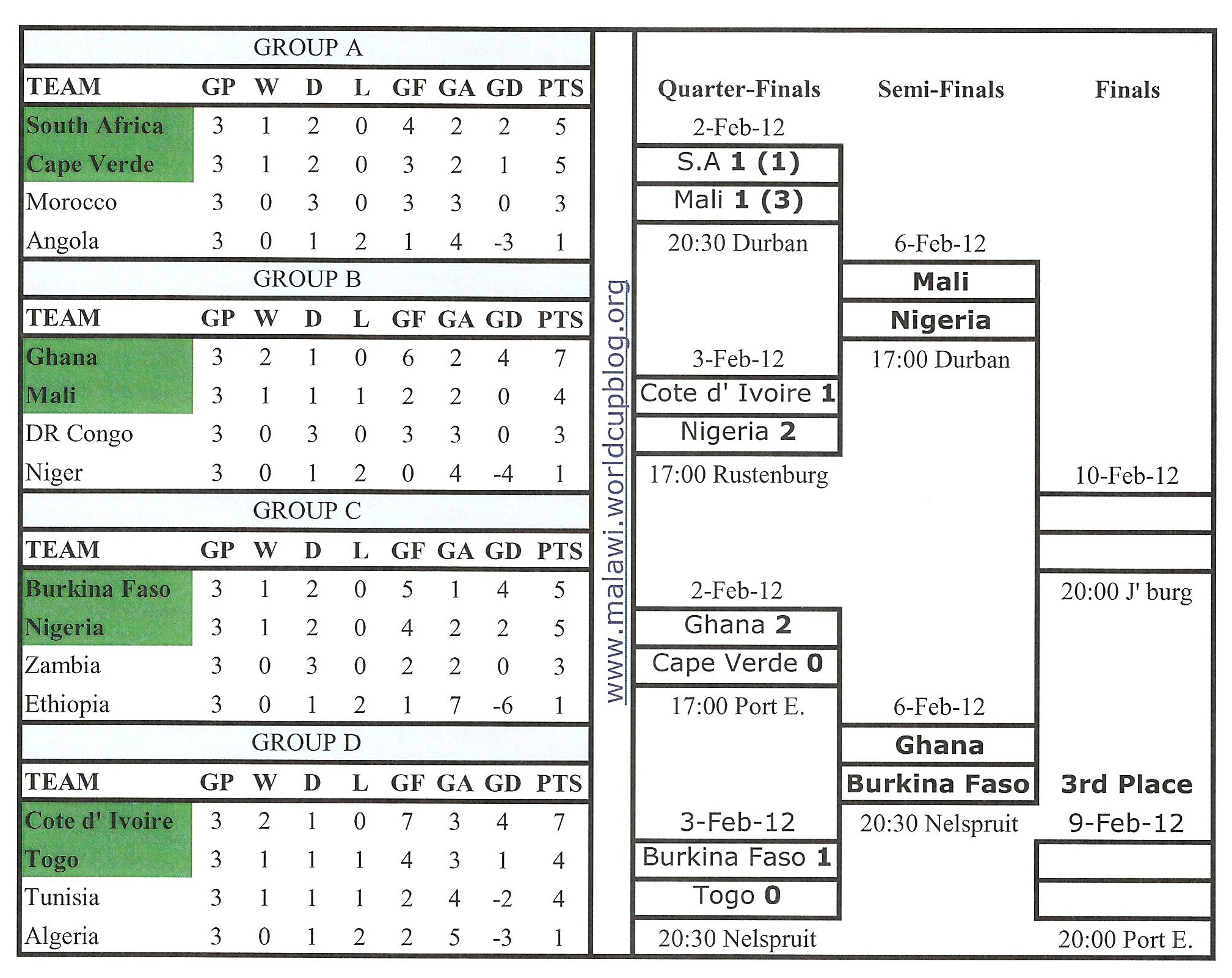 1/4 Finals fixtures (Time = Local Time = UTC/GMT +02 hours):
2 Feb (1/4 Finals 1): Ghana 2:0 Cape Verde (17:00 Port Elizabeth)

2 Feb (1/4 Finals 2): South Africa 1:1 (1:3 PSO) Mali (20:30 Durban)

3 Feb (1/4 Finals 3): Cote d' Ivoire 1:2 Nigeria (17:00 Rustenburg)

3 Feb (1/4 Finals 4): Burkina Faso 1:0 Togo (20:30 Nelspruit)

Here is our new poll:
- This is the first time for Cape Verde and Togo to make it to the AFCON 1/4 Finals
- This is the first AFCON 1/4 Finals without a team from North Africa
Subscribe to the Malawi World Cup Blog RSS Feed
Subscribe

Malawi World Cup Team Blog RSS Feed

Share
Comments

"BTW, if my Ghana prediction will not count, then I should be 0/0."
Standard penalty for cheating is a failing grade (F)

Half Time: South Africa 1:0 Mali
31′ Goal!!! South Africa 1:0 Mali (Tokelo Rantie)

58′ Goal!!! South Africa 1:1 Mali (Seydou Keita)

Full Time (+ 30 Minutes Extra Time): South Africa 1:1 Mali
South Africa 1:0 Mali (Siphiwe Tshabalala)
South Africa 1:1 Mali (Cheick Diabate)
South Africa 1:1 Mali (Dean Furman – Missed Penalty South Africa))
South Africa 1:2 Mali (Adama Tamboura)
South Africa 1:2 Mali (May Mahlangu – Missed penalty South Africa)
South Africa 1:3 Mali (Mahamane Traore)
South Africa 1:3 Mali (Lehlohonolo Majoro – Missed penalty South Africa)
Mali through to the Semi-Finals. They have done it again. Last AFCON (AFCON 2012) they made it to the semi-finals after beating co-hosts Gabon on penalties.
The Ugandan… is now 0-2 = 0% = F
This poll is now closed.
"The South Africans posed a lot of problems in the first half and we had to change the tactics in the second half to get back into the match. They pressed us with a lot of diversity. But we knew we had to be patient and we had time to fight back." – Mali Coach Patrice Carteron
"My boys lost with dignity, pride and passion. There is only so much any coach can ask from his team and my boys gave everything they had. It is very difficult to accept defeat when you play so well. Congratulations to Mali for winning a tough game for both teams." – South Africa Coach Gordon Igesund

@sscouser, I missed the games but looks like the Bafana bafana chocked.
Tomorrow will definately be a better day.
Posted from
United States

When it went into penalty shootouts I thought Bafana would win because their goalkeeper was good. I think they will will qualify for world cup because their group is week.

The Ugandan…, what did you say when Zambia knocked Uganda out on penalties? Were you not the hosts? When it comes to penalty shoot-outs, is there such thing as home advantage?
"Tomorrow will definately be a better day."
If you will get 2-2 tomorrow then overall you will be 2-4 = 50% = F
George, I think on any given day, a team with good penalty takers can beat a team with a good goalkeeper.
You think South Africa will make it to World Cup Brazil 2014?
Group A: South Africa, Botswana, Central African Republic, Ethiopia
Please note that there will be a play-off phase after the 2nd round. There are 10 groups (Groups A-J). There will be a draw to pair the 10 group winners.
11-15 October 2013 1st Leg
15-19 November 2013 2nd Leg
Only 5 will make it to Brazil. Can South Africa beat Cote d'Ivoire/Ghana/Nigeria… away?

sscouser, please provide a link to whatever you
re accusing me of saying.
The is such a thing as home advantage but you have an option to take it or leave it.
Malians are just better penalty takers. If I were a coach of any African or even S. American team, I would ask them to sing like the Zambians sang during the 2012 Afcon as long as you do not do so during the opponent's kicks. It comforts scared players.

The Ugandan…, did I accuse you? It was a question. Did you say anything when Zambia beat you on penalties? No. Exactly! And you think South Africa choked?
Yes, there is such thing as "home advantage"
Remember, the goalkeeper can't come off his line before the penalty is taken.
South Africa didn't use "home advantage" wisely

Cote d' Ivoire v Nigeria [1500 GMT]
Cote d' Ivoire: Barry; Eboue, Zokora, Bamba, Tiene; Tiote, Romaric, Y Toure, Gervinho; Kalou, Drogba.
Nigeria: Enyeama; Echiejile, Omeruo, Oboabona, Ambrose; Mba, Onanzi, Mikel, Moses; Ideye, Emenike.
Referee: Djamel Haimoudi (Algeria)
You can watch the match live HERE
Click here for live commentary

Haf Time: Cote d' Ivoire 0:1 Nigeria
42′ Goal!!! Ivory Coast 0:1 Nigeria (Emmanuel Emenike)

50′ Goal!!! Cote d' Ivoire 1:1 Nigeria (Cheick Tiote)

Full Time: Ivory Coast 1:2 Nigeria
78′ Goal!!! Cote d' Ivoire 1:2 Nigeria (Sunday Mba)
The Ugandan…, 0-3 so far.
Where is Elias?
By sscouser | February 1st, 2013 at 7:59 pm |

Elias, there is no way the current Nigeria team can beat Ivory Coast? Really? Do you know that football is round?
"I sincerely thank my players for everything they did today. I hope we can keep going to the final. Ivory Coast are the top team on the continent with lots of quality, so we tried to speed up and try to catch out players like Drogba and Yaya Toure. I'm glad my team is progressing in every game. There is great discipline in the team and I just hope we keep going that way. The boys showed character. When the Ivorians levelled we tried to defend and work out our tactics, and we scored again. Sunday came up with a beautiful, beautiful goal." – Nigeria Coah Stephen Keshi
"I'm proud of my players' work. I put forward the team I judged to be the best to pose problems to a good Nigeria side. Of course our aim was to win the title and for certain players this could be their last chance so, yes, there is disappointment in the dressing room. It's a great sadness for me as the players were working with one objective – to win this Nations Cup – but it proved not to be enough." – Ivory Coast Coach Sabri Lamouchi

I feel sorry for Drogba

George, I think Man City fans are happy. Yaya will be available for City's next weekend's match. They missed Yaya today (against Liverpool).

Burkina Faso v Togo [18:30 GMT]
Burkina Faso: Diakite; Koffi, B.Kone, Koulibaly, Panandetiguiri; D.Kone, Ouattara, Kabore, Dagano, Sanou; Pitroipa.
Togo: Agassa; Gaffar, Nibombe, Bossou, Djene; Akakpo, Amewou, Romao, Gakpe; Ayite, Adebayor.
Referee: Badara Diatta (Senegal)
You can watch the match live HERE
Click here for live commentary

@sscouser, what's your prediction for this game?
I suspect you're 0/3 so far.
I wonder why CAF has Diatta a Senegalese officiating this game and not a ref from another region, maybe N. African?
I know Badara Diatta all too well after the 2007 robbery in Abeokuta.
Posted from
United States

Half Time: Burkina Faso 0:0 Togo

"@sscouser, what's your prediction for this game? I suspect you're 0/3 so far.
" The Ugandan…
I will give you my predictions after the tournament is over. My predictions are always spot on.
"I wonder why CAF has Diatta a Senegalese officiating this game and not a ref from another region, maybe N. African?"
During CECAFA Uganda 2012, the match officials were from which region?
"Come on Burkina Faso, with Defoe out and no strikers signed in the window, Adebayor coming home early would be a God send." – Tottenham fan Shloke Anand

Full Time (+ 30 Minuts Extra Time): Burkina Faso 1:0 Togo
105′ Goal!!! Burkina Faso 1:0 Togo (Jonathan Pitroipa)
The Ugandan…, 0-4

Ivory Coast didn't come to play. Nigeria deserved their win. Togo lost due to inexperience.
@sscouser, at least I'm not waiting until the end of the tournament like you.
Posted from
United States

Again, my predictions are always spot on. I don't want to be a spoiler that's why I wait.

Togo peace shattered as Adebayor slams coach
AFP (4 February 2013)
The fragile peace between Togo coach Didier Six and his star player Emmanuel Adebayor has been shattered following the team's quarter-final loss to Burkina Faso.
In the aftermath of Sunday's 1-0 extra-time defeat, Adebayor rounded on the inexperienced Six in a no-holds-barred attack on the Frenchman's style of management.
"The coach was not a help! Me, I was on the pitch, so I couldn't do both jobs (coaching and playing).
"I tried to do my best, but it's true he didn't help us," the Tottenham striker told French radio station RFI.
Adebayor's sentiments were endorsed by Togo goalkeeper Kossi Agassa, who in a not-so-veiled criticism of Six's tactical nous said: "It's not up to the players on the pitch to make changes."
Six, when contacted by AFP, said that he wanted to have "a cool head before making an assessment" of Togo's Nations Cup campaign and the reaction from Adebayor and Agassa.
But he went on to point out that: "I took them (the team) to a place where they had never been before," referring to Togo's first appearance in a Nations Cup quarter-final.
Togo's build-up to the 2013 Nations Cup was dominated by a 'will-he-won't-he' saga involving Adebayor's participation following a series of run-ins with the Togolese Football Federation over matters of security, management and bonuses.
Adebayor told RFI: "If the Togo team is organised in the best way possible, I will alweys be there for it.
"It's true that I hear each time 'he's coming, he's not coming' — but that's because there are lots of problems.
"If these problems are resolved, I will be there.
"You've seen that I give the best of myself. I speak in the dressing room, I'm a leader, I'm the captain."
Adebayor, who scored once in Togo's run to a first quarter-final appearance, added: "I'm disappointed, disgusted, beaten!
"We came here with the idea of winning the Nations Cup, to go to the final and, unfortunately, we were knocked out by Burkina. The disappointment is more than enormous."
Despite his attack on Six, he insisted that now was not the time to look for scapegoats.
"The most important thing is to return home quietly and tomorrow we'll see what everyone has to say."
On his international future, Adebayor said: "My international career is not stopping here. I've been in a Nations Cup quarter-final, now I think I've got the qualities to go to the semi-finals, and a final, and to win the title.
"But you know as well as I do that our management isn't really up to that.
"With our performance at this Nations Cup, the country, the president of the republic, the fans have seen what we are capable of. Now it's up to them to invest so that we can organise in the best manner possible."
Togo's Cup campaign came to an end when Jonathan Pitroipa broke the deadlock on 105 minutes to book the Burkinabe a semi-final meeting with Ghana in Nelspruit on Wednesday.

Always the bridesmaid, Côte d'Ivoire still lacks champion touch at Africa Cup of Nations
rfi (5 February 2013)
And so it happens once again. Côte d'Ivoire arrive rippling with intent and they leave without the spoils.
Last year in Gabon they were denied victory in the final by a Zambia side eager to pay tribute to their own golden generation lost in a plane crash in 1993 just outside the Gabonese capital, Libreville.
This year in South Africa, Côte d'Ivoire, boasting some of the most famous and garlanded African footballers, were thwarted by a Nigeria side that were their juniors in every department.
Nigeria skipper, the veteran defender Joseph Yobo, hinted on the eve of the clash that the lack of eminence could be a boon. And he was right. His young charges bristled with brio and energy as they toppled their so-called superiors.
African football appears obsessed with golden generations. The Zambians – until the final victory last year – mourned the 18 players who died in the Atlantic, their promise never to be fulfilled.
Nigerians look back to the time two decades ago when they set the tone and style of football on the continent. Nigeria coach Stephen Keshi, himself a former international from that era, says those standards can return. But it will take time.
Nigeria haven't won the Cup of Nations since Keshi's playing days in 1994 and when striker Rashidi Yekini was in his pomp.
Emmanuel Emenike's thunderbolt drive from 30 metres which gave Nigeria the lead against Côte d'Ivoire would have made Yekini proud. But what will particularly encourage his former team mate is the collective maturity Nigeria showed in the quarter-final.
Perhaps Keshi's tyros played with freedom because they felt they had nothing to lose, having been judged the smaller team. Against Mali in Durban on Wednesday, Nigeria will be expected to deliver, having fried the biggest fish of them all.
In the days before the semi-final, Keshi will have to douse expectations that progress past Côte d'Ivoire has brought forth a new Nigerian golden generation.
But what now for the Ivorians? Surely the 2013 tournament has to be the last one for Didier Drogba and Zokora? They've been the dominant forces through two World Cup campaigns as well as the Cup of Nations since 2006.
Is it time to rebuild the team around Yaya Touré and invest in the lanky but raw talent of Lacina Traoré? And what of coach Sabri Lamouchi?
He was appointed after François Zahoui was deemed inadequate following the march to last year's final. Lamouchi hasn't even emulated his predecessor.
Do the executives at the Ivorian federation go medieval on the former France international or do they give him the time they so saliently didn't afford Zahoui?
Lamouchi appeared to be travelling along the right lines during the competition in South Africa. Drogba was translucent in the game against Togo and he was dropped from the starting line-up for the second Group D game against Tunisia. The Ivorians swept past the north Africans, Drogba entering late in the match after it was effectively won, to help create the final goal of the 3-0 rout.
Drogba was back at the front for the largely ceremonial game against Algeria; Côte d'Ivoire were already Group D winners and Algeria out. Drogba scored one as his side drew 2-2.
He was restored as skipper for the quarter-final against Nigeria, but often left isolated as the team slumped. It could be his last game for the Elephants at a Cup of Nations.
But there are mitigating circumstances. " Côte d'Ivoire lost the 2006 final in Egypt to a very good Egypt side," says Jonathan Wilson, editor of the British football magazine The Blizzard:
"The Egyptians were a strong team who went on to win the next two Cup of Nations. But since the demise of the Egyptians, we've expected the Ivorians to win and if you'd told me back in 2006 that in seven years time, you'll be going to a Cup of Nations wondering if the Ivorians would ever win anything, I'd have said you're crazy. I couldn't see any way that they couldn't win it. And yet they haven't."
The fear now is that the incompetence has calcified. "Not winning has created demons and doubts," adds Wilson.
And those will certainly be there in another two years if they qualify for the next tournament.
Drogba hasn't yet made any announcements about his international future. Some will say his halcyon days are well behind him, the best service he can render his country is by offering his considerable experience and nous to his forward line heirs.
"He's probably the greatest player in the country's history", says Wilson. "And although he's done extraordinary things, not just for the football team but also for the country, in his work reconciling the disparate parties in the civil war, he knows that in the 2006 final with 10 minutes to go he missed a sitter and then he missed his penalty in the shoot-out.
He knows last year he missed a penalty with 20 minutes to go. But if he'd had scored that penalty – if he hadn't missed that sitter in 2006, they would have won it. He must feel a level of personal responsibility which isn't entirely fair because he has been a superb player for them. But on those two key moments, he failed."
Drogba's team mates will cast covetous eyes as others lift and parade a crown that they were told was theirs to hold.
But it was never their birthright. And instead of a story glittering with glory, it's become a protracted descent into misery. The brutal truth is that some of the most gifted players in Ivorian history haven't – collectively – produced. Certainly they've been consistent: two finals, one semi and two quarter-finals in the last five tournaments are a testament to that, but they haven't been champions.
After Zambia became the first title-holder champions since Algeria in 1992, to fall at the group stages, the Zambia coach, Hervé Renard, made comments in his valedictory sweep of interviews that may well appease disappointed Zambians back home but will inevitably gnaw at the grief of the Ivorians so spectacularly spooked in last year's final in Libreville .
"It's better to have been African champions once," he grimaced. "It's better rather than running after it for your entire life and never winning it."
Touché.
Comments are closed