2013 AFCON: Match Day 1
January 18th, 2013 | by: sscouser |

Comments(56)
AFRICA CUP OF NATIONS SOUTH AFRICA 2013 (19 January – 10 February, 2013)

Opening Ceremony highlights
Group Tables updated 22 January 2013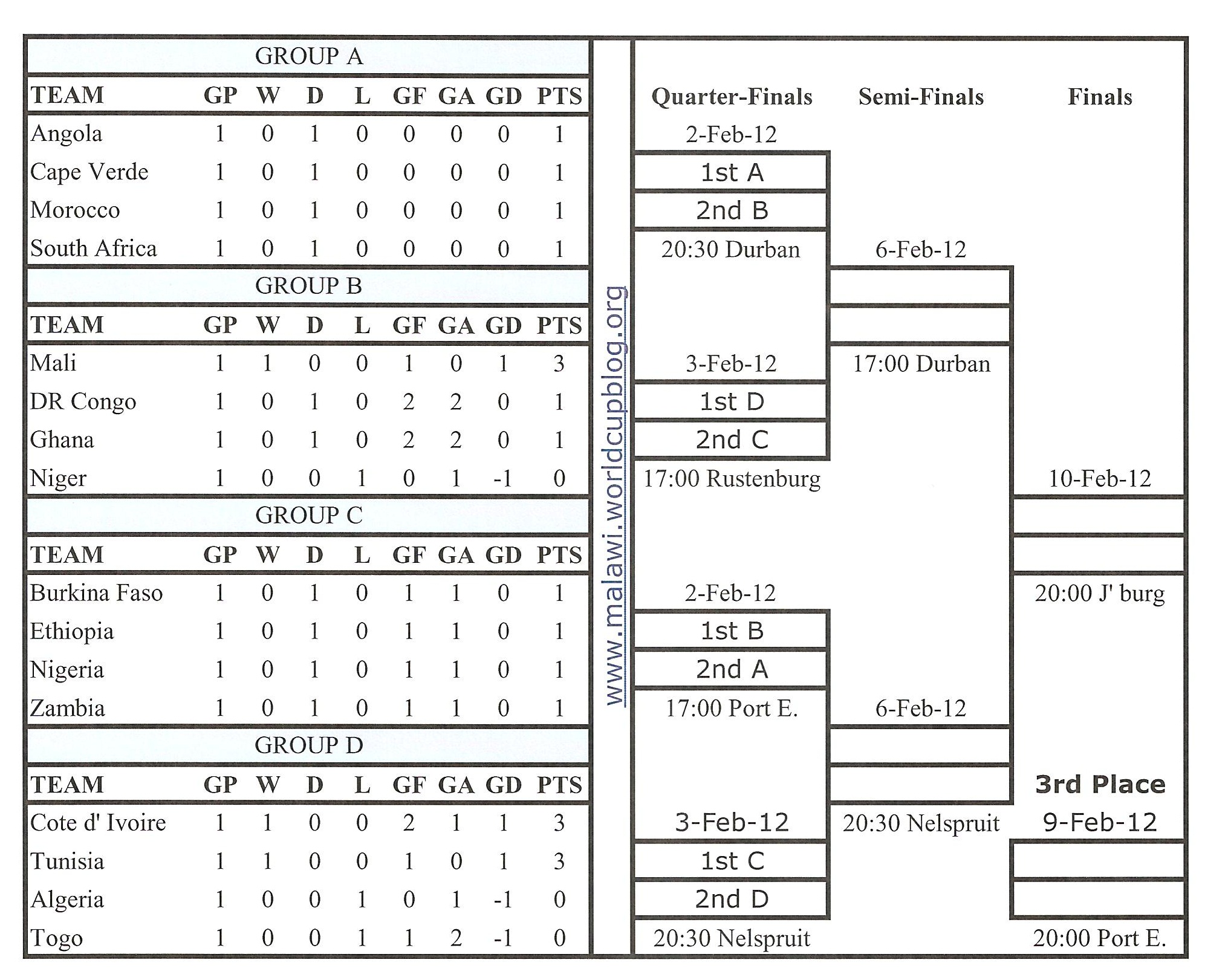 MATCH DAY 1 FIXTURES (Time = Local Time = UTC/GMT +02 hours):
Group A (Click here for 23 man squads)
19 Jan: South Africa 0:0 Cape Verde
19 Jan: Angola 0:0 Morocco
Here is a poll.
South Africa 0:0 Cape Verde

Angola 0:0 Morocco

Group B (Click here for 23-man squads)
20 Jan: Ghana vs. DR Congo (17:00) – Port Elizabeth
20 Jan: Mali vs. Niger (20:00) – Port Elizabeth
Here is a poll
Ghana 2:2 DR Congo

Mali 1:0 Niger

Group C (Click here for 23-man squads)
21 Jan: Zambia 1:1 Ethiopia
21 Jan: Nigeria 1:1 Burkina Faso
Here is a poll
Zambia 1:1 Ethiopia

Nigeria 1:1 Burkina Faso

Group D (Click here for 23-man squads)
22 Jan: Cote d' Ivoire 2:1 Togo
22 Jan: Tunisia vs. Algeria (20:00) – Rustenburg
Here is a poll
Cote d' Ivoire 2:1 Togo

Tunisia 1:0 Algeria

Live Stream links (if any) will be provided in the comments section.
Related Posts:
- 2013 Africa Cup of Nations Open Thread
- 2013 AFCON: South Africa vs Malawi (Friendly)
- 2013 Africa Cup of Nations Tournament Draw Held
- 2013 Africa Cup of Nations Tournament Draw
Subscribe to the Malawi World Cup Blog RSS Feed
Subscribe

Malawi World Cup Team Blog RSS Feed

Share
Comments

I have a bad feeling about our game against Ethiopia tomorrow. There are no longer underdogs in football. Niger were just unlucky today.

It will be great to beat the defending champions.Nigeria is the team I am afraid of in our group. Zambia and Burkina Faso don't score a lot of goals.

Which club does the DR Congo keeper play for? The guy needs to be signed by a big club just for the entertainment.

We are not going to underrate Ethiopa. Any team that is at the tournament is not there by chance. I hope the promise by our government will motivate the chipolopolo boys to retain the trophy. The government has promised to pay each player $90000 if they retain the trophy and $20000 if they reach the finals. Go boys!

@Phillip DRC keeper plays for TP Mazembe. Google Youtube videos of TP Mazembe at the World Club championship. If the club doesn't score then there will not be any entertainment.

Gideon, I understand the Zambia Government promised each player UP TO US$90,000 if they retain the trophy. Up to US$90,000 can be any figure between US$o and US$90,000.
The Ugandan…, Phillip/Philip didn't have a second to open this link and you think he will have time to Google Youtube videos?
"If the club doesn't score then there will not be any entertainment."
Isn't THIS entertainment for some people?

Zambia vs Ethiopia
"As defending champions we understand that sides will be looking to beat the champions. Our victory last year in Gabon and Equatorial Guinea spurs us on to do well. Winning brings confidence and with the hard work we have put in we believe we will reap the rewards. Now that we have tasted victory we want the feeling of that taste again" – Zambia Captain Christopher Katongo
"I would say we a 20 to 22 % change in the current squad from the one that won the title just under 12 months ago. There are 5 new players and in Collins Mbesuma we have got a resurrected striker, he is almost a new player and then we have Jacob Mulenga back in the side too. I would rather not talk about Nigeria at this time as our focus is on Ethiopia game coming on Monday. They are a good side l watched their 1-1 draw here in South Africa against Bafana Bafana and they are not to be taken lightly. We also saw Cape Verde against South Africa yesterday; there are not small teams at AFCON finals" – Zambia Coach Herve Renard
"The team and l do not have any pressure on us at all playing at AFCON finals. By reaching the finals after three decades of missing out is enough success really. Of course we want to win and will play our hardest but this is an inexperienced young team and we will be learning too during our participation in this tournament" – Ethiopia Coach Sewnet Bishaw
"It is a wonderful feeling being at the AFCON finals. It is something new to us and on the field of play we will give a good account of ourselves and show that we are not here by mistake. We are a youthful side, inexperienced but with enough energy and interest in making our presence felt at this tournament"
- Ethiopia Striker Ethiopian striker

TEAM NEWS – Zambia 0-0 Ethiopia (1500 GMT) – 10am time on this blog
Zambia: Mweene, Nkausa, Himoonda, Sunzu, Musonda, Sinkala, Lungu, Chansa, Kalaba, Mbesuma, Christopher Katongo. Subs: Titima, Kasonde, Jacob Mulenga, Felix Katongo, Chamanga, Chivuta, Njovu, Mbola, Mayuka, Sakuwaha, Munyao, Mukuka Mulenga.
Ethiopia: Tassew, Bune, Elias, Hailu, Tesfaye, Bekele, Megersa, Adane Girma, Teshome, Kebede, Said. Subs: Bancha, Gebreyes, Zinabu, Alula Girma, Bogale, Oukri, Ibrahim, Estifanos, Saleh, Assefa, Hintsa, Tadelle.
Referee: Eric Otogo-Castane (Gabon)
You can watch the match live HERE
Click HERE for live commentary

Half Time: Zambia 1:0 Ethiopia
18' CLOSE! – Ethiopia's Saladin Seid lobs his effort over the onrushing Zambia goalkeeper but the ball SOMEHOW bounces over the crossbar.
24' Penalty Saved – Zambia Goalkeeper Mweene saves Saladin Said's Penalty kick
34' Ouch! – Ethiopia Goalkeeper makes a wild and reckless lunge on Chisamba Lungu. Both Players down.
37' Red Card - Ethiopia Goalkeeper Jemal Tassew shown red card while being stretchered off the pitch
40' Substitution – Ethiopia midfielder Shimelese Bekele out- Goalkeeper Zerihun Tadele in
45' + 3 Goal!!! Zambia 1:0 Ethiopia (Collins Mbesuma)
45' + 4 Half Time

Full Time: Zambia 1:1 Ethiopia
65' Goal!!! – Zambia 1:1 Ethiopia (Adane Girma)
"We deserve what we got today. Merit goes to Ethiopia. We hope they can confirm it against Nigeria and Burkina Faso." – Zambia Coach Herve Renard
"I'm happy as we missed a penalty and drew. This is our first experience after 31 years so, as you see, it was fantastic for our football. The players have shown their characters, and shown the rest of the world they can play football. The goalkeeper also has to defend, he went to defend the ball, and shouldn't have been red carded." – Ethiopia coach Sewnet Bishaw
"First of all I would like to congratulate Ethiopia for a very good performance. I'm not surprised – I said be careful of this team, they are able to play very good football. Today, we have to thank our goalkeeper – without Kennedy Mweene it could have been a very, very bad result. Our fans expected more than we did today, and they are right. Today, it was the fault of the coach. I did not prepare the team well to start the competition – we'll see how things go after the third game. I saw a replay on the screen (of red-card incident) and, for me, he deserved to be sent off." – Zambia coach Herve Renard

Nigeria vs Burkina Faso
"I feel the hunger of my players as the match against Nigeria approaches. We had a long period of preparation and it is time now that the competition starts and I think we are ready to attack Nigeria. Anyway, I feel that everyone has the will and wants to prove something. We respect the Nigerian team that has players playing in major European leagues, but this does not mean that our team does not have the means to overcome this team because we have players who are in good clubs in Europe." – Burkina Faso coach Paul Put
"Many observers wonder if we are not afraid of Nigeria but I would say that it is Nigeria that is afraid us. We respect Nigeria and know that they are good side but we aim to match them on Monday. We have quality players who will make life difficult for Nigeria this is so despite injury worries we have with Alain Traoré and Issouf Ouattara and the absence of Charles Kabore.It's hard to know to take it that l will not play this important game against Nigeria, but I knew for three weeks. This is not serious and the most important thing for me today is to be 100% with my colleagues who will be on the field and be ready when the coach needs me. I think I can be ready for the second match against Ethiopia." – Burkina Faso Moumouni Dagano
"It is difficult to play with a young side. We have as they are inexperienced players but l am positive the experienced ones will carry them through and we will get a win in our first match. That's our target but we are fully aware that we are up against a very good Burkina Faso team. What l want my players to produce is their best and should we do that l am sure we will bring joy to many Nigerians." – Nigeria coach Stephen Keshi
"We have a balanced squad made up young and experienced players. Instead of talking about winning the competition right now we would rather take it one day at a time but yes l believe we have the best team capable of lifting AFCON trophy and even if we make mistakes but we will win. We don't have any issues with bonuses; it's not about money but our pride as a nation." – Nigeria Captain Joseph Yobo

TEAM NEWS – Nigeria 0-0 Burkina Faso (1800 GMT) – 1pm time on this blog
Nigeria: Enyeama, Echiejile, Yobo, Oboabona, Ambrose, Ogude, Mikel, Igiebor, Ideye, Emenike, Musa. Subs: Agbim, Obiorah, Egwueke, Moses, Gabriel, Uche, Onazi, Uzoenyi, Mba, Oshaniwa, Omeruo, Ejide.
Burkina Faso: Soulama, Bakary Kone, Keba Paul Koulibaly, Panandetiguiri, Koffi, Djakaridja Kone, Pitroipa, Rouamba, Dah, Bance, Dagano. Subs: Diakite, Henri Traore, Alain Traore, Ouattara, Balima, Rabo, Kabore, Pan-Pierre Koulibaly, Wilfried Sanou, Abdou Razak Traore, Nakoulma, Germain Sanou.
Referee: Mohamed Benouza (Algeria)
You can watch it live HERE
Click HERE for live commentary

Half Time: Nigeria 1:0 Burkina Faso
23′ Goal!!! Nigeria 1:0 Burkina Faso (Emmanuel Emenike)

Full Time: Nigeria 1:1 Burkina Faso
73' Red Card Efe Ambrose (Nigeria) after a second yellow.
90' + 2 Goaaaaaaaaaaaal!!!!! Nigeria 1:1 Burkina Faso (Alain Traore)
"I am very proud of the boys, they did everything I wanted. I am going to pick it up again tomorrow morning with them. Right now, I am not going to blow their head up about this game. I will take my time to psych them up and bring them up to the best of their ability." – Nigeria Coach Stephen Keshi

Group C
1) Burkina Faso (1 point)
2) Ethiopia (1 point)
3) Nigeria (1 point)
4) Zambia (1 point)

This Zambia team is starting to disappoint me. We will be very lucky to qualify for the quarters.

Super Eagles all the way. There is no need to panic. We just lost concentration at the end because we thought the game was already over. Let me be the one to first say that we will beat Zambia by at least 3 goals

drogba's time

Ivory Coast v Togo (15:00 GMT) – 10am time on this blog
Ivory Coast: Barry, Eboue, Toure, Bamba, Tiene, Zokora, Toure, Konan, Gradel, Gervinho, Drogba. Subs: Yeboah, Kone, Boka, Romaric, Razak, Kalou, Tiote, Bony, Lacina Traore, Lolo, Ismael Traore, Ali Sangare.
Togo: Agassa, Nibombe, Mamah, Djene, Bossou, Akakpo, Amewou, Romao, Jonathan Ayite, Gakpe, Adebayor. Subs: Atsu, Wome, Salifou, Floyd Ayite, Mani, Ouro-Akoriko, Segbefia, Placca, Ametepe, Donou, Damessi, Tchagouni.
Referee: Neant Alioum (Cameroon)
You can watch the match live HERE
Click HERE for live commentary

Half Time: Ivory Coast 1:1 Togo
8' Goal!!! Ivory Coast 1:0 Togo (Yaya Toure)
45' + 2 Goal!!! Ivory Coast 1:1 Togo (Jonathan Ayite)

Full Time: Ivory Coast 2:1 Togo
88' Goal!!! Ivory Coast 2:1 Togo (Gervinho)
"It was a tough game, we expected that because Togo are a good side but we made a lot of mistakes." – Didier Drogba
"I was expecting something better from us – it wasn't our best performance. I thought the first match was going to be difficult, but it was much harder than I envisaged. I'm happy with the win, but we made too many mistakes, and will have to use this game as a lesson." – Ivory Coast coach Sabri Lamouchi
"I think my team deserved something else than that. It wasn't right (to disallow our goal) – the rules weren't respected." – Togo coach Didier Six

Algeria v Tunisia (18:00 GMT) – 1pm time on this blog
Algeria: Mbolhi; Cadamuro, Belkalem, Medjani, Mesbah; Lacen, Mostefa, Guedioura, Kadir, Feghouli; Soudani.
Tunisia: Ben Cherifia; Ifa, Abdennour, Chammam, Hichri; Traoui, Mouelhi, Hammami, Msakni; Jemaa, Khlifa.
Referee: Papa Gassama (Gambia)
You can watch it live HERE
Click HERE for live commentary
"My squad is inexperienced but full of desire to do well. Although I am optimistic, it will not be a major surprise if we are eliminated after the opening round. If we get to the quarter-finals you never know what can happen, but we have to get there first and it starts with a positive result from our outing against Tunisia." – Algeria Coach Vahid Halilhodzic
"This is unquestionably the toughest of the four first round groups, but we are not complaining. My players are working really hard and I believe we can go far – maybe even to the decider again." – Tunisia Coach Sami Trabelsi

Half Time: Algeria 0:0 Tunisia

Full Time: Tunisia 1:0 Algeria
90′ Goal!!! Tunisia 1:0 Algeria (Msakni)
Group D:
1) Cote d' Ivoire (3 points)
2) Tunisia (3 points)
3) Algeria (0 points)
4) Togo (0 points)
"You have to be really patient in a match like that as they are often decided at the last minute. Unfortunately, when Issam Jemaa came off early on, it left us missing something up front. Bravo to Algeria – they played a good match. Sometimes there is no logic in football and a match can change any time, but we always believed we could win." – Tunisia coach Sami Trabelsi
"The result was an enormous disappointment. We deserved to get something out of the game. I can't criticise any of my players. It's cruel, but that's football. My team largely dominated, but I told them Msakni could cause trouble with his right foot and we were a little naive at the moment that decided the game." – Algeria coach Vahid Halilhodzic

Thanks team worldcupblog for sharing the schedule i Watch live streaming of all the AFCON 2013 on ghanalive.tv.. i really enjoy it..
Posted from
United States
Comments are closed