2013 AFCON Semi-Finals: No Cote d' Ivoire
February 3rd, 2013 | by: sscouser |

Comments(30)
AFRICA CUP OF NATIONS SOUTH AFRICA 2013 (19 January – 10 February, 2013)
The road to the Semi-Finals
- Click here for Match Day 1 Results and Video Highlights
- Click here for Match Day 2 Results and Video Highlights
- Click here for Match Day 3 Results and Video Highlights
- Click here for 1/4 Finals Results and Video Highlights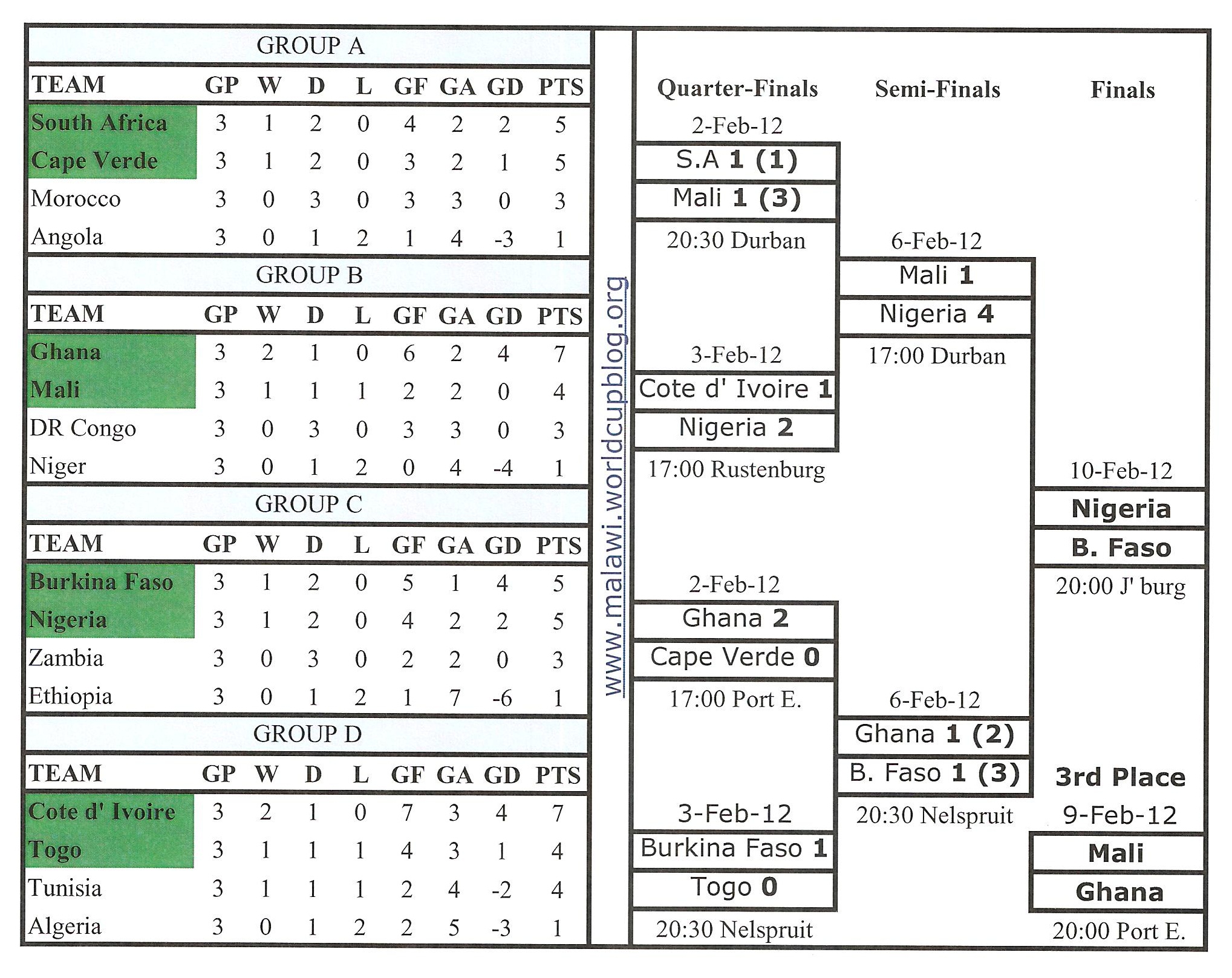 Semi-Finals Fixtures (Time = Local Time = UTC/GMT +02 hours):
6 Feb 2012: Mali 1:4 Nigeria (17:00 Durban)

6 Feb 2012: Ghana 1:1 (2:3) Burkina Faso (20:30 Nespruit)

By the way, this poll is still open:

Subscribe

Malawi World Cup Team Blog RSS Feed

Share
Comments

My head coach Chief Kesi, may d God of favour,success, victory,be with d super eagle team. And may he empower Emenike, mikel and d entire team, in Jesus name. D formation against iverycoast is good, keep it up. I knw kesi will deliver, carry go, u are d best coach, super eagle u ar d best in Jesus name. Up superEagle, keep flyn in Jesus name. 08137932003.
Posted from
Sweden

Put looks forward to 'home' tie with Ghana
BBC Sport (4 February 2013)
Burkina Faso coach Paul Put believes the Mbombela Stadium pitch will favour his side more than Ghana in their Africa Cup of Nations semi-final clash.
The two teams meet on Wednesday on the much-maligned surface in Nelspruit.
The Stallions have played all four of their matches at the tournament on the pitch, including their 1-0 win over Togo in the quarter-finals.
Ghana have played all their games on the lush green Nelson Mandela Bay Stadium pitch in Port Elizabeth.
"It's always an advantage [having played on the pitch] but Ghana is also a technical team and a physical team as well," Put said.
"But it's still an advantage for us as we are playing in a 'home' game.
"Even though the pitch is very bad it's our home stadium and we have nothing to lose as no one expected us to play in the semi-finals."
Put says his players have adapted their game to suit the surface where the bounce of the ball can be very deceptive.
"It's very difficult because you need one or two controls before you can play the ball, while on the training ground its only one touch.
"So I told the players to be patient and stay well organised because with this pitch you never know.
"With one error they can kick your head off, so we have to be careful."
The Belgian coach says his first task in preparing the team to face Ghana is to bring his players back to earth after Jonathan Pitroipa's header sent them into the semi-finals for the first time since 1998 when they achieved the feat on home soil.
"I'll keep them with both feet on the ground – I know Africa a little and if you let them fly it never ends," he said.
"I'll congratulate them and tell them I'm very proud but there's still a job to do and as long as it's not done you have to concentrate and stay focussed on your work.
"We respect Ghana they are a great team and great players but one thing is sure we are playing in Nelspruit for the fifth game – so it's our home stadium now."
Historically, Ghana have the upper hand over Burkina Faso at the Nations Cup finals, having won all three encounters between the two.
In 1978, the then Upper Volta lost 3-0 while in 2002 the Black Stars won 2-1 and most recently they triumphed 1-0 in 2010 – all the matches were in the group stages of the tournament.

AFCON 2013 Burkina Faso v Ghana: Team News, Tactics, Line-ups And Prediction
The Hard Tackle (4 February 2013)
Burkina Faso
Burkina Faso will go in this semi-final clash as clear underdogs after they scored an extra-time winner over Togo in the quarters. Burkina Faso has been able to eke out two draws and two victories so far and will hope to continue their dream run in this year's AFCON.
After seeing off last year's winners Zambia in the group stages with an expert defensive display, they toiled long and hard against Togo. Jonathan Pitroipa, who was the chief architect of everything offensive about Burkina Faso headed home the winner in the 105th minute. It was a physical encounter to say the least and the referee was not hesitant to dish out cards. As many as 8 were shown during the match as both teams struggled to make any headways in the opposition defence. The finishing from both the teams left a lot to be desired as they fumbled chance after chance in the final third. The game opened up after the break as two teams now preferred end-to-end play rather than physical bout. Burkina Faso deservingly won the tie and now they enter uncharted waters where the mighty Ghana lies in wait for them.
Alain Traoré has been ruled out for the entire tournament following his untimely injury and Burkina Faso will be looking to Jonathan Pitroipa to show them the way. The Stade Rennais player prefers to play either as a striker or a right-winger and has been key to Burkina Faso's progress in the tournament. Their main game plan involves flooding the midfield in order to block out the opposition and then hit on the counter attack.
Burkina Faso might hold a slight advantage over Ghana in the upcoming match as they have played as many as four matches at the Mbombela. The pitch has been criticized by one and all with Togo striker Adebayor calling it a "disgrace". However, that might not be enough to stop Ghana, who prefers a sleek, passing game.
Possible Starting XI (4-3-3): Daouda Diakite(GK); Bakary Kone, Paul Koulibaly, Saidou Panandetiguiri, Mohamed Koffi; Djakaridja Kone, Jonathan Pitroipa, Issouf Ouattara; Charles Kaboré, Wilfried Sanou, Beli Moumouni Dagano
Ghana
Ghana has slowly and steadily grown in strength as the tournament has progressed. After their initial draw against Congo DR, they've clawed their way back in this year's AFCON and staked their claim of going all the way. One of the pre-tournament favorites, Ghana has made their presence felt with three successive victories
In their previous match, they faced off against Cape Verde for a place in the semi-finals of AFCON 2013. Cape Verde has been the surprise package of the tournament and to get so far has been a dream run for the tiny nation. However, Ghana was in no mood to oblige and dished out a performance which sent a warning to the rest of the teams. The partnership of Porto's Christian Atsu and Asamoah Gyan has been instrumental for Ghana this year and they will be looking to the pair to put them ahead in the semi-finals where they face off against Burkina Faso. Ghana will be hoping to break the jinx this time around after failing to cross the semi-final mark in the last three editions of AFCON.
Two emerging players for Ghana have been Emmanuel Agyemang-Badu and Anthony Annan and James Kwesi Appiah will be looking to mold these two players into quality performers once the tournament is done and dusted. Ghana has performed remarkably well in the absence of John Mensah and Michael Essien with Juventus' Kwando Asamoah being a force to reckon in midfield.
The Black Stars will be looking to progress to this year's finals and hold aloft the coveted trophy which they last won in 1982. Wakaso will be looking to continue from where he left off against Cape Verde, where he scored the only goals in the match – one from the penalty spot and the other deep in injury time.
Possible Starting XI (4-5-1): Fatau Dauda(GK); John Paintsil, Issac Vorsah, John Boye, Harrison Afful; Christian Atsu, Emmanuel Agyemang-Badu, Mubarak Wakaso, Mohammed Rabiu, Kwadwo Asamoah; Asamoah Gyan
Prediction
Burkina Faso 0-2 Ghana
In what will be an interesting encounter for both the teams, Ghana might just be too strong for Burkina Faso at this stage of the tournament. Ghana has to break the jinx that has been placed on them and finally qualify for the finals of the AFCON 2013. Burkina Faso, on the other hand has nothing to lose, given that no one expected them to come so far in this tournament. It will be a cagey affair to say the least but one where Ghana will come out on top. Burkina Faso will have a considerably less rest than Ghana and fatigue factor is likely to even out any advantage they have with their familiarity with the turf.

AFCON 2013 Mali v Nigeria : Team News, Tactics, Line-ups And Prediction
The Hard Tackle (4 February 2013)
Mali
Mali repeated their performance from exactly one year back when they knocked out South Africa in the quarter-finals of AFCON 2013 via a penalty shoot-out. In 2012, Gabon faced the same ignominy, coincidentally at the same stage of the tournament. However, last year they failed to clinch the trophy, an outcome they would like to change this time around. Oddly though, both Gabon and South Africa were hosts during the respective years!
The match was one of the best ever in this year's AFCON and both the teams gave everything in their quest for glory. However, unfortunately, in football like in life, there can be only one winner and as fate would have it, it turned out to be Mali. South Africa started the match strongly and dominated procession for much of the first half. Relying on speed and skill, South Africa drew first blood. However, Mali were not to be outdone. Their continued efforts finally bore fruit when captain Keita scored the equalizer in the second half. Mali's insistence on brute force was countered by the skillful displays of the South Africans. In the end, it took the dreaded penalty shoot-out to separate the two teams. While Mali scored from every one of their kicks, Diakite blocked two while the third was shot high. Mali's persistence paid off finally and they were rewarded with a spot in this year's AFCON semi-finals.
Seydou Keita has been the leading light for Mali so far in this tournament. The captain has led from the front on all of the matches and has scored two goals till now. Possessing an excellent passing ability coupled with his eye in finding short passes has been instrumental for Mali's game. Weakened by internal troubles, the national team has given them some reasons to cheer about.
Mali has relied on brute force so far to progress in this competition and they find it difficult to play against teams possessing flair. They will look to field a 4-5-1 formation with a lone striker on top and look to dominate midfield. Mali are sometimes susceptible when faced with fast counter attacking teams so they might engage in a physical encounter to stop those. However, they need to exercise caution since many of their players are already on a caution.
Possible Starting XI (4-5-1): Soumaila Diakite(GK); Fousseni Diawara, Adama Tamboura, Adama Coulibaly, Molla Wague; Mohamed Sissoko, Seydou Keita, Samba Sow, Samba Diakité, Modibo Maíga; Mamadou Samassa
Nigeria
Nigeria started their campaign from a tough group but eventually emerged unscathed with one victory and two draws in their group stage matches. They caused the biggest upsets in this year's AFCON when they knocked out pre-tournament favorites Ivory Coast in the quarter-finals.
Billed as one of the biggest clashes of AFCON 2013, Ivory Coast was expected to win and progress. However, Nigeria had other intentions. Didier Drogba, the inspirational leader on so many occasions failed to lead the team from the front and throughout the match looked like a pale shadow of the striker he once was. It is uncertain whether he will feature again for Ivory Coast, but from the looks of it, it might be curtains for the ex-Chelsea hero. Nigeria went ahead with a bullet free-kick from Emenike in the first half, after probing the Ivory Coast goal for quite some time. Victor Moses was a threat throughout the match and his pace and movement troubled the Ivory Coast back-line. Drogba did have his hand in the only goal scored by Ivory Coast as his free-kick was headed home by Tiote. Yaya Toure tried his luck at increasing the lead but his efforts proved to be in vain. The end came when Mba ran at the back-line and shot at goal. Although the ball was deflected, it ended up at the back of the end thereby eliminating Ivory Coast.
Emenike has been the star so far for Nigeria, having scored 3 goals so far. He is closely followed by Chelsea wing-man Victor Moses, who has notched up 2 goals – both from penalties. John Obi Mikel has been a key fixture in the Nigerian line-up and he has performed reasonably well although he did miss a key penalty in the group stage match against holders Zambia.
Nigeria will look to field a 4-3-3 formation with three strikers in the starting line-up. Having defeated Ivory Coast, Nigeria looks to be the bookmaker's favorites to go all the way and lift the coveted trophy.
Possible Starting XI (4-3-3): Vincent Enyeama(GK); Elderson, Efe Ambrose, Godfrey Obobona, Kenneth Omeruo; Brown Ideye, John Mikel Obi, Ogenyi Onazi; Emmanuel Emenike, Victor Moses, Sunday Mbah
Prediction
Mali 1-2 Nigeria
After overcoming Ivory Coast in the quarter-finals, Nigeria are over-whelming favorites to clinch the trophy this time. Should they progress, they might face off against Ghana for the title. Mali, on the other hand must rely less on brute force and also exercise caution on bookings. It will be an interesting encounter with both teams likely to progress, but with the attacking line at Nigeria's disposal, the result might tilt in their favor.

The Ugandan…, we are still waiting for your predictions
Did the 49ers win the Super Bowl? You got it wrong again
Bill Clinton once said: "One of the things that I think we have learned is that we should all be very careful about making predictions about the future."
By the way, are there still two parallel football leagues in Uganda? I understand last week the Education and Sports Minister Jessica Alupo was meant to make a ruling on which of the two Football Leagues (Uganda Super League and FUFA Super League) should stay in place, and instead said cabinet headed by President Yoweri Museveni will make the final ruling soon. SMH

By the way, 6 February 2013 is a FIFA fixed international match day. Some teams that failed to make it to AFCON 2013 will play friendly matches on this day.
Rwanda vs Uganda
Kenya vs Libya
Chile vs Egypt
Tanzania vs Cameroon
Zimbabwe vs Botswana
Senegal vs Guinea
The results of all these matches (including all AFCON 2013 Tournament Results) will be included in the calculation of points for February Ranking (to be released on 14 February 2013). Expect Nigeria, Burkina Faso and Ghana to move up.
Current Ranking
Mali (World = 25; CAF = 3) will move up or down a little bit (depending on the Nigeria match result)
Ghana (World = 26; CAF = 4) will be ahead of Algeria (World = 22; CAF = 2) – win or lose
Nigeria (World = 52; CAF = 9) will be ahead of Zambia (World = 39; CAF = 5) – win or lose
Burkina Faso (World = 92; CAF = 23) will move up about 30 places (World) 9 places (CAF) – win or lose
Ba out of Senegal game with broken nose
PA (5 February 2013)

Demba Ba has become the latest Chelsea player to withdraw from international through injury and, like Petr Cech, could be a doubt for Saturday's Premier League clash with Wigan.

The Senegal striker suffered a broken nose in last Saturday's loss at his former club Newcastle and his withdrawal follows that of Czech Republic goalkeeper Cech, who has a finger injury.

A story on Chelsea's official website read: "The Senegal Football Federation have announced that Demba Ba has withdrawn from the squad ahead of their game against Guinea, after suffering a broken nose during Saturday's 3-2 defeat against Newcastle United."

Ba has scored four goals in 16 games for the full Senegal national side.

AP- One of the most controversial rules in football is set to be changed next month when the game's lawmakers attempt to clarify when a player should be judged offside.

The International FA Board has been asked by FIFA to make it clearer for referees to rule when a player in an offside position is interfering with play or not. The world governing body believes the current wording leaves too much room for interpretation by referees.

As it stands, the ruling states a player is judged to be interfering by 'clearly obstructing an opponent's vision or movements, or making a gesture or movement which in the opinion of the referee deceives or distracts an opponent'.

FIFA's proposed new wording drops any reference to a referee's opinion, simply stating: 'a player is judged to be interfering by "clearly obstructing an opponent's vision or challenging an opponent for the ball"'.
The new wording should make it easier for a player in an offside position to be judged as not interfering with an opponent.

The IFAB meeting in Edinburgh on March 2 will also have an update on the first use of goal-line technology at the FIFA Club World Cup in Japan in December – it is understood that all the goals scored were registered correctly by the equipment.

The board is made up of the four home nations, which each have one vote, and FIFA – which has four votes – and it will also debate how to respond to calls to make it more transparent and democratic.
Germany's Theo Zwanziger, tasked with recommending reforms to FIFA's statutes, has identified IFAB as being ripe for reform and called the make-up of the 127-year-old organisation anachronistic
FIFA also said that the Denmark Football Association made a proposal after one of the most disputed goals of the season.
Shakhtar forward Luiz Adriano provoked outrage when he ignored the sportsmanship code against Nordsjaelland after play was stopped to treat an injured opponent. After play restarted with an uncontested drop ball, he chased the ball down and scored when the Danish champion's defenders stopped to let it reach their goalkeeper.
UEFA accepted that the Brazilian forward acted within soccer's rules – or laws as they known in the sport – yet banned him for one Champions League match and ordered him to perform one day of community soccer service.
The Danish proposal urges the panel to ensure that a goal cannot be allowed if one team was expecting to receive the ball after the uncontested drop has not touched it.

Controversial triple sanction left off IFAB agenda
Reuters (5 February 2013)
BERNE (Reuters) – The controversial "triple punishment", where a player gives away a penalty, is sent off and automatically suspended, has been left off the agenda for the next meeting of soccer's rule-making body.
The International Football Association Board (IFAB) will, however, discuss proposed changes to the drop-ball and offside rules which soccer's governing body FIFA hopes will make referees' decisions more clear-cut and less open to interpretation.
IFAB will also review the additional linesmen who have been used by European soccer's governing body UEFA but shunned by FIFA, when it meets in Edinburgh on March 2.
Champions League, Europa League and European championship matches feature extra linesmen behind the goals to help the referee spot infringements and determine whether the ball has crossed the line.
The so-called triple punishment is invoked when a defender or goalkeeper denies an opponent a clear-scoring opportunity in the penalty area.
In addition to conceding a penalty, he is automatically sent off and misses at least the next game.
Critics complain that such decisions can end matches as a contest or completely change the course and that a penalty would suffice in cases where the foul is not violent.
Criticism turns to outright indignity when the decision which leads to the threefold sanction is shown to be wrong.
A FIFA working group led by former Germany captain and coach Franz Beckenbauer suggested replacing the red with a yellow card except in the case of dangerous tackles.
The proposal was studied by IFAB a year ago and they said it would be reviewed further. It has, however, been left off the agenda for the March meeting.
DORTMUND CASE
One of the most recent controversies was in the Bundesliga match between Borussia Dortmund and VfL Wolfsburg in December.
Dortmund's Marcel Schmelzer was judged to have handled the ball to stop a goal-bound shot but replays showed that the ball hit his knee.
A penalty was awarded, Schmelzer sent off and Wolfsburg, losing 1-0 and completely outplayed, hit back to win 3-2. Referee Wolfgang Stark later apologised and Schmelzer's suspension was annulled.
On the offside rule, FIFA has proposed that the wording be changed to make it clear that a player is considered to be interfering with play if he challenges an opponent for the ball.
FIFA also wants to change the rule to make it clear that a player in an offside position is considered to be gaining an advantage if the ball comes to him following a deliberate save by the opposing goalkeeper, but not from an opponent "who deliberately plays the ball".
"The current wording creates many discussions as it gives too much room for interpretation and is not precise enough," said FIFA.
"The new text is more in line with actual game situations and will eliminate the confusion regarding what is meant by rebound, deflection and when the ball has been deliberately saved."
On drop balls, FIFA has proposed keeping the rule the same but inserting the words "not touched by another player" to clarify the meaning of the term "direct".
Under the rules, a goal kick is awarded if the ball is kicked directly into an opponents' goal from a drop ball and a corner given if the ball is kicked directly into the player's own goal without being touched by another player.
"The proposed new text will clarify the interpretation of the word "direct" in the context of any player playing the ball more than once and thereafter scoring a goal without the ball being played by any other player," said FIFA.

Durban – Mali coach Patrice Carteron says his side are underdogs in their Africa Cup of Nations semi-final against Nigeria, even though they lead the Super Eagles in the Fifa world rankings.

The Eagles are 25th in the world and third in Africa, while Nigeria are 52nd on Fifa's list and ninth in Africa.

Carteron told BBC Sport: "Nigeria beat Ivory Coast, who everyone had thought would win that game.

"Now everyone thinks Nigeria will win the cup, so the pressure is on them."

He added: "They've got good young players like Victor Moses and Emmanuel Emenike, and experienced players like John Obi Mikel – and they've got a good, experienced coach in Stephen Keshi.

"But we have the faith and we are so motivated because we want to give so much to the Malian people.

"This semi-final is not the end; it is the start of something."

Carteron revealed that Mamadou Samassa, the goalkeeper who was suspended for the quarter-final against South Africa, will return to the starting line-up for Wednesday's game.

That is despite the heroics of his replacement, Soumalia Diakite, who pulled off two saves in the penalty shoot-out to see Mali through to the last four.

Mali against Nigeria is the first semi-final, and kicks-off in the Moses Mabhida Stadium in Durban at 1500 GMT on Wednesday.
By the way, FIFA President Sepp Blatter will be in South Africa this Sunday. He will watch the finals. Before going to South Africa he will spend two days in Mauritania (he will attend the opening of the Mauritania FA's new headquarters, a Football Academy, and two artificial pitches at the Stade Cheikha Ould Boidiya, which have been installed thanks to the "Win in Africa" project), two days in Guinea (he will visit the site where new Guinea Football Federation offices are being built, followed by a trip to the Nongo Football Academy, where an artificial pitch built with the support of the Goal Project has just been laid) and a few hours in Botswana (On the agenda is the opening of the Lekidi Football Academy, where an artificial pitch is also due to be built).

The offside rule change should be approved without any opposition. I don't know why it had to take this long to come up with a proposal. Go Mali. Go Burkina Faso. Go Zambia.

@Bruce Mulenga, all they have done is take out the reference to the referee. But guess who makes the judgement call regarding interference? The ref.

To me it's a not an issue. Most offside calls are misinterpreted by untrained fans. Well trained and fit officials get them right.
@sscouser, the president of Uganda is not interested in football. He can juggle and kick a ball but that is as far as he goes. He claims that there are more pressing issues to deal with than football. I agree to a point.
As for the 2 leagues let's wait and see. I personally & FIFA support the FA league (FSL). The other league USL was hijacked by a couple of strong individuals who do not care about the small clubs. You cannot negotiate with these guys. A deal is only as good as the parties involved.
They can squabble all they want as long as it does not affect the Cranes WC campaign.

African coaches treated with less respect says Ghana's Kwesi Appiah at Cup of Nations
rfi (5 February 2013)
Ghana coach Kwesi Appiah last night hit out at what he sees as the unequal treatment and lack of respect shown to African coaches leading national teams. Appiah's Ghana side face Burkina Faso on 6 February in the semi-final of the 2013 Africa Cup of Nations.
It's Ghana 's fourth appearance in the last four since 2008. In last year's tournament, they were the favourites to beat Zambia in the semis but suffered a shock 1-0 defeat.
The Black Stars are in the same position as they take on overachieving Burkina Faso at the Mbombela Stadium in Nelspruit on Wednesday night.
Appiah was assistant coach to Goran Stevanovic in the last campaign and he replaced the Serb last April.
But in his 10 months in charge, he says he's noticed a different attitude towards him from the media and football analysts in his country.
"There's no difference between a foreign coach and a local coach," he says. "But the thing they tend to get is respect. The management shows respect to the coach, the media shows respect to the coach and automatically the players follow."
Of the 16 teams in the Africa Cup of Nations, seven have African coaches.
Appiah, a defender in the Ghana squad that lifted the trophy in 1982, has seen his reputation burnished by leading the team to the semis.
But he told RFI that even in the run in South Africa , he's suffered barbs:
"After the game against Cape Verde, which we won 2-0, people were asking me: 'Are you going to resign?' You know, you really don't need that after a game you've actually just won. The players in the dressing room were happy that they'd won. But outside that's what people feel they can ask."
Admittedly Ghana didn't perform brilliantly in that game, committing 25 fouls during the 2-0 victory over their fellow west Africans.
Appiah says such sloppiness was been addressed in a 30 minute no-holds barred session with the defensive unit after the game.
"It's a problem," adds Appiah. "We're not supposed to be conceding fouls like that in front of the box. We've been working on it."
While there may be trepidation about defence frailties, the attack appears to be in rude health.
Eight goals have been scored and the decision to bring through Wakaso Mubarak appears to be paying dividends. The 22-year-old Espanyol striker bagged a brace in that quarter-final win over Cape Verde and seems to have learned from his indiscretions.
He was suspended for the final Group B match against Niger on 28 January after picking up his second yellow card of the tournament. In the second group game with Mali, he celebrated a goal by lifting his shirt to reveal a vest bearing the slogan: 'Allah Is Great'.
Football authorities take a dim view of such antics. And they don't help team coaches.
"It's not easy building a national team to participate in competitions and to perform," says Appiah. "A local coach needs support when things aren't going well. You need people behind you saying you can do it. But in the case of a black coach, there are so many people who will turn around and say: 'We said you couldn't do it. You're nothing.' They try to bring you down. Once the media starts, the management gets involved too and it puts so much pressure on you. You get distracted and there's no way you can make it."
But Appiah tells RFI he's strong enough to make the necessary decisions. For example, despite criticism in Ghana, he tried to persuade AC Milan midfielder Kevin Prince Boateng out of his self-imposed international retirement. It didn't work. Appiah also left the door open for Asamoah Gyan to return after he took a break from the national team after the last Cup of Nations. That did. Gyan is his ever-willing self in attack.
But Appiah insists that he's not appealing for indulgence. "Along the way you're going to be facing challenges when things aren't going well. And you expect people to let you know. But ultimately it is up to the coach to take the decisions that they think are right for them and for the nation. And if that's not good enough, you can resign or they can sack you."
Appiah's not quite in that position yet. But all may change after the game against Burkina Faso.
Star midfielder Kwadwo Asamoah, who played in the 2010 final defeat to Egypt and also in last year's semi-final setback, adds: "Every year we try to learn from past mistakes. We have a winning mentality. No matter how bad or good we play we try to win and move forward. It's really no good playing well and losing."
Appiah, though, is confident going into the clash. "The unity is fantastic with this group of players," he confides. "We've got 10 young players in there and they mix together so well. They act as if they've been together for years."
The pride is patently paternal. And without quite reaching for the pipe and becoming misty-eyed, he tells RFI that he sees similarities in the bonds between his current charges and the interaction between the men he played with in the all-conquering side of 1982.
But there's an abrupt conclusion to his trip down memory lane. "During my time I think 99 per cent of us were playing locally," he recalls. "At that time the dedication and willingness to play for Ghana was so high, unlike now. You call up some players and because of their egos, they don't want to come.
"Back then you went in for the tackle to defend your country … different eras, different situations."
The scenario now in February 2013 is clear. The players are on the cusp of immortality. Appiah's told the squad his name is in the pantheon. He's challenged them to join him.

Ghana vs Burkina Faso
"Ghana is another challenge but we're going to approach it in the same way as the other games. We will see which players are recovered from the previous matches because we played extra-time [against Togo]. To be on the same level is not easy but we'll try to get the most fit players on the pitch. We have the quality to compete with every team in this tournament. But we need focus and determination." – Burkina Faso coach Paul Put
"It's a learning process and [the players] learned their mistakes [against Cape Verde in the quarter-finals]. They have had four meetings before today [to discuss] how to cope with such situations. I believe in our next game we'll develop from there. I think Burkina Faso's midfield and defence are strong, considering they've only lost one goal and they've got some glimpses of good attacking. I believe a couple of the players that we've got means we can perform better than we have so far." – Ghana Coach K. Appiah
And he also said that the Mbombela Stadium pitch will not be a distraction for his side's Africa Cup of Nations semi-final. "We need to compete whether the pitch is good or bad. My players are professionals and used to different conditions. In Ghana we play regularly on far worse pitches. We need to take our mind off the pitch issue."
Ghana have played all four of their previous matches in Port Elizabeth and have not been given the chance to train on the field ahead of the last-four clash, after the local organising committee stopped all teams from using the field ahead of tournament matches.
The Stallions, meanwhile, have played all four of their matches on the pitch, prompting their coach Paul Put to label their first semi-final appearance in 15 years a "home" tie.

Mali vs Nigeria
"The players have been taking it easy. We had a physically taxing match against South Africa, the players need time to recover. It's important for the players to focus on our next match. But first, we relax. The target for us has been to improve on what the team achieved last year and so far we are on course to doing so." – Mali Coach Patrice Carteron
"We showed a very good mentality in the games against Ghana and Congo. A special spirit emerged and it made me feel better, stronger. When we started three weeks ago, most of my players had not played for a while. We knew it would be very difficult to win the first game against Niger, but beat them 1-0. Then against Ghana (lost 1-0) and Congo (drew 1-1) we played with a lot of confidence and now I think everything is possible. I think it was more difficult a few months ago and when the country was invaded. Now the players just want to give a present back to the country. The atmosphere in Mali is unbelievable – people are much happier because we are getting close to the end of the war and because the national football team is in the semi-finals. It is a fantastic story…I think once you get through to the semi-finals, then you must believe you can win the tournament. I think you saw the spirit again against South Africa; I have a very special group of players." – Mali Coach Patrice Carteron
"The motivation not only comes from what is happening back home but also to stay focused on the game and get through to the final." – Mali Captain Seydou Keita
"Somehow, the Nigeria fans don't appreciate their players. But I know my team, I know their mentality. I know the boys I picked were right, I have confidence in them. Mali is a football nation, they have great talent. I have a lot of admiration for Mali's team, for the players. It is a great shame what is going on in Mali. What is happening is something we should not be proud of. I know their players will be thinking about it, and that is where they are getting their power from, their spirit, their force. They are thinking: 'Let us do this for our country' and I think that's where their force is coming from." – Nigeria Coach Stephen Keshi

Nations Cup 2013: Nigeria coach Keshi targets title double
BBC Sport (5 February 2013)
Stephen Keshi is targeting becoming only the second man to win the Africa Cup of Nations as a player and coach.
The only previous coach to achieve the feat is Egyptian Mahmoud El Gohary, who won the title in 1959 as a player and in 1998 as Pharaohs boss.
Keshi captained Nigeria to the title in 1994 and steered them to the semi-finals in South Africa with a 2-1 victory over favourites Ivory Coast.
"Records are there to be broken," the Nigeria coach told BBC Sport.
"It will be a great achievement. [But] I prefer to take it one game at a time, because no one gave us a chance to be here in the first place.
"Every professional wants to have his name written in gold and I would love that, but we must work hard at every step to achieve that.
"My players are playing for the country, not Stephen Keshi, but if they go one step [further] by fulfilling that record, then I will be very happy to be in such an exclusive club."
Famed for steering Togo to the 2006 World Cup for the first time in their history, Keshi played in five Nations Cup tournaments with the Super Eagles and is now appearing at the tournament for the third time as a coach.
On Wednesday, he comes up against a Mali team containing a number of the players he coached at the 2010 finals, when he was Eagles boss.
"Things didn't work out in 2010, but that's all in the past now," he said.
"[Mali] have turned things around and finished in third place last time out, but this is big for Nigeria and Mali.
"I don't have anything like revenge in mind, that's for little minds. I'm here as coach of Nigeria and a citizen of my country.
"What is important is to put out a great team that will create history for Nigeria. The fans are happy again but we need to go two steps further."
The game in Durban marks Nigeria's fifth semi-final in seven Nations Cup appearances, with their last coming at the 2010 tournament in Angola.
They meet an Eagles side who are hungry for success, having never won a Nations Cup title.

Bruce, it should be approved without any opposition? Please note that IFAB deliberations must be approved by three-quarters of the vote, which translates to at least six votes. Thus, FIFA's approval is necessary for any IFAB decision, but FIFA alone cannot change the Laws of the Game—they need to be agreed by at least two of the UK members (FA, SFA, FAW and IFA).
FA announce simplified offside law for next season
THE SPOOF (24 August 2012)

One aspect of football that really annoys fans is the rule for when a player is offside. It was always open to many forms of interpretation, so two years ago the sports governing body amended the rule, to try and make it easier to understand. The truth was, it had the opposite affect, with match officials even getting it wrong on occasions.

Now they have simplified the rule to a degree that they say would make it almost idiot proof. Their statement reads as follows :

The Football Association have just announced proposals for changes to some of the Laws of Football by simplifying them. The main change comes in Law 9 – offside, particularly sections 2 and 3.

The new simplified wording -if the proposals are ratified – will be "A forward player having originally been adjudged to be in a theoretical 'offside' position as seen by the referee's assistant, but who retreats still in his opponent's half such that his furthest bodily part is not less than level with the nearest opponent, except from a throw-in, shall not, if he should advance commensurate in all aspects with his nearest opponent and the whole of the ball is in play, be deemed to be overtly 'offside', assuming at least one other opponent is currently between him and the goal line, once the ball has been kicked or headed forward by a fellow team-member who is actively engaged in attempting to control the ball, or propelled back towards their own goal by an opponent – except in the case of a free kick taken by the goal-keeper outside the penalty area.

In an evening match this rule will cease to apply in the event of floodlight failure, when the previous laws shall subtend. Any perceived infringement of the law in the first half shall henceforth result in an indirect forward free-kick from where the infringement occurred in the defendants' half without subsequent prejudice. For under 16 year olds the law shall apply in its entirety except for goal-keepers."

It is hoped this change will greatly improve understanding of this controversial law, and will consequently help towards the smooth running of the game.

It will apply only in home matches in the first instance, or away games played after 7pm on a Bank Holiday.
The Ugandan…, exactly! They have just rephrased it. The referee will still be the judge. Did the player "clearly obstruct an opponent's vision or challenge an opponent for the ball"? This also gives too much room for interpretation and is not precise enough.
"They can squabble all they want as long as it does not affect the Cranes WC campaign."
Ask Kenya how it ended when they had two parallel leagues

Poll: Who do you think will be the 2013 AFCON Champions?
Before 1/4 Finals matches:
Cote d'Ivoire = 52%
Nigeria = 11%
Ghana = 8%
Burkina Faso = .5%
Mali = 0%
…
Now:
Cote d'Ivoire = 29.49%
Nigeria = 29.49%
Ghana = 12.9%
Burkina Faso = 0.92%
Mali = 1.38%
So the Super Eagles are the favourites now?
"Now everyone thinks Nigeria will win the cup, so the pressure is on them. They've got good young players like Victor Moses and Emmanuel Emenike, and experienced players like John Obi Mikel – and they've got a good, experienced coach in Stephen Keshi. But we have the faith and we are so motivated because we want to give so much to the Malian people. This semi-final is not the end; it is the start of something." – Mali Coach Patrice Carteron

It will be a Mali Ghana final and Ghana will carry the day

Mali v Nigeria (1500 GMT)
Mali: Mamadou Samassa, Diawara, Tamboura, Kalilou Traore, Wague, Sissoko, Mahamane Traore, N'diaye, Keita, Maiga, Mahamadou Samassa
Nigeria: Enyeama, Echiejile, Omeruo, Oboabona, Ambrose, Mba, Onanzi, Mikel, Moses, Ideye, Emenike
Referee: Backary Papa Gassama (Gambia)
You can watch the match live HERE
Click here for live commentary
"Mali is a footballing nation with great talent, I saw it in my two years there. I have a lot of respect for them and a lot of admiration for the Mali team and the players. It will be an even tougher game than against the Ivory Coast. We will use whatever God gave us to play football and we will try and put it all together against Mali." – Nigeria Coach Stephen Keshi

Half Time: Mali 0:3 Nigeria
25′ Goal!!! Mali 0:1 Nigeria (Elderson Echiejile)
30′ Goal!!! Mali 0:2 Nigeria (Brown Ideye)
44′ Goal!!! Mali 0:3 Nigeria (Emenike – Momo Sissoko og)
By the way, Nigeria Coach Stephen Keshi was the Mali Coach when Mali came from 4-0 down to hosts Angola (AFCON Angola 2010) to earn a draw in the opening game of the AFCON Angola 2010 Group A Match. Mali scored all four goals in the last 15 minutes of the game and injury time.

Full Time: Mali 1:4 Nigeria
60′ Goal!!! Mali 0:4 Nigeria (Musa Ahmed)
76′ Goal!!! Mali 1:4 Nigeria (Cheick Diara)
"Mali are a good team with a top player like Seydou Keita, but they are not very fast at the back and we took advantage of this to score our first two goals." – Nigeria Coach Stephen Keshi
"I'm still proud of this team – we worked hard even though we did not reach the final." – Mali Coach Patrice Carteron

Ghana vs Burkina Faso (1830 GMT)
Ghana: Dauda, Pantsil, Afful, Boye, Vorsah, Mohammed, Badu, Atsu, Wakaso, Asamoah, Gyan
Burkina Faso: Diakite, Koffi, Kone, Koulibaly, Panandetiguiri, Kone, Kabore (capt), Rouamba, Nakoulma, Pitroipa, Bance
Referee: Slim Jdidi (Tunisia)
You can watch it live HERE
Click here for live commentary

Half Time: Ghana 1:0 Burkina Faso
13′ Goal!!! Ghana 1:0 (Mubarak Wakaso – Penalty Kick)

60′ Goal!!! Ghana 1:1 Burkina Faso (Aristides Bance)
Full Time (+ 30 Minutes Extra Time): Ghana 1:1 Burkina Faso
Ghana 0:0 Burkina Faso (Missed Penalty Ghana – Isaac Vorsah)
Ghana 0:1 Burkina Faso (Bakary Kone)
Ghana 1:1 Burkina Faso (Christian Atsu)
Ghana 1:2 Burkina Faso (Henri Traore)
Ghana 2:2 Burkina Faso (Harrison Afful)
Ghana 2:2 Burkina Faso (Missed Penalty Burkina Faso -Paul Koulibaly)
Ghana 2:2 Burkina Faso (Missed Penalty Ghana – Emmanuel Clottey )
Ghana 2:3 Burkina Faso (Aristides Bance)
Ghana 2:3 Burkina Faso (Missed Penalty Ghana – Emmanuel Agyemang Badu)
Burkina Faso through!!!!!!!!!!!!!!!!!!!!!!!!!!!!!!!!!!!!!!!!!!!!!!!!!!!!
The Burkinabe were denied spot-kicks in normal time and in extra-time, when they also had a goal ruled out, and saw Jonathan Pitroipa harshly sent off (second yellow card – ref thought he dived). And the ref gave Ghana a soft penalty.
"The refereeing decisions were scandalous. We've lost Jonathan Pitroipa now for the final. He's very important to us, but we are 23 players and it's up to the technical staff to devise tactics to beat Nigeria without him and [the injured] Alain Traore." – Burkina Faso coach Paul Put
"The referee is human, all humans make mistakes, but he happened to make too many tonight. But we're not going to dwell on that. We've qualified." – Burkina Faso captain Charles Kabore
"We came here to win [but] the better side won on penalties. We're all really sad now. That's normal. We're down, but we have to psyche ourselves up now for the third place play-off with Mali." – Ghana Captain Asamoah Gyan

2012 AFCON Finals: Nigeria vs Burkina Faso
Comments are closed