2013 Africa Cup of Nations Open Thread
January 2nd, 2013 | by: sscouser |

Comments(65)
The draw for the 2013 Africa Cup of Nations Tournament (to be hosted by South Africa) was held on 24 October 2012
Group A: South Africa (A1), Angola (A2), Morocco (A3), Cape Verde (A4)
Group B: Ghana (B1), Mali (B2), Niger (B3), DR Congo (B4)
Group C: Zambia (C1), Nigeria (C2), Burkina Faso (C3), Ethiopia (C4)
Group D: Cote d' Ivoire (D1), Tunisia (D2), Algeria (D3), Togo (D4)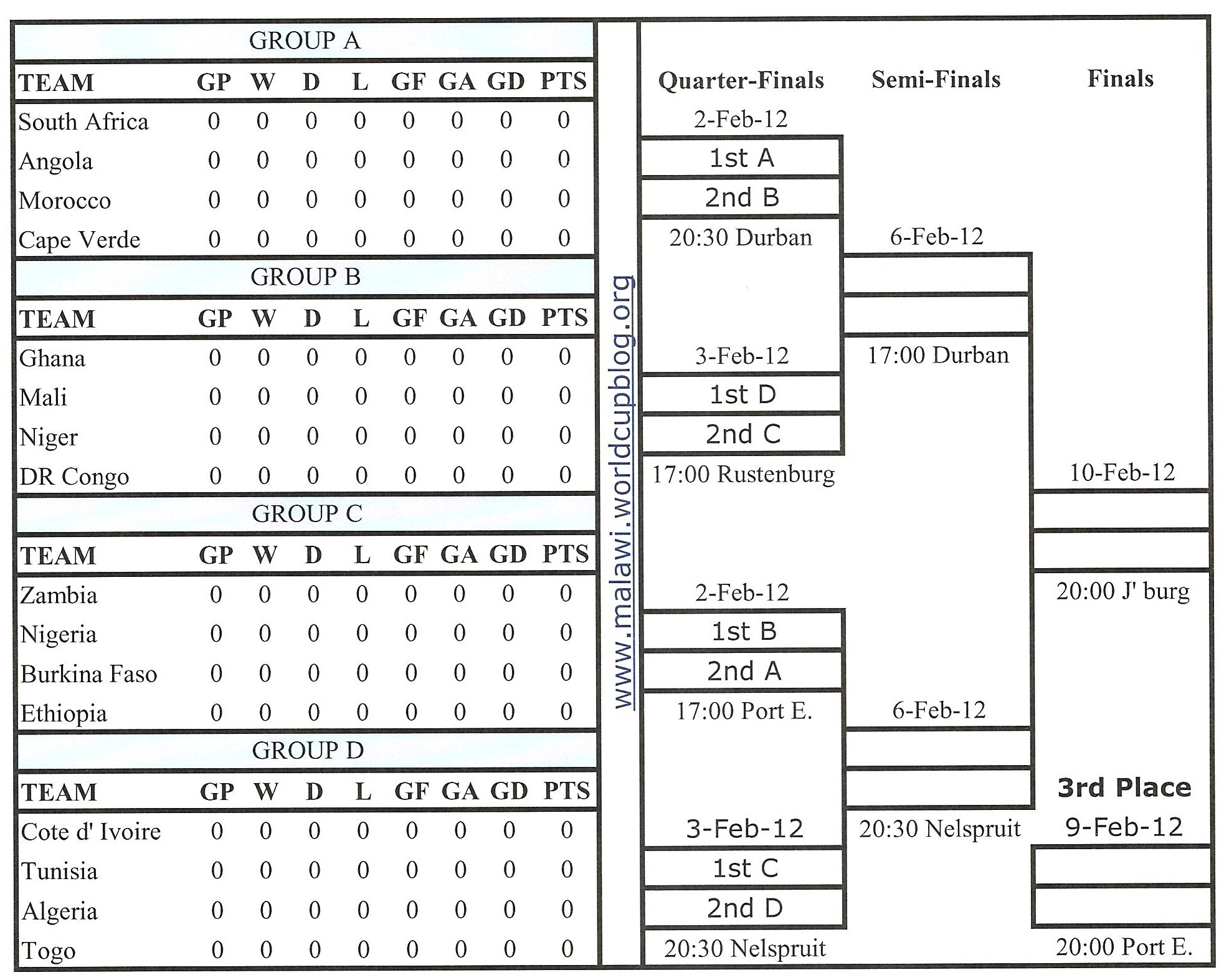 FIXTURES (Time = Local Time = UTC/GMT +02 hours):
Group A
19 Jan: South Africa vs. Cape Verde (18:00); Angola vs. Morocco (21:00) – Johannesburg
23 Jan: South Africa vs. Angola (17:00); Morocco vs. Cape Verde (20:00) – Durban
27 Jan: South Africa vs. Morocco (19:00) – Durban; Cape Verde vs. Angola (19:00) – Port E.
Here is a poll:

Group B
20 Jan: Ghana vs. DR Congo (17:00); Mali vs. Niger (20:00) – Port Elizabeth
24 Jan: Ghana vs. Mali (17:00); Niger vs. DR Congo (20:00) – Port Elizabeth
28 Jan: Ghana vs. Niger (19:00) – Port Elizabeth; DR Congo vs. Mali (19:00) – Durban
Here is a poll:

Group C
21 Jan: Zambia vs. Ethiopia (17:00); Nigeria vs. Burkina Faso (20:00) – Nelspruit
25 Jan: Zambia vs. Nigeria (17:00); Burkina Faso vs. Ethiopia (20:00) – Nelspruit
29 Jan: Zambia vs. Burkina Faso (19:00) – Nelspruit; Ethiopia vs. Nigeria (19:00) – Rustenburg
Here is a poll:

Group D
22 Jan: Cote d' Ivoire vs. Togo (17:00); Tunisia vs. Algeria (20:00) – Rustenburg
26 Jan: Cote d' Ivoire vs. Tunisia (17:00); Algeria vs. Togo (20:00) – Rustenburg
30 Jan: Cote d' Ivoire vs. Algeria (19:00) – Rustenburg; Togo vs. Tunisia (19:00) – Nelspruit
Here is a poll:

Related Posts:
2013 AFCON: South Africa vs Malawi (Friendly)
2013 Africa Cup of Nations Tournament Draw Held
2013 Africa Cup of Nations Tournament Draw
Friendly matches in preparation for the tournament:
15 Dec: Angola 1:1 Gambia
19 Dec: Angola 1:0 Cameroon
22 Dec: South Africa 3:1 Malawi
22 Dec: Tanzania 1:0 Zambia
22 Dec: Angola 1:0 Rwanda
29 Dec: Oman 0:1 Togo
30 Dec: Iraq 1:2 Tunisia (Abu Dhabi)
30 Dec: Ethiopia 1:0 Niger
02 Jan: Catalonia 1:1 Nigeria
03 Jan: Ethiopia vs Togo
05 Jan: Niger 3:1 Togo
05 Jan: Zambia 0:2 Angola (South Africa)
07 Jan: Ethiopia 1:1 Tunisia (Qatar)
08 Jan: Zambia 0:0 Morocco
08 Jan: South Africa 0:1 Norway (South Africa)
09 Jan: Cape Verde 0:0 Nigeria (Portugal)
10 Jan: Gabon 1:1 Tunisia (Abu Dhabi)
10 Jan: Ghana 3:0 Egypt (Abu Dhabi)
10 Jan: Niger 0:0 Burkina Faso (South Africa)
11 Jan: Ethiopia 2:1 Tanzania
12 Jan: Zambia 0:0 Norway
12 Jan: South Africa 0:0 Algeria
12 Jan: Namibia 1:2 Morocco (South Africa)
13 Jan: Ghana 4:2 Tunisia (Abu Dhabi)
13 Jan: Togo vs Niger
14 Jan: Cote d' Ivoire 4:2 Egypt (Abu Dhabi)
14 Jan: Mozambique vs Cape Verde
14 Jan: DR Congo vs Gabon
15 Jan: Zambia vs Namibia
13 Jan: Ghana 4:2 Tunisia (Abu Dhabi)
14 Jan: Cote d' Ivoire 4:2 Egypt (Abu Dhabi):

Subscribe to the Malawi World Cup Blog RSS Feed
Subscribe

Malawi World Cup Team Blog RSS Feed

Share
Comments

We will be very disappointed if we'll not beat Cape Verde by at least 3 goals.

Ugandan I don't know what you want us to do to win you over. Tell us which team you want us to beat for you in South Africa.

Andy my last statement was more about Cape Verde's strength.
Bafana Bafana are an enigma. They have everything … funding, facilities, decent coaches …. you name it and they have it, except the wins.
A closer look at their game reveals some naivety. Too much chibobo going on. Even Ingesund complained about them dwelling on the ball. They need to send some of the established players away to Europe or S. America. Heck, any where just get them out of S.A. for a while. The problem is your football is too insular. The over protective league doesn't help either.
Take heart though, miracles do happen. Once you get out of the group anything can happen. You don't even have to win any games. Just draw and win the penalties in 3 games. The Zambians figured this out and won. They can beat teams 3-0 but settle for 1-0 and save energy. If the game ends in a draw, well they have sharp shooters. So there is hope for the Bafana Bafana.
Honestly, I think you will have to wait until Quinton Fortune gets his badges.
To answer your question, play intelligently.

Norway beat South Africa but failed to beat us today. It was a goalless draw.

12 Jan: Zambia 0:0 Norway
12 Jan: South Africa 0:0 Algeria
12 Jan: Namibia 1:2 Morocco (South Africa)
12 Jan: Nigeria 1:0 FC Rotterdam (played in Portugal behind closed doors)
Moses, when did you start using South Africa as a yard stick?
I will let Andy and The Ugandan… sort each other out

Ghana 4:2 Tunisia
Ghana rallies for 4-2 win over Tunisia

ABU DHABI, United Arab Emirates (AP) -Ghana rallied from 2-0 down for a 4-2 win over Tunisia in their Africa Cup of Nations warm-up Sunday in Abu Dhabi.

The Black Stars came back from two goals by Issam Jemaa, scoring four times in the second half for their second confidence-boosting win following a 3-0 victory over Egypt last week.

Jemaa pounced on mistakes from Ghana's defense to score in the 16th and then just after halftime for 2-0.

Defender John Boye, Mubarak Wakaso, captain Asamoah Gyan and Albert Adomah all replied after the break for Ghana to turn the game on its head.

Boye headed home in the 56th, Wakaso scored from a penalty six minutes later, Gyan made it 3-2 on a counterattack and Adomah hit his first goal for Ghana four minutes from the end.
The Ugandan…, have the Black Stars won you over?

Cote d' Ivoire 4:2 Egypt (Abu Dhabi)
The diving business is getting ridiculous. Penalty?

LOC gets thumbs up, Mbebe sidesteps ticket concerns
SAPA (14 January 2013)

While criticism continues to cloud the organisation of the Africa Cup of Nations (Afcon), the Confederation of African Football (CAF) has given the tournament a stamp of approval, just five days before the opening match in Johannesburg.

Reports of poor ticket sales and processing, and a weak marketing campaign, were stealing media coverage in the build-up to the continental football showpiece, but Caf general secretary Hicham El Amrani was pleased with preparations.

"We are truly grateful and would like to thank the local organising committee (LOC) for the amount of work they have done," Amrani told reporters in Johannesburg today.

"We are delighted and look forward to an exciting event in this country."

The opening game between Bafana Bafana and Cape Verde on Saturday was "sold out", according to Amrani, though further tickets would be made available for the match this week.

Of the half-a-million tickets available for the tournament, 100,000 had not yet been sold.

"Around 400,000 tickets have been sold," Amrani said.

"All tickets available to the public for the opening game at the National Stadium have been sold, and we are working with the LOC to have 3000 to 4000 more tickets on sale for that game in the next 48 hours."

Afcon LOC chief executive Mvuzo Mbebe would not comment on the organising of the tournament, or slow ticket sales, insisting he would only discuss transport concerns.

"We called this press conference to talk about a transport agreement for the tournament," Mbebe said.

"Another briefing will be held later in the week to discuss the tournament as a whole."

Prasa is to provide trains and buses for spectators

The LOC announced a deal with the Passenger Rail Agency of SA (Prasa) to provide trains and buses for spectators attending the games.

Trains would be utilised in Gauteng and KwaZulu-Natal, while buses would be used in the Eastern Cape, North West and Mpumalanga, to get people in outlying areas to the five host cities — Johannesburg, Durban, Port Elizabeth, Nelspruit and Rustenburg.

"This milestone agreement with Prasa is a significant step in ensuring that we reach our goal of filling the stadia," Mbebe said.

"The public transport system provided by Prasa will address the majority of the soccer fans who otherwise would have had challenges reaching the stadiums and getting back home."

Igesund lashes out at Bafana critics
14 January 2013

Bafana Bafana coach Gordon Igesund has hit out at critics who have been slating the national team ahead the Africa Cup of Nations that is set to kick off on Saturday. Bafana Bafana will face off against the Afcon rookies, Cape Verde Islands in the opening match in Johannesburg.

Speaking on SAFM's AM Live this morning, Igesund said he was content with the team's performance in the last two matches that Bafana Bafana played, despite having failed to win either of them, losing 1-0 and playing to a goalless draw against Norway and Algeria, respectively.

"We are improving. Then you play a team that is ranked 19th in the world and 2nd in Africa; they are big favourites to win the tournament and they have one shot at your goal on the 95th minute. So nobody can tell me we are not organised and the defence is not tight and we open up and all these things."

The former Moroka Swallows mentor says the only issue where he would agree with lots of critics is goal scoring concern.

"But I've said this many times and I'm quite confident we will score goals."

On caller, Mike, criticising Igesund for being unrealistic about SA's real chances in the upcoming tournament, says he's worried about the Bafana Bafana coach's comments.

"He sounds like a teacher who praises a student who has not passed in March, June, September and hopes that he'll make it at the final examination. I think we must stop this usual rhetoric of saying 'we are proud of the boys. We think they are going to make' when, actually, in practice, we can see that they have a challenge. It doesn't really matter to play very well against the opposition and at the end of the day you don't get the desired results and hope that when it matters most you will achieve them. It doesn't help. I think we should be realistic."

Igesund believes people are very anxious and need to realise that as a national team coach he cannot criticise his own team.

"I think a lot of people out there are very anxious. People have got to realise as well, I'm the coach of the national team. What do they want me to do? (Do) they want me on the radio and say, 'Oh no, we are not ready, we've got too many problems? We haven't! Why should I tell stories? I am very happy with the way things are going. Wait until the tournament starts … after the tournament, then judge!"

Meanwhile, former Bafana Bafana captain, Neil Tovey, who was part of the 1996 Afcon winning team, says a good victory against Cape Verde on Saturday "will set the whole tournament for Bafana Bafana in a forward momentum."

Pressure will be on Bafana – Cape Verde
14 January 2013
Bafana Bafana's opponents for the 2013 Africa Cup of Nations (Afcon) opening match, Cape Verde Islands are taking comfort in the fact that pressure will be on the South African team to do well when the two teams lock horns on Saturday. This was said by the Cape Verdeans' coach Lucio Antunes after they arrived in the country yesterday.
Antunes believed the opponents in their group carried more of a burden to perform.
"I think that the pressure will be on South Africa since they are at home in the first match," said Antunes, speaking through a translator.
"The group games will not be easy, even with us, but playing big teams from Africa will help us get to be among the best teams."
The tiny West African nation on the rise, participating for the first time in a major tournament, turned up as the dark horses in Group A which also features hosts Bafana, Angola and Morocco.
Cape Verde, the top-ranked team in the group, earned a credible 0-0 draw against Nigeria in Portugal last week in their final friendly match ahead of the continental tournament.
Captain of the side, Nando, says they have come to enjoy their first participation in the tournament, and play football without putting any pressure on themselves.
"We are very happy and nothing more. We are well motivated to do well."
The Blue Sharks, who will face South Africa in the opener at the National Stadium in Johannesburg on Saturday, are expected to give the underperforming home side – which drew 0-0 with Algeria in Soweto on Saturday – a hard time with their well organised defence.
The Cape Verdeans, having assembled players from around Europe with roots to the country, performed a giant-killing act in their final qualifying match, eliminating African powerhouse Cameroon three months ago to reach the showpiece.
"For us, Cameroon is in the past now," Nando said.
"Our focus is on proving ourselves against the guys in our group and doing well against South Africa, Angola and Morocco."

Where can we watch the group matches?

Klen, the venues of the matches are given in the main post. Here are other ways to watch the matches:
If you are in Africa
- All 32 games will be exclusively live and in HD on SuperSport TV. All the matches will be on SuperSport 4, although on the four days when there are concurrent fixtures, SuperSport Blitz will broadcast the corresponding matches. Additional details will be announced closer to the January 19 kickoff.
Live Streaming:
HERE is one. If you happen to come across others let me know. Look out for my next post on Friday/Saturday.
Press Release:
The Passenger Rail Agency of South Africa (PRASA) has concluded a milestone Public Transport agreement for fans with CAF and the Local Organising Committee (LOC) for the 29th Edition of the Orange Africa Cup of Nations SOUTH AFRICA 2013.
The transport agreement is for the provision of free train services within metropolitan cities in Gauteng and KwaZulu-Natal for fans with a valid match ticket as well as journalists and other officials carrying accreditation from the Orange AFCON 2013 LOC.
In Gauteng, PRASA will make available 20 dedicated trains which will ferry passengers from Pretoria, Johannesburg, Soweto and Vereeniging to Nasrec Station. This service will be for the opening and the final match of the tournament.
For KwaZulu-Natal soccer fans will have 26 dedicated trains transporting them from surrounding townships such as uMlazi and KwaMashu, directly to Moses Mabhida Stadium.
Each train has the capacity to carry up to 2000 passengers and the trains will move more than 40,000 soccer fans directly to the stadia.
Two long distance dedicated trains will be made available for fans travelling from Gauteng to Mbombela at a fee to be determined by PRASA.
These shuttle services will run from 21st January to 6 th February.
In the Eastern Cape, a return bus ticket can be purchased at Computicket, at any TRANSLUX sales office throughout the country or on the TRANSLUX website, which is http://www.translux.co.za .

Africa Cup of Nations 2013: How to win the tournament
John Bennett (BBC World Service Sport)
Only a select few African players know what it feels like to lift the Cup of Nations trophy.
Some of the continent's greatest ever talents, such as Didier Drogba, George Weah and Michael Essien, have never got their hands on a winner's medal.
The 29th edition of the tournament in South Africa starts on Saturday and looks wide open. Drogba's Ivory Coast, Nigeria, Algeria and Ghana will start as the favourites but last year in Gabon, Zambia won the final on penalties and proved that outsiders have every chance of proving the pundits wrong.
BBC Sport has spoken to three men who have experienced the joy of winning the trophy; from the pitch, the dug-out and behind the scenes.
How did they win the Africa Cup of Nations?
The head coach
Winfried Schafer led a Cameroon side including Samuel Eto'o to the Africa Cup of Nations title in 2002. The final against an El Hadji-Diouf-inspired Senegal finished goalless but the Indomitable Lions held their nerve to win on penalties. The German is now head coach of Thailand.
Get your tactics right:
"Four weeks before the Africa Cup of Nations started, I altered the team's system. Cameroon were playing 3-5-2 but I changed the tactics to 4-4-2. After that we kept clean sheets in every single one of our matches. In Germany we say that attackers win you a match, defenders win you a tournament. Our back four was fantastic and our goalkeeper was very, very good. That was the key."
Make sure you are disciplined:
"We had four leaders in the team. Rigobert Song was the captain, Patrick M'boma was a big personality, Marc-Vivien Foe and Samuel Eto'o, who at the time was a young boy. These players were the leaders and because of them the discipline was fantastic.
"Before I signed my contract I met Song at West Ham United, M'boma at Parma and Foe in Lyon and they all told me that they needed discipline in their group. After that it was fantastic."
Treat your players with respect: "It was very important that the players trusted me. Every single member of the squad was important, not just Eto'o or M'boma but every player from one to 23. I motivated all the players. I was like their big brother. That was very important to the African players, I gave them confidence and I never talked negatively about them. We were one group, not the coach and then the team, but one group. That's very important in Africa."
Get the best out of your most talented players:
"Eto'o, now 31, was a young player and at times he was a little bit too relaxed. I had to tell him, 'Samuel, it's not enough what you are doing in training. You have more potential, you have to work more.' He looked at me and said, 'coach, I don't understand'. And I said, 'hey Samuel, if you want to go to the highest level of the top players around the world you have to work more'.
"After the final he came up to me, kissed me and said, 'coach thank you, thank you for your work'. And every time I see him now – the last time was a year ago in Dubai – I'm happy and he's happy."
Don't complain about the facilities: "Our training camp in Mali was very bad, the pitches weren't good, the beds weren't good and all the players from our squad were with clubs in Europe at that time, they were used to great facilities at the likes of Parma, Real Madrid and Manchester City. But nobody had a bad word to say about the camp. Everybody was happy to fight for his country, for their mothers and fathers and their families.
"When you're a coach from Europe you can't go to Africa and complain that the training fields are bad, that the pitches are bad. That is wrong. You have to remember that you're not at Wembley or in Munich, this is Africa. You have to think like a coach from Africa, not like you're a coach from Europe."
The player
Phil Masinga, was part of the South Africa team when they won the Africa Cup of Nations in 1996. It was Bafana Bafana's first appearance in the tournament after decades of isolation because of Apartheid. In a fairytale ending, they beat Tunisia 2-0 in the final. Masinga also played for Leeds United in the Premier League and Bari in Serie A.
Use pressure from fans to lift you: "In 1996, we were lucky, South Africa had had two years of democracy and we had everybody in South Africa behind us, including the journalists. In fact the whole of South Africa was behind us, all politicians were behind the team. That added a 12th player for us.
"Whenever we went to the pitch there was so much to play for, it was not all about ourselves it was all about the 45m people in South Africa and making them happy. The support that was there was actually pushing us to do more and more."
Find motivation away from the pitch: "One thing that really pushed us was thinking of the players who didn't have an opportunity to participate in international football when South Africa was isolated due to Apartheid. Most of them were great players. We had to represent them. We grew up watching them but they didn't have a chance to play international football."
Play for your team-mates: "The spirit was very good, it was more like a family, our coach managed to make players live as brothers. We knew how to complement each other because we knew each other's strengths. And we knew what each player was capable of doing. The coach made us believe in ourselves."
Have strong leaders on the pitch: "It's important to have a leader and in our team we had many leaders. We had the coach, we had the captain Lucas Radebe, who in his own right was a leader, we had myself and Eric Tinkler. In fact there were lots of leaders that helped the coach and the captain to ease the pressure on the younger players."
The senior official
Kalusha Bwalya, president of the Football Association of Zambia, Africa Cup of Nations champions 2012. They confounded the pundits in Gabon with an 8-7 penalty shootout win over Ivory Coast in the final. During a successful playing career Bwalya won 100 caps for Zambia and played for PSV Eindhoven. He was also head coach of Zambia for three years and took over as the president of the country's FA in 2008.
Pick the right coach: "It's difficult to get it right. Herve Renard [who led Zambia to victory in 2012 and is still in charge of the team] was with us in 2010 but he left to join Angola. Then just before the last Cup of Nations we made the bold decision to bring him back because of his work ethic. He's a man who works hard, knows his football, he's young, he's ambitious, he wants to go places, he wants to win things with Zambia.
"For me that is the most important, that coaches, when they come to Africa – whether they're local or foreign – are able to bring the best out of our players. Renard has been able to do it fantastically. We had a coach making the right calls, choosing the right tactics, making the right substitutions with players that fit exactly into that system. It was an incredible journey for Zambia to be crowned champions in Libreville in Gabon."
Make sure there's a positive atmosphere: "First of all there has to be humility in the team. There has to be that determination and the desire has to be correct. The chemistry between the coach and the players also has to be proper.
"Our team embraced the humility and the ability to work with each other, in other words the team spirit. I was really pleased with the way we approached it. We'll take the same approach as we come to the next Cup of Nations and we hope to go far in 2013."
Give the coach time to prepare: "Of course form plays a big part. The Cup of Nations is 30 days, somebody has to be on top of his game, everything has to be correct to play an Africa Cup of Nations. Going into the last Cup of Nations we had a camp just for the locally based players in November. Then the real preparation started.
"It gave us the right platform and right encouragement for the players to know that if they worked hard they could make the team. You hear coaches come to Africa and spend most of their time in Europe and not in Africa, but Renard works very, very hard with the team."

Zuma urges Bafana to ignore critics
Supersport (15 January 2013)

There are too many critics complaining about Bafana Bafana who have never played professional soccer, president Jacob Zuma said on Tuesday.

"There are too many critics. I was telling the team that others who are critics who have never touched the football," Zuma said.

"They don't know how it feels to be inside here."

Zuma was speaking after a private meeting with the team in Orlando Stadium, Soweto, ahead of an African Cup of Nations (Afcon) tournament.

Flanked by sports minister Fikile Mbalula, Zuma said the players had to relax before their matches.

"We have come to tell the national team that they must relax. They must not be tense and they must not listen to all these critics," he said. "They must just play what they know."

He said the whole of South Africa was behind the team.

Zuma said he had asked to touch the Afcon trophy.

"I just wanted to touch it. Touching it means we should be there at the final and we should take it."

The president said South Africa did well in preparing for the tournament, considering it was meant to be held in Libya, and did not have a long time to plan for it.

He said he was satisfied that the team was ready for the tournament.

"If you know soccer, you have got to see whether all departments are working in the field," Zuma said.

"This is so that you have goals that are played (scored) scientifically."

When Zuma took to the field to pose with the team, the Bafana Bafana players greeted him with a rendition of his trademark song, "Awulethu Umshini Wami" [bring me my machine-gun].

He was also presented with a personalised team jersey.

Winning Afcon 2013 is Drogba's last goal before retirement, says Gervinho
Yahoo Sports (15 January 2013)
Ivory Coast striker Gervinho says that winning Afcon 2013 is team-mate Didier Drogba's last goal in football.
The former Chelsea forward won the Champions League with his final kick of the ball for the west London club, before moving to China to join Shanghai Shenhua.
However, one trophy that still evades him is the African showpiece, and Gervinho says that winning the tournament is the only thing left that Drogba wants to accomplish before retiring.
"[Afcon is] the only thing left he wants to get for the Ivory Coast because he has brought us so much already," Gervinho told Goal.com. "That's the one last objective.
"I hope he will be successful. We will be with him. We will support him at the best of our abilities for him to be able to give this to the nation and then…maybe he will keep going but we could not ask for more from him."
The Arsenal striker also insisted that the former Chelsea man is a role model for a lot of young players in Africa, and part of footballing history on the continent.
"Yes, for me and a lot of young players in Africa, he is part of football history and of Ivory Coast history," he added. "I'm very lucky being able to be next to the likes of Thierry Henry or Didier Drogba.
"I'm trying to enjoy it as much as I can. Before my first Cup of Nations in Ghana, I always wanted to play with him. I'm happy I'm able to do so… play with him, being close to him, laugh with him. Now I hope I'll win a trophy with him. It would be the best present ever for him, for me, and for Ivory Coast."
Gervinho admits that the Ivory Coast are in a tough group alongside Algeria, Togo and Tunisia, and says that he is aiming to reach the quarter-finals.
"It's a group where there are good teams and good players," he continued. "All the fans want to see good games. I personally don't see a team that we must absolutely avoid playing against.
"When you want to win a competition you have to play all the best teams. Whether it's Algeria, Tunisia or Togo. For me, the most important thing is to win my games and qualify for the next round.
"We need to start well against Togo and if we get the three points out of it we will have good confidence for the rest. None of the other teams are more important than another one. My aim is to qualify for the quarter finals."

Soccer-Match-fixing gangs target 50 national leagues – FIFA
16 January 2013
ZURICH, Jan 16 (Reuters) – Organised criminal gangs are targeting around 50 national soccer leagues for possible match-fixing and any country is vulnerable regardless of its record on corruption, according to FIFA head of security Ralf Mutschke.
Mutschke said a convicted match-fixer had personally told him at a secret meeting that the activity was preferred by many criminals to the drugs trade.
"I met a match-fixer, a convicted match-fixer, here in Zurich next to the zoo and he told me organised crime is moving out of the drug trade and getting involved in match-fixing because of low risk and high profit," he said.
"He told me straight to my face," added Mutschke who worked for the German federal police for 33 years before joining FIFA in 2012.
"I would say there are about 50 different national leagues outside Europe which are targeted by organised crime on the betting market," he told reporters at FIFA headquarters.
Match-fixing has become a huge concern for soccer's authorities recently as criminal gambling rings pay players, referees or officials to manipulate matches and make enormous amounts of money by betting on the outcome.
Mutschke said that in some cases national leagues and confederations had been infiltrated to the point where referees were able to boost their careers by taking part in manipulation.
"We have seen them trying to take over an entire club and use it for match manipulation, we see it in other parts of the world," he said.
"If they manage to take over the club, they pay the salaries for the players but they are also transferring players to other clubs.
"We also see infiltration on an association level and on a confederation level.
"I know as well that referees are being lured by fixers who promise them a boost in their career when they get involved in match manipulation, because this fixer has good contacts in the federation."
Mutschke pointed out that all countries were vulnerable, not just those with a reputation for corruption. One of the most notorious cases, which led to a two-year prison sentence for Singaporean national Wilson Raj Perumal for masterminding a match-fixing scheme, was in Finland.
"There is always the question about which is the most vulnerable region in the world," said Mutschke.
"My answer is there is none. Perumal went to Finland and manipulated matches there and tried to infiltrate a club there. Finland is rated as number two on the transparency index, so it's not corrupt at all."
PLAYERS TUNNEL
Mutschke said match-fixers would sometimes approach players, referees or officials out of the blue.
"You have a 50 percent chance of acceptance and what upsets me is that it demonstrates to me that they have no fear of us because nobody is reporting these approaches," he said.
On other occasions, they groom their victims over time.
"You follow the target over a certain time period, you assess his attitude, whether he is satisfied, happy, is he paid, or lacking payment from the club, or is he betting."
Sometimes, they even managed to get access to the players tunnel.
"The fixers are in the stadiums and are looking at the targets and sometimes they get access to the tunnel which is strange," he said.
Another tactic by match-fixers is to organise international friendlies and change the referee at the last minute.
"If you don't have pictures from the match, it is difficult to find out if this really was the referee who supposedly controlled the match."
On one occasion, FIFA only discovered the change because the listed referee was black and they saw on Youtube that a white official was in charge of the game.
Mutschke said FIFA had set up a hotline for players and referees to report approaches and he wanted each of FIFA's 209 member associations to appoint integrity officers to collaborate.
"I try to impress our members and involve them in the future in the fight against corruption. We have 209 members and several confederations and this is really a challenge. I might fail but at least I'd like to say I tried."
GUATEMALAN EXAMPLE
"My goal is that the entire football community has to be strengthened in the fight against corruption and match manipulation."
Mutschke said there had been some good news.
"Last autumn, three referees were approached by a fixer on their way to a stadium (and asked) to fix a match. They reported it to FIFA. We could identify the guy, he is part of a football federation, he is under investigation and he will be kicked out," said Mutschke.
He did not believe that any matches in the qualifying competition for the 2014 World Cup had been affected because of the prestige at stake and high profile of the games.
He also praised the Guatemalan squad who recently denounced three team mates for trying to persuade them to fix a friendly. The three were banned for life last year.
"Guatemala is a good example for me, they were really eager to do something. We appreciated it very much," he said.
However, Mutschke admitted that FIFA could not provide protection for witnesses and that sanctions for players were often tougher than for the fixers.
"There are legal loopholes, I know that most of the sentences of one or two years, or sometimes just a fine. Can you threaten and organised criminal with a fine?"
"I feel it is unfair as well. The players lose their profession immediately and the fixer is paying a fine. This is a strange situation. We have certain rules for good reasons, but sometimes those rules are against us."

Heavy downpours predicted amid Afcon opener
SAPA (16 January 2013)
The weather service says heavy downpours are expected over the weekend as South Africa looks to the start of the orange African Cup of Nations (Afcon).
These heavy rains are also likely to have serious impact on the opening day of the Afcon football tournament starting on Saturday at the National Stadium in Johannesburg.
Mkhushulwa Msimango of the weather services says a number of provinces will be affected. Msimango listed Limpopo, Mpumalanga, Gauteng, KwaZulu-Natal, North West as from Saturday to expect widespread showers and thunder showers to dominate those areas with possible heavy falls and flooding in most areas over those provinces.
He says as those conditions are likely to persist until on Sunday they are expecting 80 to 100% showers and rain. These heavy rains will be caused by an intense low pressure moving in from Botswana.
The weather services say as consequence of heavy rains, the river and stream systems will begin flowing strongly. The danger of flash-flooding should be kept in mind. There have already been heavy rains experienced over parts of Mpumalanga and Limpopo earlier this week and rivers in these areas are running high. These two provinces run the highest risk for flooding this weekend.
The public have been urged not to try to cross rivers and streams that are in flood, irrespective of whether they are on foot or in a vehicle. People living in areas close to rivers or within flood plains must also monitor the rising water levels. The neighbouring countries of Botswana, Zimbabwe, Swaziland and southern Mozambique will also be affected by these adverse weather conditions.
Preparations for the Africa Cup of Nations by countries based in Nelspruit have also been affected by heavy rains in the Lowveld. It has been raining since the beginning of this week and practice sessions have been disrupted.

Thanks sscouser. I will also try to look

Zebras read this:
Bafana Bafana have decided to place the country first before self-interest. They have rejected incentives for their three group stage matches of the 2013 Orange Africa Cup of Nations (Afcon) tournament.

They will only accept bonuses once they have reached the quarter-finals. It's an unselfish gesture, proving that representing one's country is worth a lot more than rands and cents. It's an example to teams of the future, because previous Bafana Bafana teams made headlines just before major tournaments demanding bonuses.

The South African Football Association had to intervene before the 2009 Confederations Cup and the 2010 FIFA World Cup when players threatened to boycott matches if their demands were not met.

However, the current squad will have none of that and its focus is more on making the country proud. Bafana captain Bongani Khumalo says their aim is to fight for the country.

With the bonus issue buried even before it reared its head, all the focus is on Saturday's opening match against Cape Verde and the homework has been done.

Bafana Bafana coach Gordon Igesund says they have got information on all the Cape Verde players so they are pretty aware of them. "I am sure they are aware of us as well. We have got the best possible information that we can get considering that we have not seen them live."

Bafana Bafana will have their final training session ahead of the match tomorrow morning at the Orlando Stadium.
Meanwhile, Ethiopia players have been promised more than $100,000 each if they win the Africa Cup of Nations in South Africa. The country's federation has said it will pay each player $111,000 to win the trophy and $55,000 to reach the final.
Ethiopia coach Sewnet Bishaw and his assistant would also be rewarded with "significantly higher prize money".
Ethiopian Football Federation (EFF) president Sahilu Gebremariam said the bonus offers were "intended to boost the morale of the team".

23 MAN SQUADS:
Group A
1. ANGOLA
Goalkeepers: Lamas (Petro Atletico), Landu (Recreativo Libolo), Neblu (Primeiro Agosto)
Defenders: Amaro, Bastos (Primeiro Agosto), Dani Massunguna (Primeiro Agosto), Fabricio (InterClube), Lunguinha (Kabuscorp), Marco Airosa (AEL Limassol), Mingo Bille, Pirolito (both InterClube), Zuela (Apoel Nicosia)
Midfielders: Dede, Gilberto (both AEL Limassol), Manucho Dinis (Primeiro Agosto), Manuel (AS Aviacao), Miguel (Petro Atletico)
Strikers: Djalma (Kasimpassa), Geraldo (Parana), Guilherme Afonso (FC Vaduz), Mauncho (Real Valladolid), Mateus (Nacional), Yano (Progresso Sambizanga).
2. CAPE VERDE
Goalkeepers: Fock (Petro Atletico), Rilly (Mindelense), Vozinha (Progresso Sambizanga)
Defenders:Carlitos (AEL Limassol), Fernando Varela (FC Vaslui), Gege (Maritimo), Guy Ramos (RKC Waalwijk), Josimar (FC Dordrecht), Nando (Chateauroux), Nivaldo (Academica Coimbra), Pecks (Gil Vicente)
Midfielders:Babanco, David Silva (both Olhanense), Marco Soares (Omonia Nicosia), Odair Fortes (Stade Reims), Roni (Fola Esch), Stenio (Feirense), Toni Varela (Sparta Rotterdam)
Strikers: Djaniny (Olhanense), Heldon (Maritimo), Julio Tavares (Dijon), Ryan Mendes (OSC Lille), Ze Luis (Sporting Braga).
3. MOROCCO
Goalkeepers: Nadir Lamyaghri (Wydad Casablanca), Anas Zniti (Maghreb Fès) and Khalid Askri (Raja Casablanca)
Defenders: Mehdi Benatia (Udinese, Italy), Ahmed Kantari (Stade Brestois, France), Abdelhamid El Kaoutari (Montpellier, France), Abderrahim Chakir (FAR Rabat), Issam El Adoua (Vitória Guimarães, Portugal), Abdelatif Noussair (Moghreb Fes) and Zakarya Bergdich (RC Lens, France)
Midfielders: Adil Hermach (Al Hilal, Saudi Arabia), Karim El Ahmadi (Aston Villa, England), Mehdi Nemli (Moghreb Tetouan), Kamel Chafni (Stade Brestois, France), Abdelaziz Barrada (Getafe, Spain), Younes Belhanda (Montpellier, France), Nordin Amrabat (Galatasaray, Turkey), Oussama Assaïdi (Liverpool, England), Youssef Kaddioui (FAR de Rabat), Chahir Belghazouani (Ajaccio, France)
Strikers: Abderrazak Hamdallah (OCS), Mounir El Hamdaoui (Fiorentina, Italy) and Youssef El Arabi (Granada, Spain).
****Morocco midfielder Mehdi Namli has been ruled out of the 2013 Africa Cup of Nations in South Africa due to injury -injured his knee during a warm-up match. He has been replaced by Abdelilah Hafidi, who was originally left out of the 23-man squad for the finals****
4. SOUTH AFRICA
Goalkeepers: Itumeleng Khune (Kaizer Chiefs), Wayne Sandilands (Mamelodi Sundowns), Senzo Meyiwa (Orlando Pirates)
Defenders: Bongani Khumalo (PAOK, Greece) , Siyabonga Sangweni (Orlando Pirates), Thabo Nthethe (Bloemfontein Celtic), Anele Ngcongca (Racing Genk, Belgium), Siboniso Gaxa (Kaizer Chiefs) , Tshepo Masilela (Kaizer Chiefs), Thabo Matlaba (Orlando Pirates)
Midfielders: Kagisho Dikgacoi (Crystal Palace, Eng), Dean Furman (Oldham Athletic, Eng), Reneilwe Letsholonyane (Kaizer Chiefs), Oupa Manyisa (Orlando Pirates), May Mahlangu (Helsingborg, Sweden), Thulani Serero (Ajax Amsterdam, Netherlands), Lerato Chabangu (Moroka Swallows), Thuso Phala (Platinum Stars) , Siphiwe Tshabalala (Kaizer Chiefs)
Strikers: Bernard Parker (Kaizer Chiefs), Katlego Mphela (Mamelodi Sundowns), Tokelo Rantie (Malmo, Sweden), Lehlohonolo Majoro (Kaizer Chiefs)

Group B
1. DR CONGO
Goalkeepers: Robert Kidiaba (TP Mazembe), Bakala Landu (MK), Parfait Mandanda (Charleroi, Belgium)
Defenders: Mpeko Issama, Thierry Kasereka (both AS Vita Club), Jean Kasusula (TP Mazembe), Larrys Mabiala (Karabukspor, Turkey), Chancel Mbemba (Anderlecht, Belgium), Cedric Mongongu (Evian Thonon Gaillard, France), Landry Mulemo (Kortrijk, Belgium), Herve Ndonga (TP Mazembe), Toko Nzuzi (Grasshoppers, Switzerland)
Midfielders: Mukuntima Kisombe (Daring Club Motembe Pembe), Cedric Makiadi (SC Freiburg, Germany), Zola Matumona (Mons-Bergen, Belgium), Tresor Mputu Mabi (TP Mazembe), Youssouf Mulumbu (West Bromwich Albion, England), Kazadi Mutombo (AS Vita Club), Luvumbu Nzinga (SC Rojolu)
Strikers: Patou Kabangu (TP Mazembe), Alain Kaluyituka (Al Kharitiyath, Qatar), Deo Kanda (TP Mazembe), Domi Kumbela (Eintracht Braunschweig, Germany), Lomama LuaLua (Karabukspor, Turkey), Buge Mania (Shark XI FC), Dieumerci Mbokani (Anderlecht, Belgium), Gabriel Zakuani (Peterborough United, England)
2. GHANA
Goalkeepers: Adam Kwarasey (Stromsgodset, Norway), Fatau Dauda (AshantiGold), Daniel Adjei (Liberty Professionals)
Defenders: John Paintsil (Hapoel Tel-Aviv, Israel), Harrison Afful (Esperance, Tunisia), Richard Kissi Boateng (Berekum Chelsea), Wakaso Mubarak (Espanyol, Spain), John Boye (Rennes, France), Jonathan Mensah (Evian, France), Isaac Vorsah (Red Bull Salzburg, Austria), Jerry Akaminko (Eskisehirspor, Turkey), Awal Mohammed (Maritzburg United, South Africa).
Midfielders: Christian Atsu (FC Porto, Portgal), Anthony Annan (Osasuna, Spain), Derek Boateng (Dnipro Dniepropetrovsk, Ukraine), Emmanuel Agyemang Badu (Udinese, Italy), Kwadwo Asamoah (Juventus, Italy), Rabiu Mohammed (Evian, France), Solomon Asante (Berekum Chelsea).
Strikers: Asamoah Gyan (Al Ain, UAE), Emmanuel Clottey (Esperance, Tunisia), Boakye Yiadom (Sassuolo, Italy), Albert Adomah (Bristol City, England
3. MALI
Goalkeepers: Soumbeyla Diakité (Stade Malien), Mamadou Samassa (Guingamp, France) and Aly Yirango (Djoliba AC).
Defenders: Idrissa Coulibaly (Lekhwiya, Qatar), Adama Tamboura (Randers, Danemark), Fousseni Diawara (AC Ajaccio, France), Ousmane Coulibaly (Brest, France), Adama Coulibaly (Auxerre, France), Salif Coulibaly (Djoliba AC), Mahamadou N'Diaye (Vitoria Guimares, Portugal) and Molla Wagué (Caen, France).
Midfielders: Samba Diakite (Queens Park Rangers, England), Seydou Keita (Dalian Aerbin, China), Momo Sissoko (Paris St Germain, France), Samba Sow (Racing Lens, France), Kalilou Traore (Sochaux, France), Mahamane Traore (Nice, France) and Sambou Yatabare (Bastia, France)
Strikers: Cheick Tidiane Diabate (Bordeaux, France), Cheick Fantamady Diarra (Stade Rennes, France), Sigamary Diarra (AC Ajaccio, France), Modibo Maiga (West Ham United, England) and Mamadou Samassa (Chievo Verona. Italy)
4. NIGER
Goalkeepers: Daouda Kassaly, Saminou Rabo and Moussa Alzouma.
Defenders: Mohammed Chicoto, Koffi Dankowa, Mohamed Soumaila, Mohamed Bachar, Kourouma Fatogoma, Lucky James, Ismael Alassane and Kader Amadou.
Midfielders: Karim Konaté, Idrissa Laouali, Issiakou Koudizé, Babacar Talatou, Williams N'Gonou, Souleymane Sakou, Amadou Mountari and Issoufou Boubacar.
Strikers: Moussa Maazou, Kamilou Daouda, Modibo Sidibé and Issoufou Danté.

Group C
1) BURKINA FASO
Goalkeepers:Abdoulaye Soulama (Asante Kokoko/Ghana), Germain Sanou (St Etienne/France), Daouda Diakité (Lierse/Belgium)
Defenders: Mohammed Koffi (Petrojet/Egypt), Henry Traoré (Ashanti Kotoko/Ghana), Bakary Koné (Lyon/France), Mady Panandétiguiri (R. Antwerp/Belgium), Paul Koulibaly (Dynamo Buccarest/Romania)
Midfielders: Wilfried Balima (FC Sheriff Tiraspol/Moldavia), Florent Rouamba (FC Sheriff Tirasplo/Moldavia), Issouf Ouattara (Chernomorets Burgas/Bulgaria), Préjuce Nakoulma (Gornik Zabrze/Poland), Wilfried Sanou (Kyoto Sanga/Japan), Abdoul Razack Traoré (Lechia Gdansk/Poland), Ali Rabo (Al Shorta/Egypt), Charles Kaboré (Marseille/France), Djakaridja Koné (Evian Thonon-Gaillard/France), Jonathan Pitroïpa (Rennes/France), Alain Traoré (Lorient/France)
Strikers: Aristide Bancé (Augsburg/Germany), Moumouni Dagano (Lekwiya/Qatar), Pierre Koulibaly (Al Dhaid Sharja/Emirates), Wilfried Hughes Dah (Al Dhaid Sharja/Emirates)
2. ETHIOPIA
Goalkeepers: Jemal Tassew (Ethiopian Coffee), Sisay Bancha (Dedebit), Zerihun Tadele (St George)
Defenders: Seyoum Tesfaye (Dedebit), Alula Girma (St George), Aynalem Hailu (Dedebit), Degu Debebe (St George), Biyadigilegn Elias (St George), Abebaw Butaqo (St George), Berhanu Bogale (Dedebit)
Midfielders: Behailu Assefa (Dedebit), Addis Hintsa (Dedebit), Asrat Megerssa (EEPCO), Yared Zinabu (St George), Dawit Estifanos (Ethiopian Coffee), Shimelis Bekele (St George), Minyahel Teshome (Dedebit), Yussuf Saleh (Syrianska / Sweden)
Attackers: Salhadin Seid (Wadi Degla / Egypt), Adane Girma (St George), Getaneh Kebede (Dedebit), Oumed Ukuri (St George), Fuad Ibrahim (Minnesota Stars / USA)
3. NIGERIA
Goalkeepers: Vincent Enyeama (Maccabi Tel Aviv/ISR), Austin Ejide (Hapoel Be'er Sheba/ISR) and Chigozie Agbim (Enugu Rangers).
Defenders: Elderson Echiejile (FC Braga/POR), Juwon Oshaniwa (Ashdod FC/ISR), Joseph Yobo (Fenerbahce/TUR), Efe Ambrose (Celtic/SCO), Azubuike Egwuekwe (Warri Wolves), Kenneth Omeruo (ADO Den Haag/NED) and Godfrey Oboabona (Sunshine Stars).
Midfielders: Mikel Obi (Chelsea/ENG), Nosa Igiebor (Real Betis/SPA), Ogenyi Onazi (SS Lazio/ITA), Obiora Nwankwo (Calcio Padova/ITA), Fegor Ogude (Valerenga/NOR) and Gabriel Reuben (Kano Pillars).
Strikers: Ahmed Musa (CSKA Moscow/RUS), Emmanuel Emenike (Spartak Moscow/RUS), Victor Moses (Chelsea/ENG), Brown Ideye (Dynamo Kiev/UKR), Ikechukwu Uche (Villarreal/SPA) and Ejike Uzoenyi, Sunday Mba (Enugu Rangers).
4. ZAMBIA
Goalkeepers: Kennedy Mweene, Joshua Titima and Daniel Munyau.
Defenders: Stopilla Sunzu, Hichani Himonde, Francis Kasonde, Davies Nkausu, Joseph Musonda and Emmanuel Mbola.
Midfielders: Rainford Kalaba, Nathan Sinkala, Mukuka Mulenga, Isaac Chansa, Chisamba Lungu, Felix Katongo, Noah Chivuta and William Njobvu.
Strikers: Emmanuel Mayuka, Collins Mbesuma, Jacob Mulenga, James Chamanga, Jonas Sakuwaha and Christopher Katongo.

Group D
1) ALGERIA
Goalkeepers: Rais Mbolhi (Krylia Sovetov/ Russia), Cedric Si Mohammed((JEM Béjaia/Algeria) and Azzeddine Doukha(USM Harrach/Algeria).
Defenders : Essaid Belkalem(JS Kabylie/Algeria), Carl Medjani(Ajaccio/ France), Rafik Halliche (Academica / Portugal), Ali Rial(JS Kabylie/Algeria), Mehdi Mostefa(Ajaccio/ France), Liassine Cadamuro(Real Sociedad/Spain), Djamel Mesbah(AC Milan/ Italy) and Faouzi Ghoulam(Saint Etienne/ France).
Midfielders : Adlene Guedioura(Nothingham Forest/ England), Medhi Lacen(Getafe/ Spain), Khaled Lemmouchia(Club Africain/ Tunisia), Saad Tedjar(USM Alger/Algeria), Hameur Bouazza(Santander/ Spain), Ryad Boudebouz(Sochaux/ France), Foued Kadir(Valenciennes/ France), Sofiane Feghouli(Valence/ Spain) and Djamel AbdounAbdoun Djamel (Olympiakos/ Greece).
Strikers: Hilal Soudani(Guimares/ Portugal), Islam Slimani(CS Constantine/Algeria), Mohamed Amine Aoudia(CR Belouizdad/Algeria) and Ishak Belfodil(ES Sétif/Algeria).
2. COTE D' IVOIRE
Goalkeepers: Barry Boubacar (Lokeren-Belgium) ,Yeboah Daniel (Dijon-France) , Sangaré Badra Ali (IAFC-CIV)
Defenders: Bamba Souleman (Trazbonspor-Turkey) , Boka Arthur (Stuttgart-Germany) , Eboué Emmanuel (Galatasaray-Turkey) , Lolo Igor (FC Kuban Krasnodar-Russia) , Tiené Siaka (PSG-France) , Touré Kolo Habib (Manchester City-England) , Ismaël Traoré (Brest-France)
Midfielders: Abdul Razack (Manchester City-England) , N'Dri Koffi Romaric (Real Saragosse-Spain) , Max Gradel Alain (AS Saint-Etienne-France) , Tioté Cheick Ismaël (Newcastle-England) , Touré Yaya Gnegneri (Manchester City-England) , Ya Konan Didier (Hanovre-Germany) , Zokora Didier (Trazbonspor-Turkey)
Strikers: Didier Drogba (Shanghai Shenhua-China) , Salomon Kalou (Lille-France), Koné Arouna (Wigan-England) , Traoré Lacina (Anzhi Makhachkala-Russia) , Bony Wilfried (Vitesse Arnhem-Netherlands), Yao Kouassi Gervais (Arsenal-England)
3. TOGO
Goalkeepers: Agassa Kossi (France / Reims), Tchagouni Baba (France / Dijon) Atsu Mawugbe (Togo / Maranatha).
Defenders : Nibombe Dare (Belgium / RBDB) OuroAkoriko Sadat (South Africa / Free State Stars) Gafar Mamah (Moldova / FC Dacia) Akakpo Serge (Slovenia / Zilina FC) Vincent Bossou (Vietnam / Binh Duong Football Club) , Donou Kokou (Togo / Maranatha) Djene Dakonam (Cameroon / Cotton Sport).
Midfielders : Amewou Komlan (France / Nîmes) Moustapha Salifou (); Dove Wome (South Africa / Free State Stars) Segbefia Kossi Prince (France / Auxerre) Amétépé Kodjo (Gabon / CF Mounana) Mani SAPOL (Algeria / CA Batna) Ayité Floyd (Reims / France), Alaixys Romao (Lorient / France).
Strikers : Emmanuel Adebayor (England / Tottenham), Serge Gakpe (France / Nantes) Damessi Kalen (France / Lille): Placca Fessou same (Togo / Agaza) Ayité Jonathan (France / Brest).
4. TUNISIA
Goalkeepers: Aymen Mathlouthi (Etoile du Sahel), Moez Ben Cherifia (Espérance de Tunis) and Farouk Ben Mustapha (Club Athlétique Bizertin)
Defenders: Aymen Abdennour (Toulouse, France), Anis Boussaidi (Tavria Simferopol, Ukraine), Khalil Chammam (Espérance de Tunis, Tunisia), Chamseddine Dhaouadi (Etoile du Sahel), Walid Hichri (Espérance de Tunis), Bilel Ifa (Club Africain) and Fateh Gharbi (Club Sportif Sfaxien)
Midfielders: Haten Baratli (Club Africain), Wissem Ben Yahia (Mersin, Turkey), Wahbi Khazri (Bastia, France), Majdi Traoui (Esperance Tunis), Khaled Mouelhi (Esperance Tunis), Oussama Darragi (FC Sion, Switzerland) and Zouheir Dhaouadi.
Strikers: Fakhreddine Ben Youssef (Club Sportif Sfaxien), Saber Khelifa (Evian, France), Youssef Msakni (Lakhouya, Qatar), Hamdi Harbaoui (Lokeren, Belgium) and Chadi Hammami (Al Kowait).

Referees
1 Haimoudi Djamel (Algeria)
2 Diatta Badara (Senegal)
3 Jedidi Slim (Tunisia)
4 Doue Noumandiez Desire (Côte d'Ivoire)
5 Gassama Bakary Papa (Gambia)
6 Alioum Neant (Cameroun)
7 Bennett Daniel Frazer (South Africa)
8 El Ahrach Bouchaib (Morocco)
9 Mohamed Benouza (Algeria)
10 Coulibaly Koman (Mali)
11 Grisha Ghead (Egypt)
12 Seechurn Rajindraparsad (Mauritius)
13 Nampiandraza Hamada el Moussa (Madagascar)
14 Sikazwe Janny (Zambia)
15 Otogo-Castane Eric Arnaud (Gabon)
16 Kirwa Sylvester (Kenya)
17 Lemghaifry Aly (Mauritania)
18 Camille Bernard (Seychelles)
Assistant Referees
1 Menkouande Evarist (Cameroon)
2 Hassani Bechir (Tunisia)
3 Achik Redouane (Morocco)
4 Yeo Songuifolo (Côte d'Ivoire)
5 Camara Djibril (Senegal)
6 Ogbamariam W. Angesom (Eritrea)
7 Edibe Peter Elgam (Nigeria)
8 Birumushahu Jean-Claude (Burundi)
9 Kabanda Felicien (Rwanda)
10 Range Aden Marwa (Kenya)
11 Etchiali Abdelhak (Algeria)
12 Siwela Zakhele Thusi (South Africa)
13 Diarra Balla (Mali)
14 Samba El Hadji Malick (Senegal)
15 Hmila Anouar (Tunisia)
16 Salifu Malik Alidu (Ghana)
17 Vinga Theophile (Gabon)
18 Moussa Yanoussa (Cameroon)
19 Ahmed Ali Waleed (Sudan)
20 Dos Santos Jerson Emiliano (Angola)
21 Marengula Arsénio Chadreque (Mozambique)
No refs from Malawi, Uganda, Botswana, ….?
Comments are closed