Africa Cup of Nations 2012 seeding formula
February 17th, 2010 | by: sscouser |

Comments(10)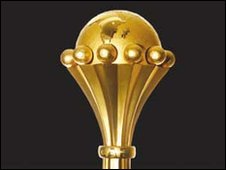 The draw for the qualifying rounds for the 28th Africa Cup of Nations (Gabon/Equatorial Guinea 2012) will take place on 20 February 2010 in Lubumbashi, DR Congo. According to Times Sport here is the seeding formula for the Africa Cup of Nations Equatorial Guinea/Gabon 2012:
Sum of: 2010 WCQ points, bonus for qualifying for the 2010 WC (6 points), 2010 ACN group stage points and 2010 ACN performance bonus (12 for the winner, 9 for the finalist, 6 for the SF, 3 for the QF). You may click here for detailed explanation.
The rest of the teams will be ranked using the January 2010 FIFA ranking (published on 3 February 2010):

W= World Ranking; A = Africa Ranking
Based on the 2008 CAN draw procedure, the first seeded team will be placed with the weakest team from each of the other three pots.
With 51 members and 14 places available, CAF will probably use a system with 12 groups of 4 teams and one with 3 teams, with the winners and the best runner-up qualifying.
Here is how the Groups may look like:
Group 1: Egypt, Kenya, Madagascar, Sao Tome
Group 2: Ghana, Sudan, Lesotho, Central African Republic
Group 3: Nigeria, Tanzania, Burundi, Guinea Bissau
Group 4: Algeria, Rwanda, Chad, Djibouti
Group 5: Côte d'Ivoire, Congo, Swaziland, Somalia
Group 6: Cameroon, Cape Verde, Sierra Leone, Mauritius
Group 7: Tunisia, Senegal, Ethiopia, Comoros
Group 8: Mali, Guinea, Botswana, Seychelles
Group 9: Burkina Faso, Angola, Zimbabwe, Niger
Group 10: Zambia, Malawi, Libya, Eritria
Group 11: Benin, South Africa, Congo DR, Mauritania
Group 12: Mozambique, Uganda, Namibia, Liberia
Group 13: Togo, Morocco, Gambia
However, if at least 3 members don't enter the qualifying rounds, then there will be 12 groups of 4 teams with the winners and top two runners-up joining the hosts (Gabon and Equatorial Guinea) in 2012.
Subscribe

Malawi World Cup Team Blog RSS Feed

Share
Comments

It will be interesting to see what formula they will come up with for the top two runners up

Malawi will make it again

Wow – just wow – Times Sport copied one of my posts word for word. Amazing! And obviously – no link
Posted from
Romania

This is the original post:
http://www.football-rankings.info/2010/01/african-cup-of-nations-seeding-for.html
Of course, the pots have changed
Posted from
Romania

I knew it but I thought you and Times Sport are one.
"Times Sport can establish."
Posted from
United States

Group 13: Morocco, Gambia is very nice hhhhhhhhhh

how many teams they play in the turnment
and how many are qualify
Posted from
United Kingdom

how many teams they play in the turnment
and how many are qualify
as the groups are 13 and 2 host countries
it will be 15 country
how about the 16 and how this team qualify
please could any body expalin
Posted from
United Kingdom

Ohh Groupe 13 have one party
Morocco Vs Gambia
??

Africa Cup of Nations 2012 draw takes place
http://malawi.worldcupblog.org/team-news/africa-cup-f-nations-2012-draw-takes-place.html
Comments are closed