Africa Cup of Nations Angola 2010: The Final Four
January 25th, 2010 | by: sscouser |

Comments(9)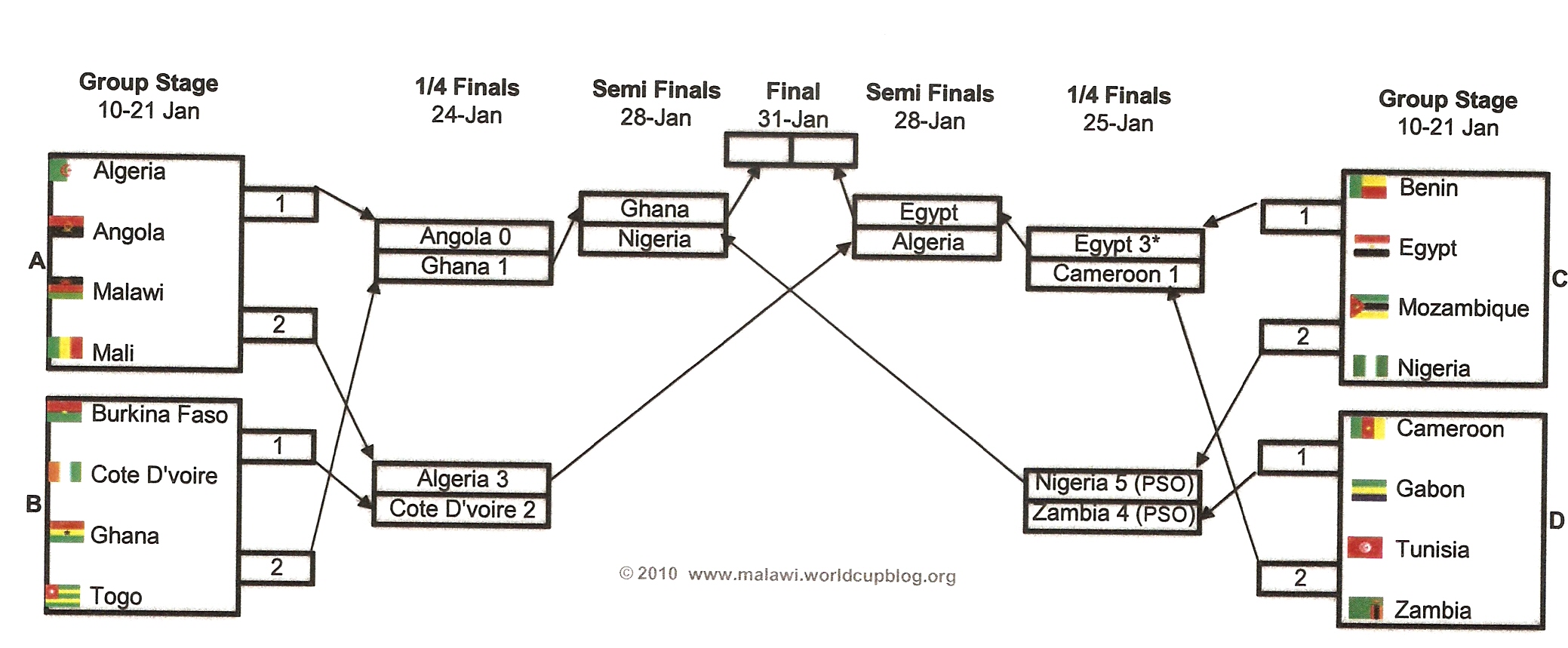 On the post dated 27 November 2009 there was this poll.
On the post dated January 21, 2010 there were two polls: this poll and this poll.
According to the results of the polls, not many people thought Algeria would reach this far. Let's try it one more time:
Subscribe

Malawi World Cup Team Blog RSS Feed

Share
Comments

Excellent..Excellent..Excellent rivalry for us true football fans!! Come on!.. Who could ask for better games? Long time West African rivalry between GHANA & NIGERIA + North African rivalry..EGYPT & ALGERIA! I luv this game. I pray that the peace will be kept in the streets of these fours countries on Thursday. As a Ghanaian; I know this West African rivalry can get really heated in the urban areas. As for North Africa.. we already know what's up with that. May Allah help us all! I luv this game!
Posted from
United States

Once again, there is a thin line between success and failure. Had Nigeria lost today, the coach would have been fired.
2159: "I wonder what's going on in Amodu Shaibu's head right now. Lose this game and he's surely out of a job."
2200: END OF EXTRA-TIME Zambia 0-0 Nigeria (penalties to come)
Zambia 1-0 Nigeria (Noah Chivuta scores)
Zambia 1-1 Nigeria (John Obi Mikel slots it to the right)
Zambia 2-1 Nigeria (Christopher Katongo scores)
Zambia 2-2 Nigeria (Obafemi Martins strokes it to the left)
Zambia 3-2 Nigeria (Emmanuel Myuka scores)
Zambia 3-3 Nigeria (Victor Obinna scores)
Zambia 3-3 Nigeria (Thomas Nyirenda's shot is saved)
Zambia 3-4 Nigeria (Peter Odemwingie scores)
Zambia 4-4 Nigeria (Goalie Kennedy Mweene scores)
Zambia 4-5 Nigeria (Goalie Vincent Enyeama scores)
2213: ZAMBIA 4-5 NIGERIA – Nigeria win on penalties
Amodu Shaibu is still employed. I am happy for him.
Posted from
United States

Angola is very far away from Algeria and Egypt so the stadium will be empty. This my friends is what is called a neutral ground.

Egypt won with the help of the ref
http://www.youtube.com/watch?v=GZd_ozNuJ2E

Why do peple underrate/hate Algeria? I would rather my team (Ghana) meet Egypt in the Finals. Algeria are a motivated bunch right now.

Stuart, according to Tamim: "I read that fans are flying starting from tomorrow to Angola…..Bring it on"
xxx, though this wasn't a goal, Egypt would still have won. Cameroon didn't even deserve to be in the Quarter-Finals.
Asare, I don't think they underrate/hate Algeria. I think they (England) are afraid. Be afraid, be very afraid. They don't want Algeria to be African Champions because if they (Algeria) do become champs, they will be the team to beat in South Africa.
Exhaustion? What exhaustion?
Posted from
United States

I think the stadiums will be full.
People will just be happy to watch the semi-finals of the AFCON + the Angolan players are urging people to carry on watching the tournament.
Posted from
United Kingdom

@Kiko @Stuart Still neutral ground but… Awww shucky ducky!. It's official! The Algerian Gov't is financing & arranging to fly hundreds of fans to Benguela for Thursdays match according to BBC Sports. • http://news.bbc.co.uk/sport2/hi/football/africa/8480642.stm
How they will do this is beyond me. Why? Angola is notorious for bureaucratic 'tie-ups' when it comes to visa issuance. Unless Algerian can drop right in and get stamped at airport. Who's the middleman buying the tickets today? Also, which Algerienne gets to fly? Is it a lottery or some special 'A-List'or 'who U know' connections. Either way.. I'm glad some stadium seats will be filled. Expect Egypt National Fan Club/Gov to match this expedition. I luv this game!
Posted from
United States

Kiko, people in Angola will also be happy to watch the semi-finals in the comfort of their own homes.
I think in future Africa Cup of Nations there should be a broadcast black-out in the local market. For example, I understand there is a broadcast blackout in the local market (within a 75-mile radius of Kansas City) if the Kansas City Chiefs game tickets are not sold-out by a certain deadline.
Bakari, have you ever been to Angola? By the way is there Angola Diversity Visa (DV) Lottery?
Posted from
United States
Comments are closed