Chad vs Malawi: History in the waiting
September 26th, 2011 | by: sscouser |

Comments(7)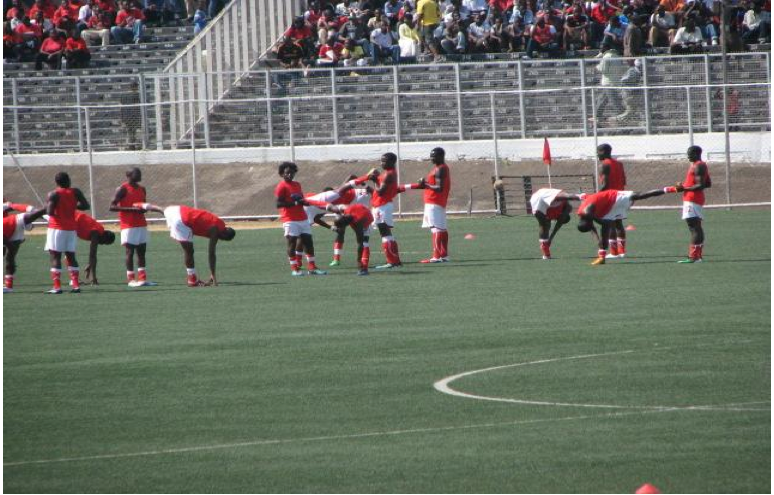 Picture: Malawi National Team Players flexing before the Tunisia match.
The Flames (Malawi National Team) are a win away from making back to back appearances at the Africa Cup of Nations Finals. They made it to Africa Cup of Nations Angola 2010 and are a win away from making it to Africa Cup of Nations Gabon/Equatorial Guinea 2012 (January 19 to February 12, 2012). What an achievement that would be and Malawi coach Kinnah Phiri agrees: "….But our biggest achievement will come if we can go to the Nations Cup back-to-back. That will be history alone for us. And if we get to the Nations Cup I think the players will have the right experience to do much better, and they will have the confidence to go far. We will show that we can compete."
Malawi beat Chad 6-2 in Blantyre – Partly due to Home Ground Advantage? This time Malawi will be playing away.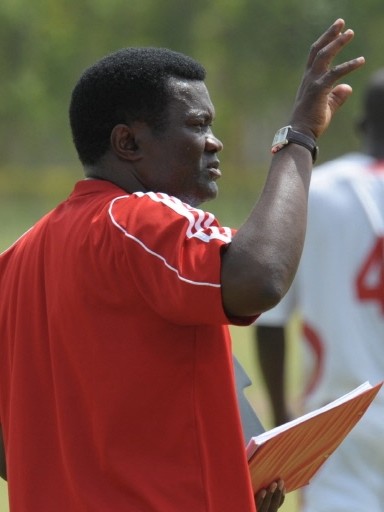 "Chad is going to be a very tricky game," admits Malawi Coach Kinnah Phiri – Former Malawi National Team Striker. In the late 1970s he was part of the Malawi National Team that won the East and Central Africa Challenge Cup back to back (1978 and 1979).
"When you look at our first game against Chad, when we beat them 6-2 at home, it was not easy, even if the score was strongly in our favour. You cannot call them a small team because they have some really good players. And at this time of the year we can expect a tough game because I think they will also be using the match to prepare for the start of the World Cup qualifiers. It is going to be tricky." But in same breath, Phiri admits: "We are confident we will make it. We can ensure that we will be working hard and preparing properly."
Phiri will have a full-strength squad at his disposal save for uncertainty over captain Peter Mponda and key striker Esau Kanyenda. Mponda has yet to play since suffering a cruciate ligament injury in March, although he has been making good progress. "I have seen him training and although he is still not confident in the tackle, he can offer us a lot in other ways. I will pick him and then make my final decision closer to the time."
P/S: Esau Kanyenda has been ruled out (Fractured his arm during the game against Tunisia – Will not be fit). Also, defender Harry Nyirenda (played Mponda's Position during the game against Tunisia) may be ruled out. He picked up an injury on club duty last week.
Group K



Oct 8, 2011: Chad v Malawi; Tunisia v Togo
Subscribe

Malawi World Cup Team Blog RSS Feed

Share
Comments

The Flames are scheduled to play a friendly match against the Walya Antelopes (Ethiopia National Team), in Ethiopia, on 4 October 2011. There are advantages and disavantages of playing a friendly match too close to the competitive match.
Posted from
United States

We shall overcome.

- 25 "local" players started training on Monday at Kamuzu Stadium
- Flames coach said he will pick 7 players from the 25 "local" players. I think the 7 will include Swadick Sanudi, Joseph Kamwendo, Fischer Kondowe, Frank Banda, Ndaziona Chatsalira, …
- Five South Africa based players are expected to join the 25 local players tomorrow. The players are Peter Mponda, Harry Nyirenda (certified fit), Moses Chavula, Taonga Chimodzi and Davie Banda. The other foreign based players will fly straight to Ethiopia on Monday. The friendly against Ethiopia is on Tuesday -October 4.
- Chiukepo Msowoya was expected to jet in yesterday.
- The Flames are scheduled to leave for Chad via Ethiopia on October 3.
Daily Times Sports: The coach also said he will use a lot of players during a strength testing game in Addis Ababa. He said he would be trying a lot of combinations as he prepares the final battle against Chad on October 8.

"I am not looking at results but combination of players. We have taken a lot of time without playing a friendly game to try combinations of players. This will make us prepare properly against Chad."

The coach has also said he will not release the seven local players for their club assignments this coming weekend.

"We do not want to risk injuries. I need to have as many players as possible," he said.
Against Ethiopia, will not risk injuries? By the way, is this the time to try different combinations? Is this not the time for the team to gel? Team cohesion?
Posted from
United States

There are many group dynamics that take place within a sporting team. One of the most important is cohesion. One is always hearing about how important it is for a team to "gel" or "bond" or "have good chemistry." Cohesive teams can achieve dramatic and awesome things. The way players interact has a tremendous impact on the way a team performs.
The more cohesive a team is, the more it encourages peak performance in its members. If cohesion is lacking it can often prevent the team from reaching its potential. Shouldn't teams spend time and energy developing a cohesive environment?
How to Create Team Cohesion
1. Avoid excessive team substitutions
2.
3.
4.
5.
6.
7.
8.
9.
10.
Posted from
United States

wshing the flames all the best

I think Malawi Captain Peter Mponda will play today (Friendly against Ethiopia). Mponda has not played since picking up a knee injury in February. If he is going to play on Saturday (against Chad) I think he will play as a midfielder. Playing in the back involves lots of contact and I don't think he is ready for that.
Posted from
United States

Ethiopia 0:0 Malawi
Posted from
United States
Comments are closed