CHAN 2011 Qualifiers: Malawi 3 Mozambique 0
March 13th, 2010 | by: sscouser |

Comments(6)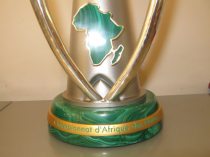 The tournament (CHAN), inaugurated in 2009 when the finals were held in Cote d'Ivoire, is for African National Teams made up of players in their respective domestic leagues only. DR Congo Leopards made history by becoming the first team to win the African Nations Championship (CHAN) after beating Ghana 2-0 in March 2009 in Abidjan, Cote d'Ivoire. It was a perfect revenge for DR Congo. During the group phase Ghana beat DR Congo 3-0.
The eliminatory rounds of CHAN Sudan 2011 started yesterday. Defending champions, DR Congo took giant strides towards qualifying for the finals of the next edition with a 2-1 away win over Gabon in Libreville.
Earlier today Malawi beat Mozambique 3-0 in Malawi. Mozambique played with 10 players for the better part of the game after Francesco Masinga was given marching orders for fouling striker Green Harawa on the edge of 18 yard box on minute 18. Bernard Harawa and Davie Banda shot the local Flames into a two goal lead in the first half before Green Harawa sealed victory with the third goal later in the game. It's not over yet. The second match will be played in Mozambique in two weeks time. This is the second time that Malawi and Mozambique are meeting in the first round of CHAN. In the inaugural edition, Mozambique eliminated Malawi. 1st leg in Malawi: Malawi beat Mozambique 2-1. 2nd leg in Mozambique: Mozambique beat Malawi 1-0.
Article 13
13.1. The matches played in the knock-out system are played home and away. The team which shall have scored a higher aggregate number of goals in the two matches shall be qualified for the next round.
13.2. If after the end of the regular time of the second match, the two teams have scored the same number of goals during the two matches, the team which will have scored the greatest number of away goals will be qualified for the next round of the competition.
13.3. In case the number of away goals is also the same or if the results of the two matches are nil, the winner shall be determined by the taking of kicks from the penalty mark carried out by each team in conformity with the recommendations of the International Board. The team which would score the greatest number of penalty kicks shall be qualified for the next round of the competition.
First Round of CHAN 2011 (started today):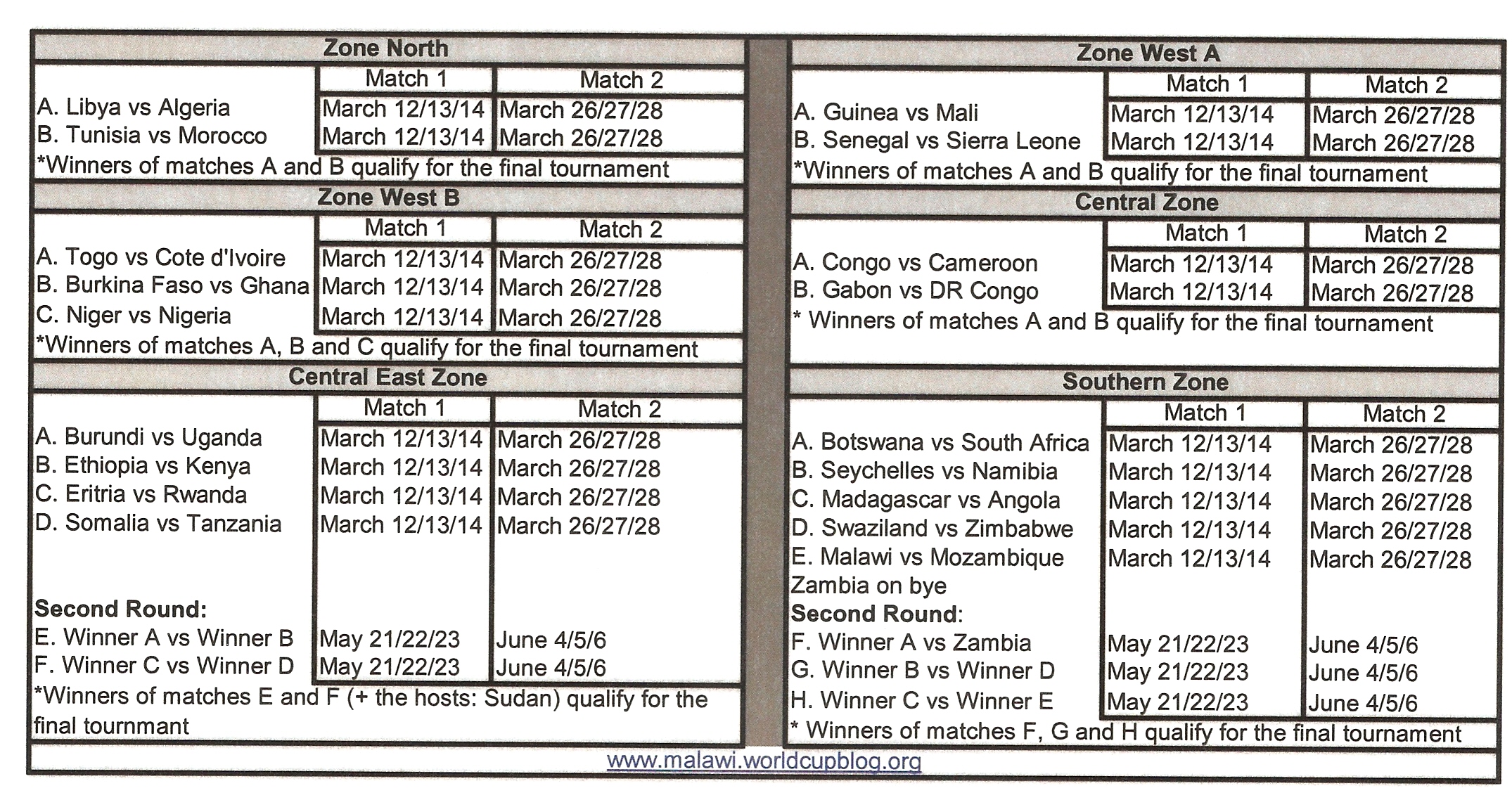 NOTE:1st Round Matches
Tunisia vs Morocco matches have been moved to May 21/22/23 and June 4/5/6
Togo v Cote D'Ivoire matches have been moved to March 28 and April 11
The inaugural edition involved eight teams but in Sudan there will be sixteen teams. Each CAF (African Football Confederation) zone will produce the following # of teams to join the hosts (Sudan):
Zone North = 2
Zone West A = 2
Zone West B = 3
Central Zone = 3 (including winner of loser Match A vs. loser match B)
Central East Zone = 3 (including Sudan)
Southern Zone = 3
Subscribe

Malawi World Cup Team Blog RSS Feed

Share
Comments

Congrats local Flames. Keep the fire burning

I think zone west and west B will be interesting to watch
Posted from
United States

I think west zone will be very interesting to watch in those upcoming marches
Posted from
United States

Egypt will win again

Ghana will win it this time

March 12/13/14 Results (all teams on the left side of the results played at home):
Gabon 1-2 Congo DR
Botswana 0-0 South Africa
Sechelles 1-0 Namibia
Malawi 3-0 Mozambique
Algeria 1-0 Libya
Burkina Faso 0-0 Ghana
Burundi 1-1 Uganda
Madagascar 0-0 Angola
Swaziland 1-2 Zimbabwe
Congo 1-1 Cameroon
Guinea 1-1 Mali
Niger 2-0 Nigeria
Posted from
United States
Comments are closed