Dutch League Champions want "Malawi's Essien"
November 12th, 2010 | by: sscouser |

Comments(2)
I know, I know, you are kind of confused. The last post was entitled Malawian defender to join Ukrainian PL side?. This one is entitled Dutch League Champions want "Malawi's Essien". Two different players. Pay attention to detail
Dem Flames are hot. Ukrainian Premiership Side Metalists Kharaviv offered Malawi National Team defender Elvis Kafoteka an outright contract. It seems Kafoteka's not the only Malawi National Team Player offered an outright contract (without trials) by a European Club. Today's Nation Newspaper quoted Pedro (the same agent who is facilitating Kafoteka's Ukraine Deal) as saying: "The Dutch Club ( FC Twente Enschede) wanted Dave without trials, but we were late to start talks with MDF (Malawi Defence Force). But the club has written us to resume talks. If all goes well, Dave might join the club in January but if we'll not be able to break through this time around, then probably in June. They want him outright, he is Malawi's "Michael Essien".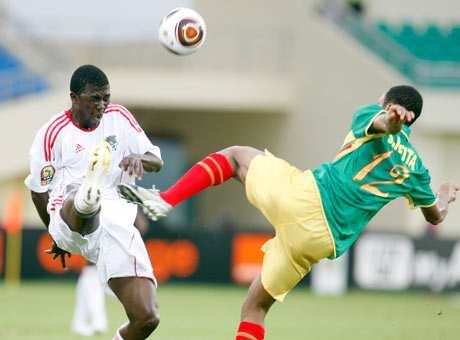 Dave Banda was one of the scorers when Malawi beat World Cup (South Africa 2010) bound Algeria 3-0 at the Africa Cup of Nations Angola 2010. He also scored Malawi's goal when Malawi and Botswana drew 1-1 at the Giant Kamuzu Stadium. Almost all current Malawi National Team players are foreign based. Dave Banda is not foreign based. He plays as a midfielder for Red Lions (Malawian club owned by the Malawi Defence Force). If he is talented, why doesn't he play professional football elsewhere?
Well, earlier this year his employers didn't let him go for trials with South African Premiership League club Kaizers Chiefs because, reportedly, according to the Malawi Defence Rules, "a serving soldier cannot work outside the country". What about a two year leave of absence? Exactly!
Dave Banda may be able to play for Dutch League Champions Twente Enschede if the Malawi Defence Force headquarters will grant him a two year leave of absence. Red Lions Chairperson Lieutenant Colonel Ian Chirwa was quoted by The Nation as saying: "It is true. We were contacted by the agents who informed us about serious interest from a Dutch Club." Reportedly, he also said that it would be good for both the player and the nation if he can succeed in his trials and play overseas. "But the issue is now beyond our jurisdiction and we have referred it to headquarters to see if he (Dave) could be given two years leave of absence."
If he can't be given a two year leave of absence then at least promote him. In 2007 the Zambian army promoted Zambia National Team Captain Christopher Katongo to sergeant from corporal in honour of the hat-trick that he scored against South Africa on 9 September 2007.
The midfielder's three goals helped the Chipolopolo Boys beat South Africa 3-1, a result that saw Zambia qualify for the Africa Cup of Nations Ghana 2008.
Katongo's new rank was conferred on him at Lusaka's Arackan barracks on Tuesday, 11 September, 2007.
"I'm very happy, I want to thank the army for recognising my efforts," he said shortly before returning to Denmark where he used to play for first division side Brondby. (In August 2008, Katongo joined German club Arminia Bielefeld).
"I'll continue working hard and do Zambia proud."
Zambia Army spokesperson Colonel Dan Chambaila told BBC Sport. "We want to encourage our sportsmen and women.
"The commander felt that as a way of congratulating Katongo, he should be promoted, he has done us proud.
"Even as he plays his club football in Denmark, we want to assure him that he will be welcomed back in the army when he returns to Zambia."
Though the Chipolopolo Boys were eliminated in the first round at the Africa Cup of Nations Ghana 2008, Katondo played exceptionally well. Guess what? Zambia Army Commander General Isaac Chisuzi promoted him again, this time to to the rank of staff sergeant. "We were impressed with Katongo's performance at the African Cup of Nations tournament and this is the only way we can appreciate his hard work. It is a way of motivating him to work even harder," Chisuzi said.
That's what Am talking about! Aigh?
I think Dave Banda will play on November 17 (FIFA Fixed Date for Friendlies: Malawi vs. Rwanda). By the way, he will also be part of the Malawi National Team (Local Players) that will take part in the 2010 CECAFA Senior Challenge Cup.
Subscribe

Malawi World Cup Team Blog RSS Feed

Share
Comments

All the best Dave.

soon malawian players will be playing in english premiership league, la liga or seria a
Comments are closed