Ghana vs Malawi: AFCON 2013 Qualifiers – 1st leg
September 8th, 2012 | by: sscouser |

Comments(33)
Date: 8 September, 2012
Venue: Accra Sports Stadium, Ghana
Kick-Off: 15:30 GMT (3:30PM local time)
Referee: Benouza Mohammed (Algeria); assistants also from Algeria
Match Commissioner: Linus Mba (Nigeria)
Click here for the squads
Malawi Starting Line Up: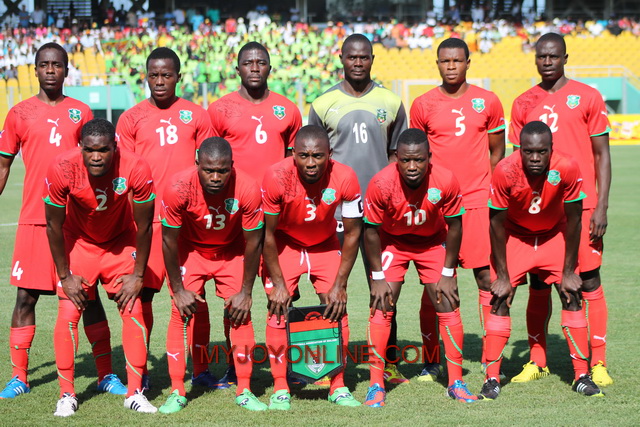 Goalkeeper: Simplex Nthala (16)
Defenders: Moses Chavula (3), James Sangala (5), Harry Nyirenda (4), Limbikani Mzava (12)
Midfielders: Joseph Kamwendo (10), Dave Banda (6), Frank Banda (13), Chimango Kayira (8), Peter Wadabwa (2)
Striker: Atusaye Nyondo (18)
Only Harry Nyirenda was not in the starting line up against Liberia
Ghana Starting Line Up: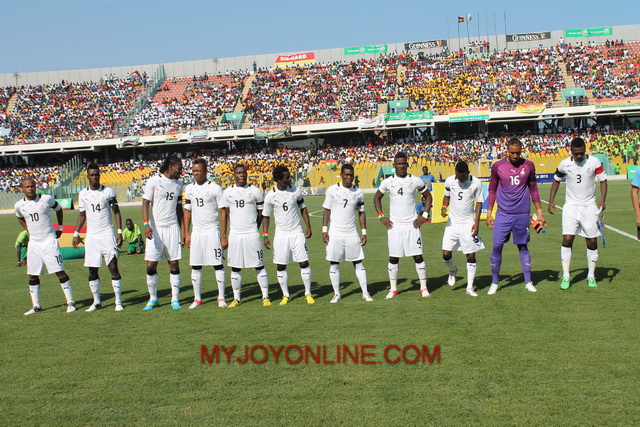 Goalkeeper: Adam Kwarasey (16)
Defenders: Daniel Opare (4), Harrison Afful (5), John Boye (14), Isaac Vorsah (15),
Midfielders: Anthony Annan (6), Christian Atsu (7), Andre Ayew (10), Kwadwo Asamoah (18)
Strikers: Asamoah Gyan (3), Jordan Ayew (13)
You can watch live here
08′ Goaaaaaaaal (Ghana 1:0 Malawi, Chris Atsu)
27′ Goaaaaaaaal John Boye scores from an Atsu rebound but offside flag was up
HT Ghana 1:0 Malawi
46′ Second half
51′ Goaaaaaaaal (Ghana 2:0 Malawi, Anthony Annan)
54′ Derek Boateng in for Jordan Ayew
63′ Robin Ngalande in for Peter Wadabwa; Gabadihno Mhango in for Frank Banda
69′ Solomon Asante in for Andre Ayew
81' James Sangala out – Second Booking. Malawi down to 10 men. Sangala will not feature in the 2nd leg
85′ Pilira Makupe in for Atusaye Nyondo
88' Limbikani Mzava yellow carded for a foul on Harrison Afful
90′ There will be ONLY 4 minutes of "Fergie Time"

FT Ghana 2:0 Malawi
Ghana 2:0 Malawi goals video:

Ghana vs Malawi 2-0 All Goals & Highlights… by kofiswag
Click here to watch the entire first half. Click here to watch the entire second half.
Malawi to beat Ghana by at least 2 goals in Malawi? If the defense/defence will be as porous as it was today then Ghana will also score at least 2 goals. Malawi is known for conceding goals in the dying minutes but today conceded goals a few minutes into the first half and second half. All the two goals could have been avoided. Lack of concentration? Poor positioning? Unfit? Disadvantage of parking the bus in your own goal area? Disadvantage of zonal marking? Inexperienced? As for the 1st goal I think Malawi Captain Moses Chavula failed to clear the ball because he is left-footed. But should that be an excuse?
AFCON South Africa 2013 Qualifiers – 3rd/Final Round (1st leg: 07-09 Sept 2012; 2nd leg: 12-14 October, 2012):
1st leg:
8 September 2012 Results:
1. Ghana 2:0 Malawi
2. Mali 3:0 Botswana
3. Liberia 2:2 Nigeria
4. Zambia 1:0 Uganda – (goal by Christopher Katongo 20′)
5. Cape Verde Islands 2:0 Cameroon
6. Sierra Leone 2:2 Tunisia
7. Sudan 5:3 Ethiopia
8. Ivory Coast 4:2 Senegal
9. Gabon 1:1 Togo – ("Prodigal son" Emmanuel Adebayor equalised for Togo 77′)
10. Central African Republic 1:0 Burkina Faso
9 September 2012 Results:
11. Congo DR 4:0 Equatorial Guinea
12. Zimbabwe 3:1 Angola
13. Mozambique 2:0 Morocco
14. Guinea 1:0 Niger
15. Libya 0:1 Algeria (match played in Morocco)
The 15 Winners will join hosts South Africa. The tournament will be held from 19 January – 10 February, 2013. The draw for the tournament will take place on 26 October 2012 24 October 2012
Subscribe

Malawi World Cup Team Blog RSS Feed

Share
Comments

In the return leg we will need to field our experienced players Chiukepo Msowoya, Russell Mwafulirwa, Esau Kanyenda, Robert Ng'ambi otherwise I don't see us beating Ghana in Malawi

@ sscouser, the Zebras will be at the ACN tournament in South Africa. It will be nice if Malawi can also be there.

Ghana we so good of u we need some player like laryer in the 7 wing pls oooooo

Nathan, is the return leg going to be played at Kamuzu Stadium, CIVO Stadium or at a neutral venue yet to be decided? Has Kamuzu Stadium been fixed?
Mark, team cohesion, team cohesion, team cohesion.
Dipsy1, Zebras will beat Mali by at least 3 goals?
benjamin, huh?
Posted from
United States

We have not given up on qualification– Malawi coach Kinnah Phiri
09-11-2012
Malawi coach Kinnah Phiri tells Cafonline.com that they have not given up on their chances to qualify for the 2013 Orange Africa Cup of Nations despite losing 2-0 to Ghana over the weekend. He said that his team is capable of overturning the results in the second leg.
Cafonline.com: How do you think your side did in this match?
Kinnah Phiri: The result does not discourage me. We have seen teams come from behind to win games. We are not disappointed at all as our performance has shown that we are capable of coming back.
Cafonline.com: What did you make of the Ghana team you faced today?
Kinnah Phiri: Ghana has a lot of star players most of whom are playing in Europe. We don't have the luxury of foreign-based players, but I must say it was a good game from my players. The performance of my players is enough an encouragement that we can still do it at home.
Cafonline.com: Your team started very well but fail to take their chances. What accounted for that?
Kinnah Phiri: My boys played very well, kept the ball and were running throughout. They lacked experience in front of goal and it affected us. We lost mainly because of inexperience as the Ghanaians made the best of their experience.
Cafonline.com: How did the red card to James Sangala affect your game plan?
Kinnah Phiri: It did affect our play but we have equally good replacements for the second leg. We usually play clean football and this is our first red card in many matches. Also, we are likely to have Forster Namwera and John Banda for the return leg and it is good news for our team.
Cafonline.com: Do you believe you can turn it round in the second leg?
Kinnah Phiri: I think we still have a chance. We have not given up. We have always come down from a defeat in our backyard and managed to qualify. We will sweat blood to get the results we need. We will sit down and look at our shortcomings, work on them before the next game.
Posted from
United States

Liberia 2:0 Ghana (International Friendly) – 11 September 2012
Both goals scored by Zah Krangar (scorer of the lone goal against Malawi last week)
6′ Goaaaaaaaaaaal!!!!! (Liberia 1:0 Ghana, Zah Krangar)
9′ Goaaaaaaaaaaal!!!!! (Liberia 2:0 Ghana, Zah Krangar)
The first half was played for only 40 minutes. Why?
Ghana Starting line-up: Fatau Dauda, Samuel Inkoom, Razak Nuhu, John Boye/Rashid Sumaila, Jerry Akaminko, Isaac Coffie/Anthony Annan, Solomon Asante/ Andre Ayew, Derek Boateng/Richmond Boakye Yiadom, Asamoah Gyan/Abdul Majeed Waris, Kwadwo Asamoah, Christian Atsu.
Substitutes: Ernest Sowah, Rashid Sumaila, Anthony Annan, Andre Ayew, Jordan Ayew, Abdul Majeed Waris, Richmond Boakye Yiadom.
Meanwhile, Malawi Coach Kinnah Phiri wants Malawi to play a strength testing match against Mali before meeting Ghana next month.
"Mali will be playing Botswana in the second leg in Gaborone. I will request Football Association of Malawi to try and convince Mali to play a friendly against us before the Ghana game," Kinnah Phiri said.
Defenders James Sangala (Red Card) and Limbikani Mzava (two consecutive yellow cards) will not play against Ghana next month.
"As for Sangala, we should be able to replace him with Foster Namwela who is back after serving one game suspension. There are also other up and coming defender that can take up the position of Mzava like Pilirani (Makupe)," Kinnah Phiri said.
It's no secret that Malawi will play to win in the return leg. According to Kinnah Phiri, "We will be putting much of our focus on the offensive. We will put on more offensive players than defensive players." But be careful!
To that effect, he said he would recall Mozambique based striker Zicco Mkanda for the second leg. Zicco Mkanda was part of the Malawi squad(s) for the World Cup 2014 qualifiers against Kenya and Nigeria, and for the AFCON 2013 Second Round Qualifier against Chad.
By the way, who is monitoring Zicco Mkanda's performance in Mozambique? Flames experienced Midfielder Robert Ng'ambi is a regular player in South Africa but played for less than 20 minutes during the friendly against Liberia.
"I featured Robert [Ng'ambi] as a second half substitute in the match against Liberia and it was evident that he was struggling with pace," said Malawi Coach Kinnah Phiri.
"Struggled with pace" even though the Flames played 4-5-1? In the second half Malawi played 4-3-3 (when attacking)?
After Malawi lost to Liberia, Malawi coach Kinnah Phiri had this to say: "It seems some professional players are not fully fit and that might force me to use more local players against Ghana (1st leg)."
According to Nation Sports, one of the players who asked for anonymity (who could that be?) blamed the loss (Liberia 1:0 Malawi) on defensive approach. "I do not think the coach is being fair by criticising the foreign based players. Our game plan was somehow awful and as such we were kept on the back foot, especially in the second half," said the player.
Posted from
United States

A friendly against Mali will really help us beat Ghana. Ghana and Mali play the same way.

Humphrey, most of Mali's foreign based players are based in Europe and Keita plays in China. They will report for international duty 3 or 4 days before the match against Botswana. So, if the Flames do secure a friendly against Mali, I don't think Mali's Europe based players will play. So, will the friendly really help Malawi beat Ghana because Ghana and Mali play the same way? I think it's just a myth that teams from same region play the same way.
By the way, where will the Malawi v Ghana match be played since Kamuzu Stadium is yet to be fixed?
Malawi National Team Coach has said he would love the game to be played at Kamuzu Stadium.
"I have asked FAM that even if it means reducing the capacity to the extent that the upper parts of affected stands should not be occupied, then let it be.
"Because we stand a better chance of doing well at Kamuzu Stadium having turned it into a fortress. Since 2008, we have only lost one Africa major game (Malawi 0:1 Burkina Faso).
"Most of Ghana players are used to playing on natural surface, therefore, they would struggle to play there. The artificial turf would definitely drain their energy. Apparently, the players also prefer Kamuzu Stadium" – Kinnah Phiri as quoted by Nation Sports
Posted from
United States

Article 16.11. The venue and the day of the match (Friday, Saturday, Sunday) will be determined by the host federation that shall inform the General Secretariat of CAF and the adverse team one month before the match. The kick-off time will be fixed at least ten days before the match. Each infraction shall entail a fine of 2000 US$ (two thousand US dollars).
The Second leg match betweeen Malawi and Ghana is scheduled to be played on 13 October 2012 but it seems CAF hasn't heard from FAM yet.
On 12 September 2012 CAF sent a reminder email to FAM. According to Nation Sports, Part of the email reads:
"We would like to remind you of the provisions of Article 16 of the regulations. You are, therefore kindly requested to inform the concerned parties as well as CAF by [Thursday] evening at the latest, of the date, venue and kick-off time of the matches on your territory.
"Consequently, kindly send us upon receipt of this email the requested information to avoid any sanctions which would be imposed in the event of non-respect of the mentioned deadlines."
FAM President Walter Nyamilandu on Tuesday said they were still waiting to get a final report from government.
"We are still waiting for a final decision from government today based on recommendation from structural engineers and all we can do at the moment is wait and cross our fingers that we will be able to beat the cut-off point that is in a few hours' time," said Nyamilandu.
However, Nyamilandu said priority is still Kamuzu Stadium because of capacity unless if it declared unfit.
"It has a higher capacity, the team is also used to the pitch and we stand to generate more revenue. However, in the event that Kamuzu Stadium is declared unfit to host the match then we will go for CIVO Stadium," said Nyamilandu.
According to Nation Sports, Second Principal in the Ministry of Youth and Sports Justin Saidi Thursday (yesterday) morning said that the structural engineers had finalised the tests and were analysing the results.
Article 16.12. If twenty days before the dates retained by CAF, the host association does not fix the venue and the day of the match, the Organising committee will fix them automatically.
According to Daily Times, CAF already declared CIVO Stadium not fit to host international matches back in 1995 and the venue is closed for renovations as well. On 1 September 2012 CIVO Stadium hosted Presidential Cup final between Bullets FC and Moyale Barracks FC because of the closure of Kamuzu Stadium. But more security risks were exposed during the final when supporters vandalised a stadium perimeter wire and invaded the pitch after the game.
By the way, on 8 September 2012, Malawi Under-17 beat Botswana Under 17 (Malawi 2-1 Botswana) in the first leg of the Confederation of African Youth (CAF) Championship preliminary round (first leg) at Silver Stadium in Lilongwe. Why was the match not played at CIVO Stadium? Because it is being fixed? After it is fixed, will CAF send a representative to declare it fit to host international matches? All this to be done before the deadline (20 days before the second leg match against Ghana on 13 September)?
Posted from
United States

You cannot beat Ghana fairly and so are now trying all kinds of tricks?
@Moses Sichone, how come H. Renard and the Chipolopolo failed in Khartoum? That 2-0 score is exactly what Uganda needs to go to S.A 2013.

We didn't fail in Khartoum. Sudan fielded an illegible player. 3 points will be awarded to us.

Ugandan, I don't know why you directed your comment at me. Did I predict a Zambia win in Uganda? All I said was that we should have beaten you by a wider margin and that you will fancy your chances at home next month. I will be gutted if we fail to qualify. All we need is a draw in Uganda.

Moses I thought you would shed more light on the Sudan game. You know like I heard Renard blame FAZ for flying commercial instead of chartering.

If uganda will qualify then malawi will also qualify.

Ugandan, Coach Renard did not blame FAZ. He blamed Ministry of Sports because the team flew direct from South Africa to Sudan a few hours before kickoff. That's why we failed to beat Sudan. We will be in Uganda three days before kick-off. As sscouser would say "be afraid, be very afraid"

We could have beaten Ghana had Kinnah started Ngalande and Gabadihno. The two changed the tempo of the game when they came in as substitutes. In th ereturn leg they will need to start

@Moses Sichone, you're at it again?
@Frank Honde, Uganda is not Malawi.

"As sscouser would say 'be afraid, be very afraid' "
Moses, you got that right.
Ephraim, the two changed the tempo of the game? Was it not because Malawi changed from the defensive 4-5-1 to the offensive 4-4-2?
The Ugandan…, Malawi is not Uganda and Uganda is not Sudan
You've been owned!
Posted from
United States

CIVO Stadium (Lilongwe, Malawi) to host the second leg (Malawi vs Ghana) on 13 October 2012
FAM President Walter Nyamilandu (as quoted by Nation Sports):
"We met the stakeholders, including government officials, on Saturday, and we were told that the official report [on Kamuzu Stadium] is not yet out.
"They informed us that the report will have to be submitted to the Ministry of Youth and Sports and then the minister [of Sports] who will in turn have to present it to the OPC [Office of President and Cabinet] who commissioned the inquiry and that process could take a while.
"So, we had no choice. It was, therefore, agreed to proceed and play the match at CIVO Stadium. FAM CEO [Suzgo Nyirenda] has since been instructed to communicate the same to CAF. It is obviously a setback because Kamuzu Stadium has been our home ground and we are used to the pitch. Even in term of revenue, we stand to lose out.
"But as I said, we have no choice but to comply with the deadline set by CAF. We are equally disappointed but safety of the fans is a priority," said Nyamilandu.
Malawi Coach Kinnah Phiri also described the development as a disappointment.
"When you talk about home ground advantage, it includes factors such as being familiar with the pitch. The other thing is that Ghana will be comfortable playing at CIVO because most of their players are used to playing on natural surface.
"But I am afraid there is little we can do about the situation. We just need to shift the base to Lilongwe in good time so that we get used to the pitch."
Posted from
United States

CIVO statdium has a low capacity so I don't think we are going to have home ground advantage. That said, I think Malawi will still win 1-0.

Noel, Malawi will still have home ground advantage. It should be noted that it is the combination of several different factors (12th player, visitors' travel fatigue, weather, environmental conditions, pitch familiarity, referee bias, …) that creates the overall home advantage effect.
By the way, the Flames will go into camp on 23 September 2012. Are they going to be training at CIVO Stadium? Will train there for almost three weeks? And The Black Stars will train there for only a day or two?
"I feel sorry for the coach and the players taking such a big game to a bumpy and unfamiliar place in Lilongwe. We are used to Kamuzu Stadium and have done great since the artificial turf was laid in 2008. We have given teams a tough time at the venue and Ghana would not have been spared. I don't think it will be the same in Lilongwe" – Malawi National Team Captain Peter Mponda as quoted by Nation Sports
Malawi fighting a losing battle?
Posted from
United States

Why is Malawi, where it rains and the sun shines, rely so much on a plastic pitch?
Posted from
United States

The Ugandan…, unlike the Ugandan Cranes, the Flames play carpet soccer. It is hard to play carpet or sexy football on a bumpy surface. Ask Wenger!
Following Arsenal's defeat to Man U in December 2010, Wenger gave a lengthy critique of the Old Trafford pitch, branding it "bouncy and slippery" and blaming it for the "poor technical quality" of the game.
Wenger's criticism was backed up by his midfielder Jack Wilshere, who wrote on his Twitter account: "The pitch was shocking. [United] wanted to stop us playing."
It seems the Cranes want the Chipolopolo Boys "to stop playing"
The football association of Zambia have written to CAF complaining about the state of Namboole ahead of the do or die second tie between the African Champions and Uganda.

With picture evidence, Zambia told CAF how Namboole is in terrible condition to host the fixture a statement FUFA has rubbished. Federation of Ugandan Football Association (FUFA) spokesperson Rogers Mulindwa told a press conference this morning that they are aware of Zambian's concerns but are yet to get a communication from CAF.

"We are aware of FAZ's claims but it's the same pitch that CAF approved to host all cranes' engagements," said Rogers. It's not the first time teams have complained about the state of the pitch after Nigerians raised their concerns in 2007, when international preacher Benny Hinny held a crusade there with only two weeks to the 2008 Afcon qualifier.

"As FUFA, we will try our best to make sure the ground is in top form before the Zambia Game but as far as we are concerned the pitch is ok," added Mulindwa
"We are aware of FAZ's claims but it's the same pitch that CAF approved to host all cranes' engagements,"
So? Was Malawi's Kamuzu Stadium not approved by FIFA/CAF?
"…as far as we are concerned the pitch is ok".
Seriously? Is this one ok?
Posted from
United States

sscouser, a grass field can be leveled and resoded with grass in less than a month. For FAZ to complain about a pitch weeks before the game is disingenuous. These guys wanted to move the game because of Ebola concerns. They're looking for all kinds of excuses not to play at the Nelson Mandela stadium, Nambole. This is shameful behaviour coming from African champions.
Uganda is on a mission to go to SA and continue where we left off in 1978. Malawi and Zambia should focus on playing on the green grass instead of gamesmanship.
BTW, is someone keeping track of the injuries to Malawi players on that rubber pitch?

The Ugandan…, it is true that your ground is in bad shape. You wanted Zambia to complain a day before the game?
They are not looking for excuses. Read this:
Zambia soccer coach Herve Renard says he is not worried by his counterpart Bobby Williamson' desire for some favourable decisions by the referee in next month's decisive 2013 Africa Cup of Nations last round return leg.

Renard said in an interview in Lusaka yesterday that it will be the Chipolopolo and the Cranes who will be battling it out and not the whistleman.

"The answer will be on the pitch," Renard said.

He said he is not interested in mind games ahead of the October 13 clash set for Namboole Stadium in Kampala. Zambia won the first leg 1-0.

"I will not respond to his [Williamson] comment. It is game before the game," the Frenchman said, stressing that he will concentrate on sharpening the Chipolopolo.
Who is looking for excuses here?
"BTW, is someone keeping track of the injuries to Malawi players on that rubber pitch?"
I am. None so far.
Posted from
United States
Comments are closed