Malawi vs Ghana (AFCON 2013 Qualifiers – 2nd leg): Malawi Squad
September 21st, 2012 | by: sscouser |

Comments(32)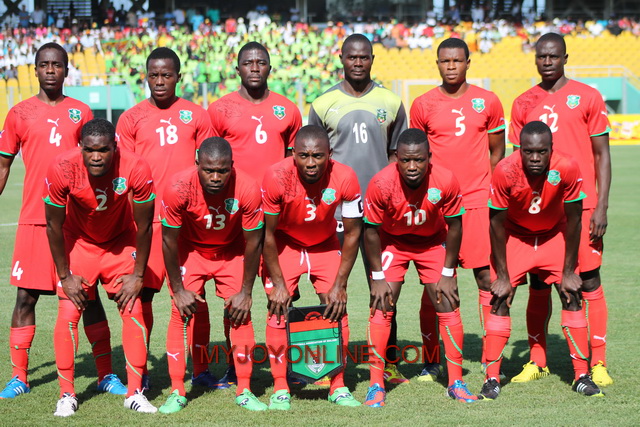 Picture: Malawi First 11 against Ghana on 8 September 2012 (1st Leg)
Goalkeeper: Simplex Nthala (16)
Defenders: Moses Chavula (3), James Sangala (5), Harry Nyirenda (4), Limbikani Mzava (12)
Midfielders: Joseph Kamwendo (10), Dave Banda (6), Frank Banda (13), Chimango Kayira (8), Peter Wadabwa (2)
Striker: Atusaye Nyondo (18)
Yesterday Malawi National Team Coach Kinnah Phiri named a 34-man squad that will go into training camp this Sunday at Chiwembe Technical Centre in Blantyre, Malawi in preparation for the second leg against Ghana on 13 October 2012 at CIVO Stadium in Lilongwe, Malawi. The 34-man squad includes almost all the players that were in camp for the friendly against Liberia.
Malawi 20-Man Squad for the match against Ghana on 8 September:
Goalkeepers – Simplex Nthala, Owen Chaima and Charles Swini
Defenders – James Sangala, Moses Chavula, Limbikani Mzava, Harry Nyirenda, Pilira Makupe, and Steve Chagoma.
Midfielders – Joseph Kamwendo, Robert Ng'ambi, Davie Banda, Frank Banda, Chimango Kayira, Peter Wadabwa, Ndaziona Chatsalira
Strikers- Jimmy Zakazaka, Robin Ngalande, Atusaye Nyondo and Gabadihno Mhango
All the above (except James Sangala* and Limbikani Mzava**) are part of the 34-man squad.
* James Sangala – Red-carded during the game against Ghana
** Limbikani Mzava – Accumulation of two yellow cards.
Notable addition to the squad is veteran striker Esau Kanyenda. He now plays for Bay United FC, South Africa. Another veteran striker Chiukepo Msowaya was part of the squad for the friendly against Liberia but was excused from camp to go and attend trials in South Africa. He is part of the 34 man-squad.
Black Stars be afraid, be very afraid
Subscribe

Malawi World Cup Team Blog RSS Feed

Share
Comments

Ghanaians just know how to talk talk talk talk. Before we beat them Zambia in June they said we were going to pay dearly for knocking them out of 2012 CAN but we ended up beating them again. Now they are saying they will beat us when we meet them in Ghana. I don't know what they will say if we beat them again. We may not qualify for the world cup but what I am sure of is that we are going to be responsible for knocking Ghana out. Good luck Malawi Flames. Knock them out of CAN too.

@sscouser, you know I meant Botswana U-17. Nobody is overaged in our U-17. The Botswana FA has reported Malawi to CAF for fielding 8 overaged players in the first leg. Who is laughing now? ha ha

Andy, now you know how the Flames play? I thought you already knew – What was Ghana Football Association Technical Director Francis Oti Akenteng doing at the Liberia/Malawi friendly? Spying on the Flames? As for the second leg, you are going to play against a different Malawi. In Ghana the Flames parked the bus. In Malawi the bus will coast. Even if you score early, the bus will keep on coasting. There will be no stopping for red lights.
The Ugandan…, about two weeks before the first leg (Ghana 2:0 Malawi), Malawi coach Kinnah Phiri was in Zambia to learn some tactics from Zambia Coach Herve Renard on how best to handle the Black Stars.
"It is very rare for a coach to humble himself and learn from a colleague. Some coaches are pompous and wouldn't want to learn from fellow coaches and I salute Kinnah for his modesty" – Herve Renard as quoted by Nation Sports
"It was a fruitful trip and I learnt a lot on how best we should handle the Ghanaians. However, I would not want to disclose the tips I got from the Zambia coach because by so doing, then we will be putting the Ghanaians on guard" – Kinnah Phiri as quoted by Nation Sports
I think the tips were for the second leg. Black Stars be afraid, be very afraid
Perpertual, it seems you know them very well
Thanks for the brotherly love.
Dipsy1, are you referring to this?: "We are aware of the age cheating matter and we have reacted by filing a complaint to CAF. We are awaiting a report from CAF concerning the actions taken to resolve this issue" – BFA CEO Duncan Kgame
The truth of the matter is that Malawi would have fielded over-aged players during the first leg had the match commissioner not produced a letter from CAF, stipulating that only players born on or after 1st January, 1996 were eligible to participate in the competition. Before the match commissioner produced the letter, Malawi U-17 first 11 included 5 players born before 1 January 1996. After the match commissioner produced the letter, all players born before 1 January 1996 were released and Malawi U-17 Coach found last minute replacements. However, Malawi still won 2-1. Who is laughing now?
In Botswana, Botswana only won because of "Home ground advantage":
"The boys played good football but were let down by poor calls by the referees. We scored two clean goals, but were disallowed. They even awarded a dubious penalty to Botswana in the 3rd minute and this affected the players. Even Botswana coach said in an interview that his side was aided by some dubious refereeing decisions…" – FAM Technical Director Jack Chamangwana
Posted from
United States

The FIFA Executive Committee today approved the kick-off times for the 2014 FIFA World Cup Brazil™. [Click here for the 2nd Round Match Day 2 Results and here for the 2nd Round Match Day 1 Results of the World Cup Brazil 2014 Qualifiers - CAF]
The Opening Match will take place on 12 June in Sao Paulo, with a kick-off time of 17:00.
Group-stage games will be played at 13:00, 16:00, 17.00, 18:00, 19:00 and 21:00 local time, with knockout stage matches at 13:00 and 17:00 local time. The semi-finals will be played at 17.00 local time and the Final, on 13 July 2014 at the iconic Maracana stadium, at 16.00 local time.
All kick-offs are local time, with Cuiaba and Manaus being CET-6, all other venues CET -5. After USA 1994, it's the first time that FIFA World Cup matches will be played in different time zones, with Manaus and Cuiaba one hour behind Brasilia Time.
When defining the kick-off times, the following criteria was taken into consideration:
• Equitable distribution across all teams
• Equitable rest periods for teams within same group
• Temperature in venues
• Global TV market considerations
• Fan travel logistics: flight times, accommodation
Finally, it has been decided that the release date of players will be 19 May 2014, with a mandatory rest period from 19-25 May 2014, to ensure that all players (with the exception of those playing the UEFA Champions League Final) will have one week of rest before joining their national teams.
The Final Draw for Brazil 2014 is confirmed to be Friday 6 December 2013 at the Costa do Sauipe in Bahia.
I think Spain should avoid meeting Malawi in the 1/4 finals.
Posted from
United States

Cameroon and Senegal will also need to win by 3. If they can do it Malawi can also do it.

Bonnie, Eto'o was on self imposed exile when Cape Verde beat Cameroon 2-0. Now that he is back …. As for Senegal, since they scored 2 away goals, they will only need to win 2-0. With Demba Ba's current form, I wouldn't rule them out yet. The Flames can also do it? Yes they can – now that Malawi Coach Kinnah Phiri, his assistant (Young Chimodzi) and FAM Technical Director (Jack Chamangwana) have signed their new 2 year contracts.
"I am happy that finally this issue is over and done with. Now our focus will be on making sure we beat Ghana to qualify for the Africa Cup of Nations in 2013. I am thankful to Government for considering all my grievaances in this new contract." – Kinnah Phiri
Black Stars be afraid, be very afraid
Posted from
United States

FIFA RANKING:
Portugal go third as Colombia fly into top ten
(FIFA.com) Wednesday 3 October 2012

The October edition of the FIFA/Coca-Cola World Ranking reflects the 136 matches played over the past month, 76 of which were 2014 FIFA World Cup Brazil™ qualifiers.

Leaders Spain and Germany now find themselves closely pursued by Portugal (3rd, up 1) and Argentina (4th, up 3), who both managed to secure wins in their recent preliminaries.

Colombia (9th, up 13) have moved back into the top ten for the first time since July 2002, thanks to their two impressive victories over Chile (3-1) and South American champions Uruguay (4-0).

Similarly, 2004 European champions Greece (10th, up 1) find themselves back among the world's best teams after an absence of exactly one year, courtesy of opening wins in European Zone Group G over Lithuania (110th, up 6) and Latvia (118th, down 24).

The teams that have slipped out of the top ten are Croatia (11th, down 2) and Denmark (18th, down 8), with both having failed to secure victory last time out.

Belgium (30th, up 10) and Serbia (33rd, up 9) continue to climb and will come up against each other in a top-of-the-table clash on 12 October in the next round of Brazil 2014 qualifiers. The last encounter between these two sides was a UEFA EURO 2008 qualifier which the Red Devils won 3-2.

Currently second in African qualifying Group A, Central African Republic (49th, up 15) have moved up the global ladder for the seventh month in a row, climbing from 131st in March 2012 to enter the top 50 for the first time ever.

The current edition of the Ranking sees a further nine teams reach their best-ever position: Algeria (24th, up 4), Mali (27th, up 5), Cape Verde Islands (51st, up 14), Haiti (60th, up 17), Dominican Republic (102nd, up 1), Philippines (147th, up 3), Aruba (154th, up 4), Guam (178th, up 7) and Montserrat (181st, up 25).

The next FIFA/Coca-Cola World Ranking will be published on 7 November 2012.
Ghana: 4 (CAF); 31 (World)
Malawi: 26 (CAF); 96 (World)
13 October 2012: Malawi vs Ghana
Flames, this is it. If you beat the Black Stars you will move to around position 80. If you lose, you will join the Zebras in the 100s and will remain there for quite some time.
If the Flames fail to qualify for the AFCON 2013 Tournament, their next competitive match will be in March 2013.
World Cup Brazil 2014 Qualifiers (CAF – 2nd Round):
Remaining Fixtures (Group F):
22-26 Marc 2013: Namibia vs Malawi; Nigeria vs Kenya
07-11 June 2013: Malawi vs Namibia; Kenya vs Nigeria
14-18 June 2013: Malawi vs Kenya; Namibia vs Nigeria
06-10 Sept 2013: Nigeria vs Malawi; Kenya vs Namibia
There is the CECAFA Senior Challenge Uganda 2012 (24 November – 8 December) but will Malawi be invited to take part? Five non-CECAFA Members (Malawi, Zimbabwe, Zambia, Cameroon and Cote d' Ivoire) have expressed desire to feature as guests. During CECAFA Senior Challenge Tanzania 2011 Malawi and Zimbabwe (Eritrea withdrew – replaced by Namibia; Namibia withdrew – replaced by Zimbabwe) were the only guest teams (non-CECAFA Members). "CECAFA had intended to invite Zambia and Ivory Coast, but because of CAF regulations forbidding teams that have qualified for CAN (AFCON 2012) to take part in any competitions after the draws have been done, that made us withdraw their invitations and instead invite Malawi." – CECAFA Secretary General Nicholas Musonye.
CECAFA Senior Challenge Uganda 2012 will be South Sudan's first participation in an international tournament/competition. South Sudan was admitted as a FIFA member on 25 May 2012 at the FIFA Congress hosted in Budapest, Hungary. South Sudan entered the August FIFA rankings at position 199 after a 2-2 draw with Uganda on 10 July 2012.
Now that South Sudan (CECAFA Member) will take part in the tournament, and if Eritrea will also participate, will Malawi be invited? I doubt it.
"The decision to invite guest teams will depend on a vacuum created by member countries" – CECAFA General Secretary Nicholas Musonye
Musonye has encouraged CECAFA members to confirm (in writing) their participation by October 8th, a month before the draw (November 8th).
Posted from
United States

FIFA Ranking: Malawi down 6
4 September 2012: Liberia 1:0 Malawi (Friendly)
8 September 2012: Ghana 2:0 Malawi (AFCON SA 2013 Qualifiers – 3rd/Final Round – 1st leg))
FIFA Ranking 101
Who benefits?
The biggest winners are teams who win competitive matches, especially against high-ranking opponents. Draws secure only limited gains, particularly in friendly matches, while defeats do not bring any points.
Who loses out?
Teams often losing or drawing matches will get fewer points. Also, if a team that previously recorded points for a major victory does not gain additional points, it will fall in the ranking as only results over the last twelve months count in full, those from the previous year count half, while games played up to three and four years earlier have even less significance.
"If you see our next schedule after the Ghana match, you will see that we will only have another engagement around March 2013. We should take advantage of this period to play a lot of friendly games with countries like Tanzania, Mozambique and any others; a thing which can be of our benefit on the rankings once we obtain wins" – Malawi Coach Kinnah Phiri as quoted by MANA Online.
AFCON South Africa 2013 Tournament is sandwiched between the second leg match against Ghana on 13 October and the match against Namibia in March 2013 (World Cup Qualifiers – CAF 2nd Round Group F). If the Flames will take care of business on 13 October then they will not be idle.
By the way, before playing against Kenya (Kenya 0:0 Malawi), Malawi played two friendlies: Tanzania 0:0 Malawi; Zanzibar 1:1 Malawi. Maybe this time Malawi will beat the lowly ranked teams.
Posted from
United States

By the end of the year the mighty zebras will be ahead of Malawi on the rankings.

Dipsy1, mighty zebras? Anyway, I don't think Botswana will be ahead of Malawi by the end of the year. Currently Malawi ranked 96 and Botswana ranked 120. The gap is just too big. However, you can if you beat Mali and the Flames lose to the Black Stars.
Posted from
United States

Malawi vs Ghana game to be played at CIVO Stadium? Subject to approval by CAF?
"We have received information from Confederation of African Football (CAF) that they will be sending Musonye (CAF Security Officer Nicholas Musonye) to inspect the stadium and he will send a report to CAF Headquarters based on his findings to determine the readiness of the stadium" – FAM CEO Suzgo Nyirenda as quoted by Nation Sports.
The Flames are currently in Blantyre but are expected to move to Lilongwe this Sunday.
"Our plans are that the team will travel to Lilongwe on Sunday and probably start training at the match venue on Monday, but everything hinges on finances" – FAM CEO Suzgo Nyirenda as quoted by Nation Sports.
By the way, when will the Malawi 34-man squad be trimmed?
Meanwhile, the Ghana 21-man squad is expected to camp in Kenya starting this Sunday.
"We will train in Nairobi ahead of Malawi match. The squad leaves Accra on Sunday and the rest of the foreign-based players trickle in the camp later as soon as they are released from their clubs.
"The main reason we opted for Kenya before this clash is because of the proximity, it is near to Malawi and the other one should be the serenity, the climate is more or less the same as the one in the mentioned country where we will be playing." – Ghana FA Head of Communications Ibrahim Sannie
Posted from
United States

Ba Black Stars should have camped here in Zambia. We are closer to Malawi.

@ Donald
you guys have a game against Uganda next week. You are scared of Uganda that's why you keep on talking about Ghana. I can't wait for our home match against your team. That's the match everyone here in Ghana is looking forward to. This match against Malawi is just a formality.

The Black Stars will arrive in Malawi on Friday for the second leg match against the Flames on Saturday.
"The team will begin camping on Monday in Nairobi (Kenya) and then leave for Malawi on Friday to play the game." – Ghana FA president Kwesi Nyantakyi
By the way, the Super Eagles also arrived on Friday for the match against the Flames (Malawi 1:1 Nigeria).
The Super Eagles had their own reasons for arriving hours before the match.
Posted from
United States

Black Stars Gutted?
ZURICH – FIFA has stripped Sudan of its 2-0 win over Zambia in a 2014 World Cup qualifier because one of its scorers was ineligible to play.

FIFA says its disciplinary committee ruled that Saif Ali shouldn't have played in the June 2 match in Khartoum, so Zambia is awarded a 3-0 victory. FIFA also fined the Sudan soccer association $6,430.

Zambia now leads Group D with six points after two matches (Zambia 3:0 Sudan; Zambia 1:0 Ghana), and Sudan falls to third place with one point (Zambia 3:0 Sudan; Lesotho 0:0 Sudan). Ghana has three points (Ghana 7:0 Lesotho; Zambia 1:0 Ghana) and last-place Lesotho has one (Lesotho 0:0 Sudan; Ghana 7:0 Lesotho)

Zambia protested that Ali played despite receiving yellow cards in previous competitive matches, including when Zambia beat Sudan in an African Cup of Nations quarterfinal in February.

African qualifying matches resume in March.
If Ghana will fail to beat Sudan in Sudan then Zambia will end up Group Winners because I think (my thoughts matter?) Zambia will win all remaining home matches (against Sudan and Lesotho) and the away match against Lesotho. The match between Ghana and Zambia will be the last Group match but by then ….
Flames watch-out! Now the Black Stars will try to gatecrash the AFCON 2013 Party. The party is exclusively for COSAFA Members.
Posted from
United States

Zambia, don't pop the Champagne yet!
Sudan FA (SFA) says it will exhaust all legal avenues to reclaim the three points because they did not receive any official notice that defender Saifeldin Ali Idris was ineligible to play in a 2014 FIFA World Cup qualifier against Zambia in June.

"SFA confirms they did not receive verbal or written notice by FIFA or CAF preventing him (Saifeldin Ali Idris) from involving the player in the mentioned game," SFA stated.

"SFA will follow all legal avenues to recover the Sudan rights in this case.

"Based on our confidence in the validity of our legal position, we have to appeal a decision to the Discipline Committee issued on the fourth of October 2012 and the recipient via DHL on the eighth of October 2012.

"Today- Tuesday 9th October 2012, we have sent the appeals to the Disciplinary Committee of the Federation International de Football Associations (FIFA)."
"Zambia protested that Ali played despite receiving yellow cards in previous competitive matches, including when Zambia beat Sudan in an African Cup of Nations quarterfinal in February."
I think Sudan can win this appeal. Sudan FA hire me now! I can eat this case
36.1. For the preliminary competition, a player who receives two cautions shall be automatically suspended from playing the following match. This automatic suspension shall be communicated by the Secretariat of CAF to the Associations concerned (If CAF did inform the Sudan FA, did the letter state that the suspension also applies to the World Cup matches?).
I think the above, though it states "for the preliminary competition", also applies to the Final Phase of AFCON.
36.6. The suspensions for more than one match shall be applicable to the matches of this competition – CAN – and/or the matches of any another competition organised by CAF and involving the senior representative national teams.
36.7. In case of serious violations, the guilty player might be suspended not only from CAN (Cup of African Nations or AFCON) but also from all the competitions of CAF (Is the World Cup a CAF competition?)
17.3 (FIFA) If a player receives a caution in two separate matches of the same FIFA competition, he is automatically suspended from the next match in that competition. The Disciplinary Committee may exceptionally depart from or amend this rule before the start of a particular competition. Any such decision reached by the Disciplinary Committee is final.
14.3 (FIFA) Protests regarding the eligibility of players nominated for matches in the preliminary competition shall be submitted in writing to the match commissioner within one hour of the match in question and followed up immediately with a full written report, including a copy of the original protest, to be sent in writing and by registered letter to the FIFA general secretariat. Protests regarding the eligibility of players nominated for the matches in the final competition shall be submitted in writing to the FIFA general secretariat no later than five days before the match.
When did Zambia lodge the protest?
Namibia protest dismissed by CAF
"Injustice anywhere is a threat to justice everywhere" – MLK Jr.
I rest my case.
Posted from
United States

Malawi FA declares war on Ghana
Supersport (10 October 2012)

The Football Association of Malawi (FAM) has declared war on the Black Stars of Ghana by calling on Malawians to put on red colours when the Flames host the visitors on Saturday at Civo Stadium.

In a statement made available to SuperSport.com, FAM commercial manager Casper Jangale dubbed this initiative a mission revenge for the 12-0 humiliation which Ghana inflicted on Malawi on October 15, 1962.

"50 years ago and to be exact, on 15th October 1962, Gold Coast as Ghana was known, toured Nyasaland [Malawi] and mercilessly hammered our forefathers in the beautiful game of soccer by 12 goals to nothing," Jangale said.

"Our forefathers did not reply at all back then as they were just picked from the streets and it did not matter at all. It matters now as our Flames are 90 minutes away from booking a flight to South Africa where the AFCON 2013 finals will be held.

"That is why Football Association of Malawi (FAM) is calling on our football army of supporters, clad in red Flames home Jerseys to go to Civo Stadium this Saturday to avenge the humiliation our forefathers suffered at the hands of Ghana 50 years ago.

" We need not just say the words that we want Ghana to see red but show Ghana by putting on red Flames jerseys which will be available for sale from Thursday at all points of sale where tickets will be sold at only MK5,000.00."

Malawi lost 2-0 in the first leg in Accra and now need to win by a three-goal margin to sneak through to the Nations Cup finals in South Africa
CAF, what are the rules of this competition? If, after regular time (90 minutes + "Fergie Time"?), the scores will be 2-0 in favor/favour of Malawi, will there be 30 minutes of Extra Time or will they go straight into penalty shoot-outs?
Posted from
United States

17 June 2012 (AFCON 2013 Qualifiers – 2nd Round)
Tanzania scored in stoppage time to take the match in Mozambique to penalties after both legs finished 1-1, but Mozambique prevailed in a tense penalty shoot-out (Mozambique 8:7 Tanzania).
CAF taking too long to reply so my guess is that the Malawi/Ghana match will also go straight into penalty shoot-outs IF Malawi will win 2-0 (regular time). If Malawi will win 3-1 Ghana will be through (away goal rule).
Mali beat Botswana 3-0 in Mali. Botswana will need to score at least 3 goals to keep alive hopes of qualifying.
"Mali has a good team that's given and if they managed to score three goals in their backyard we can also do the same" – Zebras team captain Mompati Thuma
If bus-parkers Botswana can do it then Malawi can also do it. No
here.
Update:
Here is what I just found out about the tie-breaker rule:
The matches organised by direct knock-out system, are played home and away. In this case, the team that shall have a higher aggregate number of goals in the two matches shall be qualified for the next round.
If after the end of the regular time of the second match, the two teams have scored the same number of goals during the two matches, the team which will have scored the greatest number of away goals shall be qualified for the following round of the competition. If the number of away goals is the same or if the results of the matches are nil, the winner shall be determined by the taking of kicks from the penalty mark carried out by each team in compliance with the recommendations of the International Board. The team that will score the greatest number of goals shall be qualified for the next round of the competition.
If you didn't know now you know.
Posted from
United States

Malawi still in with a change – Jack Chamangwana
11 October 2012
The Flames of Malawi have a seemingly an uphill battle to overcome a 2-0 first leg deficit if they are to progress to the finals of 2013 Orange Africa Cup of Nation at the expense of the Black Stars of Ghana this Saturday at Civo Stadium in Lilongwe. Against this set up the Flames' technical advisor Jack Chamangwana told Cafonline.com that qualifying is not beyond their reach.
Cafonline.com: Having lost by 2-0 in the first leg in Accra will the Flames be out to avenge that defeat?
Chamangwana: We are playing at home and surely this is revenge mission. We have a clear idea of how they play. We expect them to change here and there but not much. Playing at home is an extra motivation for us
Cafonline.com: There were complains in your camp about the condition of the Civo Stadium pitch in Lilongwe following the closure of the Kamuzu Stadium, how are the players adapting?
Chamangwana: The condition of the pitch does not matter much; after all both teams will be playing on the same pitch and after all, we are at home.
Cafonline.com: What do you need to do to make it to the finals come Saturday?
Chamangwana: We have to score first in the first half. We need an early first goal then the second and the third and that will take us through provided we don't concede.
Cafonline.com: Is qualifying for the finals a realistic goal for Malawi?
Chamangwana: This is football anything can happen. It is going to be tough but we are up for the challenge. If we score first then we will give ourselves a fighting chance.
Posted from
United States

The Black Stars arrived in Malawi around noon (local time). About 3 hours later they trained at CIVO Stadium for about an hour before paving way for the home team.
How much bonus will the Flames get if they qualify? Here's is what the Malawi Minister of Youth and Sports said during an interview with The Nation yesterday morning.
"As government, we do not want to take any chances. We want to try by all means to motivate our boys so they can pull a surprise on Saturday.
"To begin with, I am having a meeting with my Principal Secretary this morning to make arrangements to offer the players MK100 000 [US$300] extra each if they qualify and another K150 000 [US$500] for each goal that they will score. I am also courting other companies and organizations for more pledges.
"I personally believe the mission is within reach," said Chihana.
By the way, the match is scheduled to kick-off at 12:30 GMT (2.30PM Local time). I will come up with a new post a few minutes before the match i.e. if I don't oversleep. What will be the time in California?
Posted from
United States

The Zimbabwe Government has promised the team members plots of land in a fashionable Harare suburb (reportedly, the cost of each plot is between $20,000 and $30,000) if they qualify for the finals.
"We 'll give each player a residential stand if they qualify for the Africa Cup of Nations set for South Africa. We will give them a stand each in the northern suburbs." – The Minister of Local Government, Rural and Urban Development Ignatius Chombo as quoted by the Herald.
A fund-raising initiative has seen close to $400,000 raised from companies and supporters to cover expenses, bonuses and the cost of a chartered flight to Luanda.
The Warriors play Angola in Luanda on Sunday with a 3-1 advantage and a stronger set of players than featured in the first leg.
Zimbabwe legend Peter Ndlovu captained the side at the two previous Nations Cup appearances in 2004 and 2006, and is now lending his experience as an assistant coach.
"It's a massive game. Angola are a very good team, but with the right approach it will open up doors for us," Ndlovu told BBC Sport.
"The players have given us their best and shown heart, even when there's been no money."
Posted from
United States

GHANAsoccernet.com columnist Nii Ayi Tetteh explores the chances of the Black Stars ahead of Saturday's showdown against Malawi and believes the four-time African Champions can douse The Flames on their own turf.
Resting on the banks of the Lilongwe River along the main north-south highway is Malawi's capital city, Lilongwe.
On a regular day, locals go about their routine without much fanfare. However, this Saturday October 13th, that routine would most likely be impinged upon.
The noise levels are expected to rise, people would come from far and near draped in national colours.
Journalists would be on the alert to capture the sights and sounds of an eventful day as fans make their way to the Civo Stadium.
Indeed, there is good reason for the expected fanfare. Ghana's senior national team, the Black Stars are in town to challenge their Malawian counterparts.
The prize? A ticket to the Africa Cup of Nations (AFCON) in South Africa next January 2013.
You would think that on the basis of pedigree and Ghana having taken a 2-0 advantage from the 1st leg in Accra, Malawians would be content with the formality of the 2nd leg right?
But no, times have changed. Fans and managers of the Flames, as the Malawian national team are known, share a dogged believe that they can outscore the Black Stars and qualify for the AFCON.
Malawi's coach, Kinna Phiri is the one leading the crusade with daring statements, sometimes a little bit too much. In the land of the Queen, he will be appropriately labelled 'loquacious'.
Well, you can expect that from a very passionate coach about his team. But when he is joined by the Football Association of Malawi (FAM), then you realise that Malawi would pull out all the stops in orchestrating a major football upset.
In their eyes, this goes beyond a football match; it is a battle that can win the war. Yes war! That is what the FAM has declared on Ghana. For them the stakes couldn't be higher, win massively to overturn the 1st leg result, make a 3rd AFCON appearance and more importantly enjoy its 5 minutes of fame on the international football landscape. But can they? Well, the battle lines have clearly been drawn. Come let's find out.
The mood in camp
If sheer confidence won football games, then the Flames would go into tomorrow's game with a head start. Right after the game ended in Accra on September 8, Kinnah Phiri wasted no time in declaring that Malawi played better and they would definitely eliminate the Black Stars.
At that time, he believed that the return encounter would have been played on the synthetic pitch at Kamuzu stadium in Blantyre to favour the Flames who are used to that surface.
Safety concerns however prompted FAM to shift the game to the naturally grassed Civo stadium in Lilongwe.
But that 'set back' hasn't rattled the Flames since Kinnah Phiri hasn't stopped talking.
As mentioned earlier, FAM has joined in. In midweek, FAM commercial manager Casper Jangale declared war.
He called on Malawians to paint the Civo stadium red while charging the players to avenge the humiliation their forefathers suffered at the hands of Ghana 50 years ago when Ghana beat them 12-0.
On the face of it, it might seem like the Malawians are high on confidence but then again all of this extreme enthusiasm might just put too much pressure on the players who might just choke under the heavy weight of an expectant nation.
While the Malawians were busy whipping their nationals into unnecessary frenzy, their opponents, the Black Stars camped in Kenya ahead of Saturday.
The camp provided the perfect escape from prying Ghanaian media and fans. Yes it may have, but for Coach Kwesi Appiah, he would still be anxious for a number of reasons.
The win over Malawi in the first leg was not convincing with individual brilliance bailing the Stars out. Then again, since taking over the technical reigns, he is yet to win an away match and the situation was compounded last month when the Black Stars surprisingly lost 2-0 to Liberia.
Appiah would be desperate to restore some measure of confidence and respectability to the Stars.
While Appiah mulled over these issues, FIFA added to the pressure by awarding 3 points to Zambia, Ghana's 2014 World Cup qualification group opponents, who made a protest against Sudan for fielding an unqualified player in a match Sudan originally won 2-0.
The ruling not only put Zambia 3 clear points ahead of Ghana's 3 but also in pole position to qualify from the group. So, despite repeated assurances from officialdom that the Stars were focused on the AFCON qualifier, it will be hard to believe that the FIFA ruling would not play on the minds of the players and the entire team.
The upside however is that, it should challenge the Stars to develop a winning mentality since any let up would cost Ghana dearly and that begins tomorrow in Malawi. But how would the game pan out? Here is my tactical view:
The Battle Plan
For Malawi, their work is clearly cut out; win by a clear 3 goal margin or win 2-0 to force the game into extra time.
With this at the back of Phiri's mind, I see him departing from the 4-5-1 formation he used in Accra. Though the plan worked well; containing and crowding out the Stars in midfield and making them very incohesive, I still believe Phiri would like to get off the blocks early and score to calm nerves.
The team's undoing in Accra was its inability to convert their chances. Phiri has thus strengthened the side with 2 veteran strikers in Esau Kanyenda and Chiukepo Msowoya ostensibly to provide much needed experience in attack.
I foresee one of those 2 teaming up with Robin Ngalande and new sensation Gabadihno Mhango, who both came on and did pretty well in Accra, in a 3 pronged attack while Frank and Dave Banda are sacrificed in midfield thus changing the team's shape to an offensive 4-3-3 to aggressively attack the Black Stars.
Phiri would however be concerned about his defence which would be without James Sangala and Limbikani Mzava, both suspended from a red card and yellow card accumulation respectively.
For the Black Stars, taking a 2-0 lead and only needing a draw to qualify, football convention would dictate the Ghana lines up in a very pragmatic way; a variant of the 4-5-1 on the defence and then 4-2-3-1 on the offense.
Appiah has shown that he is a stickler for this formation and I would rather be surprised if he shaped out differently. Indeed, it is the most practical and would rely heavily on the 3 players behind Asamoah Gyan.
That responsibility would fall on Christian Atsu, Andre Ayew and Kwadwo Asamoah/Abdul Warris to support Anthony Annan and his defensive midfield partner as the team's play evolve defensively and offensively.
The wide players would also have to work overtime to support the lateral defenders where Ghana still shows weakness.
That is why John Pantsil has been recalled to augment the defensive line. Now, I can boldly say that if the aforementioned players are able to bring their 'A' game, the worst result for Ghana would be a draw.
Malawi's revenge and qualification would then have to be put on ice, besides it's only a football battle, it's not fatal, and they would live to fight another day! Now, that sounds like something Mr. Phiri would say.
Posted from
United States

QUIZ!
Probable Starting 11's for each team?
Guess work allowed!
Posted from
United States

This is my first 11 for Malawi
Simplex Nthala,Moses Chavula, Harry Nyirenda, Pilira Makupe, Foster Namwera, Joseph Kamwendo, Robert Ng'ambi, Davie Banda, Frank Banda, Esau Kanyenda and Gabadini
Moto kuti buuuu!

Malawi will win 3-0
Comments are closed