Malawi vs Namibia; Malawi vs Kenya – Malawi 35 man squad
May 8th, 2013 | by: sscouser |

Comments(79)
World Cup Brazil 2014 Qualifiers (CAF – 2nd Round) – Group F:
Group F Standings: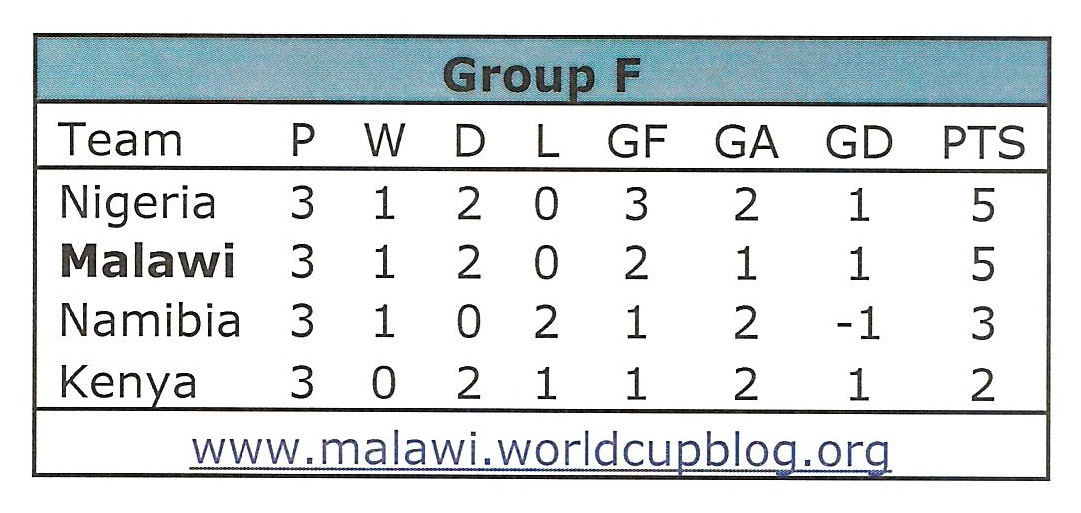 Results\Fixtures:
2/3 June 2012: Kenya 0:0 Malawi; Nigeria 1:0 Namibia
9 June 2012: Malawi 1:1 Nigeria; Malawi 1:1 Nigeria
23 March 2013: Namibia 0:1 Malawi; Nigeria 1:1 Kenya
05 June 2013: Malawi vs Namibia; Kenya vs Nigeria
12 June 2013: Malawi vs Kenya; Namibia vs Nigeria
06-10 Sept 2013: Nigeria vs Malawi; Kenya vs Namibia
Malawi 35-man squad for the matches against Namibia and Kenya:
Goalkeepers:
1. Owen Chaima (Big Bullets, Malawi)
2. Richard Chipuwa (Mighty Wanderers, Malawi)
3. Charles Swini (Silver Strikers)
Defenders:
4. Moses Chavula (CD Costa de Sol, Mozambique)
5. James Sangala (Benfica, Angola),
6. Limbikani Mzava (Blomfontein Celtics, South Africa)
7. Harry Nyirenda (Black Leopards, South Africa)
8. Steve Chagoma (Blue Eagles, Malawi)
9. Lucky Malata (Silver Strikers, Malawi)
10. John Lanjesi (CIVO United, Malawi)
11. George Nyirenda (Big Bullets, Malawi)
12. Bongani Kaipa (Mighty Wanderers, Malawi)
13. Kondwani Lufeyo (Mighty Wanderers, Malawi)
Midfielders:
14. Robert Ng'ambi (Platinum Stars, South Africa)
15. Joseph Kamwendo (Maculmana, Mozambique)
16. Peter Wadabwa (Thanda Royal Zulu, South Africa)
17. Fischer Kondowe (Big Bullets, Malawi)
18. Chimango Kayira (Big Bullets, Malawi)
19. Ndaziona Chatsalira (Silver Strikers, Malawi)
20. Young Chimodzi Jnr (Silver Strikers, Malawi)
21. Douglas Chirambo (Big Bullets, Malawi)
22. Frank Banda (Silver Strikers, Malawi)
23. John Banda (Blue Eagles, Malawi)
24. Patrick Gunde (CIVO United, Malawi)
25. Miciam Mhone (Blue Eagles, Malawi)
26. Victor Limbani (Blantyre United, Malawi)
Strikers:
27. Atusaye Nyondo (Supersport, South Africa)
28. Zicco Mkanda (Maculmana, Mozambique)
29. Esau Kanyenda (Polokwane FC, South Africa)
30. Peter Wadabwa (Thanda Royal Zulu, South Africa)
31. Gastin Simkonda (Moyale Barracks, Malawi)
32. Boniface Kaulesi (Red Lions, Malawi)
33. Rodrick Gonani (Silver Strikers, Malawi)
34. Harvey Mkacha (Silver Strikers, Malawi)
35. Moses Nankumba (AZAM Tigers, Malawi)
Gabadinho Mhango scored the lone goal in Namibia but will not be available for the home matches against Namibia and Kenya because he will be studying for JC Exams.
Malawi Starting 11 (Namibia 0:1 Malawi):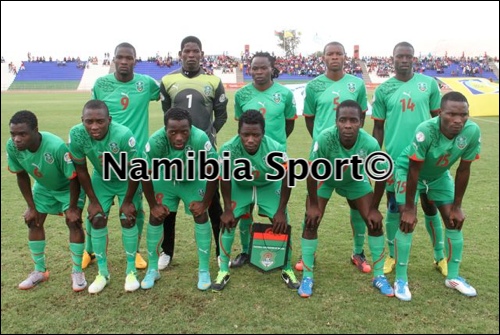 Goalkeeper: Owen Chaima (1)
Defenders: Moses Chavula (3), Harry Nyirenda (7), James Sangala (5), Limbikani Mzava (14)
Midfielders: Jos. Kamwendo (10), Doug Chirambo (6), Rob. Ng'ambi (15), Fischer Kondowe (2)
Strikers: Atusaye Nyondo (18), Zicco Mkanda (9)
Standings: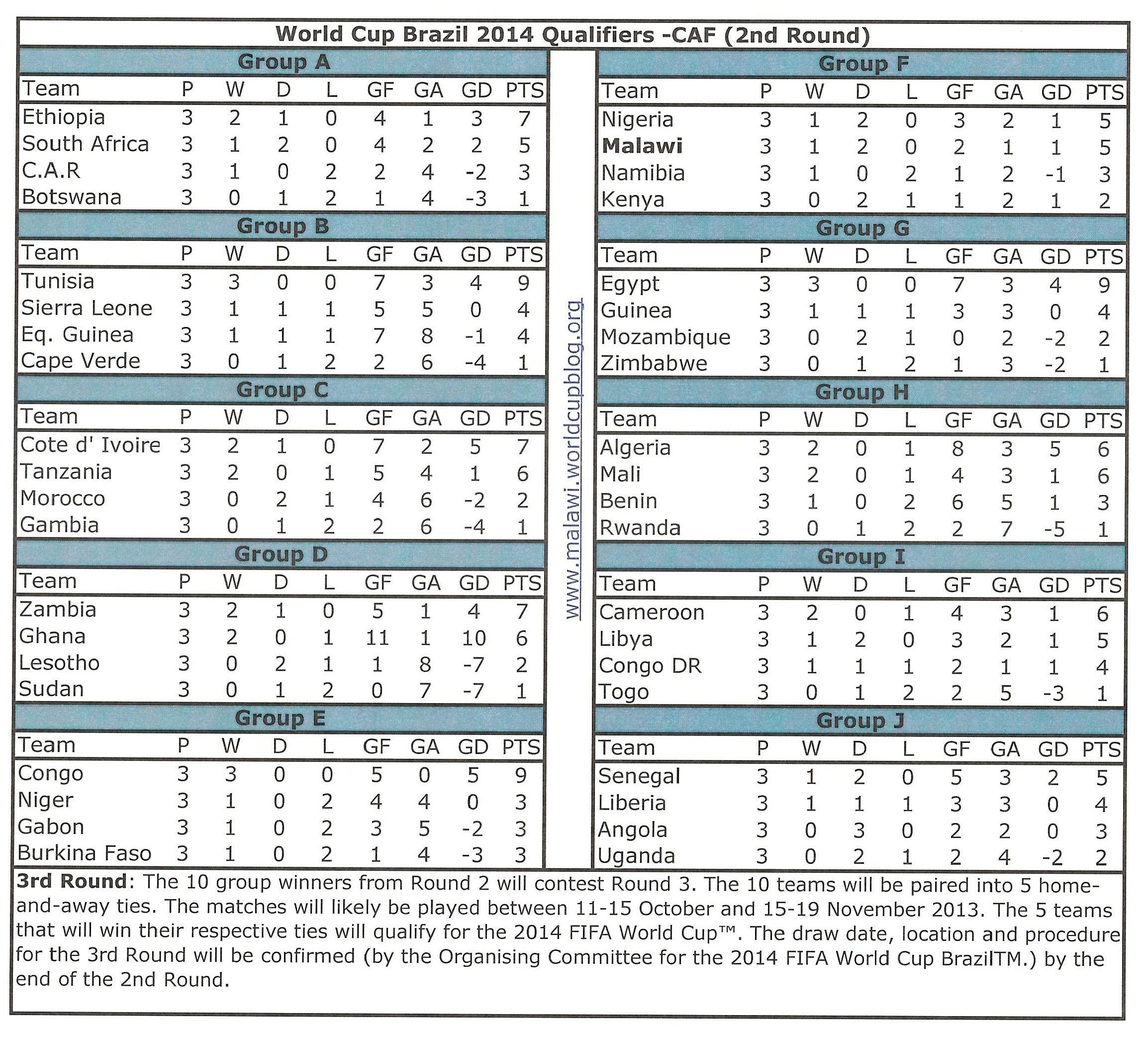 Here is a poll:
Subscribe

Malawi World Cup Team Blog RSS Feed

Share
Comments

Nigeria 'must prioritise World Cup'
BCC Sport (23 May 2013)

Nigeria's technical director Shaibu Amodu insists that the Super Eagles' main target should be qualifying for the 2014 World Cup, rather than trying to win next month's Confederations Cup.

The African Champions will face Tahiti, Uruguay and Spain in Brazil in the June tournament which doubles as preparation for the South American country for the hosting of next year's World Cup.

But Amodu, who was in charge of the Super Eagles when they finished fourth in their maiden Confederations Cup appearance in Saudi Arabia in 1995, told BBC Sport: "What's the point in winning a World Cup dress rehearsal and missing out on the big party next year?

"The World Cup is a crucial one for the country. For us, it is the most important tournament.

"The fans and media expect Nigeria to win the Confederations Cup, but it is less important to the team and country to be honest."

The Super Eagles are level on points with Malawi at the top of their World Cup qualifying group and face away trips to Kenya and Namibia next month.

Amodu wants to ensure the team is focused on those matches.

"There are tricky games ahead in the World Cup qualifiers and one slip can easily change the complexion of the group," he said.

"Every game now is a cup final for them and people should stop piling undue pressure on the team."

Amodu's comments seem to conflict with the view of coach Stephen Keshi, who told BBC Sport after the Nations Cup success in South Africa that playing at the Confederations Cup was his main target.

"While preparing the team, I had my eyes set on Brazil," he explained.

"I was confident we would get there but my players felt I was drunk or acting like a comedian – now they believe."

Amodu wants Keshi and his players, who are thrilled by the prospect of competing against some of the world's best teams, to put the tournament into perspective.

"Yes, it is good to test yourselves against some of the best teams in a competitive level but it is not a competition to prepare the Super Eagles for better assessment," he said.

"When you qualify for the World Cup, which is on a global stage and biggest tournament in the Fifa calendar, you will come face to face with the best teams from around the world.

"Kenya, Malawi and Namibia all want to stop Nigeria, we should focus our energy on beating them and secure a ticket to play in 2014.

"No-one remembers who won the last Confederations Cup because the World Cup quickly erases everything. That is how big and important it is."
Posted from
United States

sscouser stop living up to your name.
FAM's hiring of unqualified Malawians to coach the national team is full fledged nepotism.
Micho is a Serb who is passionate about UG footie. He also knows the UG player's psyche, which is very important.

Malawi 2 Zimbabwe 1

Sscoucer, are you still in the states??
You need to buy me something man, yes man, my size is 32 west, 88 cm long….hahahaha….
Slow progress, but lets see how we will scorch these Namibians…2-0.

It was Memorial Day Weekend. I had to take a break.
The Ugandan…, unqualified Malawians? The least qualified Malawi caretaker coach is more qualified than Micho.
Micho is Serb. So what? He doesn't have Ugandan In-Laws?
Yotamu, was that your prediction? Full Time: Malawi 1:1 Zimbabwe.
Chikwanje, which States? Your waist size is 32 cm (12.59 inches)? How old are you?
"Slow progress, but lets see how we will scorch these Namibians…2-0"
It was just a friendly match. Friendly matches are not competitive.
Namibia 0:1 Malawi:
Goalkeeper: Owen Chaima
Defenders: Moses Chavula, Harry Nyirenda, James Sangala, Limbikani Mzava
Midfielders: Joseph Kamwendo, Douglas Chirambo, Rob. Ng'ambi,, Fischer Kondowe
Strikers: Atusaye Nyondo, Zicco Mkanda
Out of the 11 starters stated above, only Owen Chaima, Douglas Chirambo and Fischer Kondowe were available for the Malawi 1:1 Zimbabwe friendly match.
Posted from
United States

Flames held by makeshift Zimbabwe's Warriors
Nation Sports (26 May 2013)

The stone that the builder rejected eventually became the cornerstone as South Africa-based forward Robin Ngalande scored his first goal for the Flames on Saturday against Zimbabwe's make shift side at Kamuzu Stadium in Blantyre. The match ended in a one-one draw.

The 20-year-old former Atletico Madrid youth side forward was not in the initial 35-member bloated squad that was called up by coach Eddington Ng'onamo for this tie as well as the forthcoming 2014 World Cup qualifiers against Namibia's Brave Warriors and Kenya's Harambee Stars. He was drafted into the squad at a later stage.

Ngalande capitalised on a comical goalkeeping error by Maxwell Nyamupanengu to dink the ball deftly into the net after 29 minutes. It was all easy and as soft as the cheeks of a newly born baby, oh yes!

Such was the significance of the goal for Ngalande that he celebrated it in a special way by blowing kisses to the crowd which responded with a standing ovation.

Apart from the goal, Ngalande also proved that he is not over the hill with a vintage display—those cheeky body swerves and sublime touch, but that said, he was guilty of playing the ball back too often.

He could have claimed a double in the 41st minute, but to the astonishment of the spectators, he failed to slot the ball home with only Nyamupanengu at his mercy.

Coincidentally, the Warriors equaliser came 29 minutes into the second half and in a similar fashion when Malawi's goaltender Owen Chaima fumbled a harmless cross from the left and in ghosted Kudakwashe Musharu to provide the final punch.

The match itself failed to stir the passions as both teams played a dour kick-and-rush game with the Warriors dominating the early stages, but suddenly there was renewed purpose in the Flames play in the second half before they lost the plot towards the end.

Call it what you want — lifeless, hopeless, helpless and spiritless and joyless — and it all qualifies for a fitting description of this drab game.

The only other talking point was perhaps Douglas 'Chibadula' Chirambo's free-kick that squirmed past Nyamupenengu, but the ball hit the crossbar before bouncing on the line and was cleared into safety by a Warriors defender and relief was the prevalent emotion on the visitors bench in the 67th minute.

And although Flames caretaker coach Ng'onamo put on a brave face by insisting that he was happy with the performance of his local-based charges, he was left with plenty of food for thought in the countdown to next month's World Cup qualifiers.

Zimbabwe's all-time great and assistant coach Peter Ndlovu said the draw was a fitting result.
Posted from
United States

Malawi and Zimbabwe draw in friendly
BBC Sport (26 May 2013)

Malawi struggled to a 1-1 draw against Zimbabwe's second-string side in an international friendly warm-up ahead of the World Cup qualifiers in June.

The Flames took the lead through striker Robin Ngalande – the only foreign based player in the squad.

Ngalande tapped home after a Zimbabwean defensive lapse on 29 minutes.

The striker – who plays for South African club Bidvest Wits – was left out of the original squad, but was drafted in as a late addition.

Coach Edington Ng'onamo said Ngalande's performance has earned the striker a place in his squad to face Namibia on 5 June and Kenya a week later.

Kudakwashe Musharu equalised for the Warriors with an easy finish in the 74th minute, after Douglas Chirambo had hit the crossbar for Malawi.

The Zimbabwe forward knocked the ball home after Malawi keeper Owen Chinyama failed to cut a cross from the left.

The visitors enjoyed the better of the possession, but lacked clinical finishing.

Zimbabwe assistant coach Peter Ndlovu, however, said he was happy with the Warriors' display.

"This is a squad of local players, from where we will take maybe one or two players for our World Cup match at home to Egypt next month," Ndlovu said.

"But the match has been of great importance, because we will meet Malawi in July in the Cosafa Cup in Zambia.

"We now know better how Malawi play and I know they have also had the chance to see how our local players play."
Other Friendly Results:
Namibia 0:0 Zambia
Ethiopia 2:0 Sudan
Algeria 1:0 Mauritania
Jordan 1:0 Libya
Iraq 0:1 Liberia
FIXTURES (Friendly Matches):
31 May: Mexico vs Nigeria
01 June: Libya vs Uganda
01 June: Guinea vs Congo D.R.
02 June: Algeria vs Burkina Faso
02 June: Lesotho vs South Africa
02 June: Sudan vs Tanzania
02 June: Ukraine vs Cameroon
04 June: Egypt vs Botswana
Posted from
United States

Palgren satisfied with draw
Namibia Sport (28 May 2013)

Brave Warriors coach Roger Palmgren said he was honoured to be the Brave Warriors coach and was satisfied with their performance against Zambia.

"I am honoured to be the Brave Warriors coach and I am proud of the fact that we held Zambia to a draw. They are one of the strongest teams in Africa and there is a huge difference between our FIFA rankings so a draw was a good result for Namibia," he said.

Palmgren said they still had to work on many aspects to improve their performance.

"I was more satisfied with our first half performance. We had to change five players in the second half so we lost our rhythm a bit and the performance was not so good.

"Defensively we played well and had a good pressing game, but we can improve our offensive play. There were too many aimless long balls, we must be more intelligent with better placing, while we also need to use the short balls more," he said.

According to Palmgren, the statistics of the match favoured Namibia, as they created 11 scoring chances compared to six for Zambia, although he acknowledged that they needed to make better use of their chances.

Assistant coach Ricardo Mannetti indicated that Jamu Ngatjizeko will still be considered in the future, although he had been dropped from the squad for now.

"Jamu has been a very good servant for the Brave Warriors and is one of our most experienced players. However, the left back position has always been a sensitive position for us because we are not blessed with a lot of left backs. Freedom Puriza has really satisfied Roger and Manfred Starke also plays there for his club, so Jamu did not make the squad now, but he is a very versatile player who can still be considered in the future," he said.

Palmgren said they would go all out to beat Malawi when they meet in a World Cup qualifier in Blantyre on June 5.

"We have to try and win the game, there will be no excuses and we must have a plan for winning the game," he said.

The Brave Warriors will play a friendly match against Namibia U23 at the Sam Nujoma Stadium at 18h00 on Wednesday evening and another friendly against Namibia U20 on Saturday.
Posted from
United States

Chiukepo, Dave Banda recalled
Nation Sports (29 May 2013)

Out-of-favour burly forward Chiukepo Msowoya and midfield workhorse Dave Banda have been recalled into the Flames.

The two will join the squad in the countdown to the forthcoming 2014 World Cup qualifiers against Namibia's Brave Warriors and Kenya's Harambee Stars on June 5 and 12 respectively.

Football Association of Malawi (FAM) commercial and public relations manager Casper Jangale and Flames caretaker coach Eddington Ng'onamo confirmed the recall of the two on Tuesday.

While Jangale claimed the two have been recalled following impressive performances at their respective clubs, Ng'onamo said they have been drafted in after noting some shortfalls in the Flames during the friendly game against Zimbabwe.

"Both Chiukepo and Dave have displayed eye-catching performances of late, which merited national team consideration. So, they have been called to beef up the squad," said Jangale.

He said Dave will join the squad today [Wednesday] while Chiukepo is expected to arrive in the countryThursday, together with Moses Chavula.

On his part, Ng'onamo said: "They have been drafted into the squad because we noted some weak areas during the Zimbabwe game. But let me stress here that their inclusion will not be automatic, they will have to make an impression."

Banda, who last played for the Flames in the friendly match against South Africa last year, was dropped from the squad on disciplinary grounds.

He was first dropped from the squad that travelled to Uganda for the Cecafa tournament, but was forgiven after apologising to the coaching panel, then headed by Kinnah Phiri.

Chiukepo last played in a 2013 World Cup qualifier against Ghana's Black Stars, as a substitute.

Chiukepo said he was delighted at being recalled.

"Now, that I am enjoying game time, I will work hard to make it into the final squad. As I said, I am hungry to make an impression," said Chiukepo.

Banda, who has been starring for his new club Kamuzu Barracks, could not be reached for comment.

Meanwhile, Ng'onamo has asked FAM to help in seeking an early release of captain Joseph Kamwendo. The coach wants him to come earlier than next Monday—just two days before the game.

Chiukepo's Liga Maculmana have a CAF Confederations Cup match against TP Mazembe over the weekend.

In a related development, South Africa-based forward Esau Kanyenda, midfielder Robert Ng'ambi and defender Harry Nyirenda have arrived in the country and are expected to join the squad tomorrow(Thursdday).

Limbikani Mzava and Robin Ngalande arrived last week while James Sangala, Jimmy Zakazaka, Peter Wadabwa and Tawonga Chimodzi are expected later in the week.
Posted from
United States

sscouser Truth be told, drawing 1-1 at home to a 2nd string Zimbabwe side that has gone through what the Zimbabweans have endured does not look good for Malawi.
We all know what FAM will do next.:-)

The Ugandan…, are you trying to say that it is ok. to lose an away match?
01 June: Libya vs Uganda (Friendly Match – Uganda won't spend a penny)
"Libya will be tough. It will be tough. No doubt. They have been camping in Italy; they are taking this friendly and their World Cup campaign very seriously. And they are not ranked 65th by Fifa for nothing. Some people may think we are going there as tourists but it will be tough and our players know that." – Uganda Coach Milutin 'Micho' Sredojevic
The Uganda Cranes are going there to win? Don't bite the hand that feeds you!
If you want (You want)
What I got (I got)
Well don't you bite the hand that feeds you
Like love (Like love)
I'm the one (I'm the one)
Well don't you bite the hand that feeds you

Bite me
Oh yeah

Don't you bite the hand that feeds you
Posted from
United States

Burundi FA chief Nsekera among candidates for Fifa job
BBC Sport (29 May 2013)

Burundi FA chief Lydia Nsekera is among four candidates vying to be the first female full-time member of Fifa's decision-making executive committee.

Fifa is set to elect a female representative for a full four-year term in this year's congress in Mauritius, which starts on Thursday.

It means a woman will have voting rights for the first time in the 109-year history of the governing body.

Nsekera was co-opted on to Fifa's non-voting committee last year.

She said at the time she was "very pleased that Fifa put a woman in its board of directors" adding "it's a very positive thing, especially for women fans of football".

Nsekera, who has headed up the Burundi FA since 2004, is considered the favourite to win the upcoming election.

She faces competition from former Australia international and vice-president of the Asian Football Confederation, Maya Dodd, as well as Sonia Bien-Aime of Turks and Caicos Islands and Paula Kearns of New Zealand.

Fifa is also set to discuss a proposal to add two more women – most likely the second- and third-placed finishers in the ballot – to create a 27-member Fifa board with three women.

Football's world governing body decided to place a woman at the top level of football administration as part of its reform process, which was prompted by the series of scandals surrounding bidding for the right to host the 2018 and 2022 World Cups.
Posted from
United States

sscouser, The last time we played Libya in Tripoli, the ref added extra time until they scored a winning goal then he promptly ended the game.
Unbelievable stuff! I swear I'm not making this up.

The Ugandan…, 9 minutes of "Fergie Time"? That's not unbelievable stuff.
This is unbelievable stuff:
2006: Libya 3:2 Uganda

Another high-profile friendly. Another chaotic build-up. This time though, the villain was not FUFA but rather, the designated bus driver.

Only known as Kasenge, the poor driver was arrested by police on Entebbe road as he rushed to pick up the team from Namboole.

He was detained for driving under the influence of alcohol despite hilarious protests that he had gulped 'only one bottle to keep me awake' – New Vision
Incredible!
Posted from
United States

BB threatens to withdraw Flames players
Nation Sports (30 May 2013)

Big Bullets have threatened to withdraw their players from the Malawi national football team, claiming they have become victims of abuse from certain quarters of the fans.

The club's general secretary Higger Mkandawire on Wednesday claimed that some of their players had raised concerns with the team's management against the conduct of some supporters.

"We are planning to take up the matter with Football Association of Malawi [FAM], but if the situation does not change, then we will ask them not to include our players.

"It is unfortunate that our players have become targets of abuse on social media and whenever the Flames are playing at Kamuzu Stadium, especially when the team has not done well. A case in point was the recent friendly match against Zimbabwe," said Mkandawire.

In that game, there were seven Bullets players in the line-up, namely goalkeeper Owen Chaima, defenders Sankhani Mkandawire, Douglas 'Chibadula' Chirambo and George Nyirenda, midfielders Fischer 'Anong'a' Kondowe and Chimango Kayira and striker Gabadinho Mhango.

Coincidentally, the Flames are coached by Bullets mentor Eddington Ng'onamo.

"Our players were subjected to insults and some overzealous fans even suggested that this was not a national team, but Bullets," said Mkandawire.

He likened the situation to the time of former coach Kinnah Phiri whom he said was accused of favouring northerners, the region where he comes from.

"Our thinking is myopic. We need to change that if we are to progress as a country," said Mkandawire.

FAM commercial and public relations manager Casper Jangale said he needed to consult before commenting on the issue.

Ng'onamo said he was also not aware that some players had raised such concerns with Bullets management.

"Honestly, I am not aware of that. I will have to find out from the GS first," he said
Having several players from one team is good for team cohesion… Anyway, there is an often quoted proverb: "You can please some of the people, some of the time, but you can't please all of the people, all of the time." Over 2500 years ago, the famous Greek slave Aesop illustrated this point in his fable "The Miller, the Son, and the Donkey."
The story is about a miller and his son who were driving their donkey to market. They had not gone far when some girls saw them and broke out laughing. "Look!" they cried. "Look at those fools! How silly they are to be trudging along on foot when the donkey might be carrying one of them on his back."

This seemed to make sense, so the father lifted his son onto the donkey and walked along contentedly by his side. They trod on for a while until they met an old man who spoke to the son scornfully. "You should be ashamed of yourself, you lazy rascal. What do you mean by riding when your poor old father has to walk? It shows that no one respects age anymore. The least you can do is get down and let your father rest his old bones." Red faced with shame, the son got down and made his father get onto the donkey's back.

They had gone only a little further when they met a group of young fellows who mocked them. "What a cruel old man!" jeered one of the fellows. "There he sits, selfish and comfortable, while the poor boy has to stumble along the dusty road to keep up with him."

So the father lifted his son up, and the two of them rode along. However, before they reached the market, a townsman stopped them. "Have you no feeling for dumb creatures?" he shouted. "The way you load that little animal is a crime. You two men are better able to carry the poor little beast than he you!"

Wanting to do the right thing, the miller and his son got off the donkey, tied his legs together, slung him on a pole, and carried him on their shoulders. When people saw this spectacle, they laughed so loudly that the donkey was frightened. The animal kicked through the cords that bound him, fell off the pole into the river and drowned.
The moral of this story is, "He who tries to please everybody pleases nobody."
Posted from
United States

Fam seeks Fifa's help on Kamwendo
Daily Times (29 May 2013)

Football Association of Malawi (Fam) is seeking Fifa intervention on the release of midfielder Joseph Kamwendo for the World Cup qualifier against Namibia on Wednesday next week.

According to Fifa rules, players have to be released at least five days before the game.

But the player's club Liga Mulcumana de Maputo is clinging on to the midfielder so that he can feature for the Caf Confederation Cup knock out game against TP Mazembe in Maputo.

The Mocambola side lost 4-1 against the former Africa champions in the first leg played in Lubumbashi, DR Congo last month.

They hope to upset the tables in the home game in which they need to beat Mazembe 3-0 to proceed to the quarterfinals and Kamwendo who has been terrific on the central turf, is one of the key players. But coach Eddington Ng'onamo wants Kamwendo in camp by Thursday.

"Esau Kanyenda, Robert Ng'ambi and Harry Nyirenda are all in. The other players will also be in camp by Thursday. But the problem is Joseph [Kamwendo]. His club is refusing to release him. They want him to come on Monday which is two days before the game," Ng'onamo said.

"The issue is now being handled by Fam GS who has reported the matter to Fifa because according to the rules and regulations the players are supposed to be with us five days before the game."

Ng'onamo said he needed his full squad to make final decision on his first 11 during the game. Kamwendo has been impressive at Mulcumana since joining the Mozambican side early this year.

He has scored three goals for Mulcumana, one in Confederation Cup against Nigeria's Lobi Stars.

He was also named man of the match when Mulcumana beat WAC Casablanca 2-0 to qualify for the knockout phase of the competition for the first time in the history of Mozambique football.

Kamwendo started his professional career at Zimbabwe's Caps United in 2006 where he became the first foreigner to win the player of year. The same year he was signed by Danish club FC Nordsjælland but resigned from the club after just a couple of months into his contract.

He returned to Wanderers to re-launch his career but was signed by Orlando Pirates in 2007 where he played until 2011 when he was loaned to Vasco da Gama and later released by the Buccaneers in 2012. Kamwendo is best remembered in South Africa football for having scored a beauty on his debut against Tottenham Hotspur of England in a Vodacom Challenge match that Orlando Pirates lost 1–2.
"If the player is called up to play in a qualifying match for an international competition, this period shall be 4 days (including the day of the match). The period of release shall be prolonged to 5 days if the match in question is held on a different continent to that on which the club is domiciled (Paragraph 5b)."
The above only applies to international matches to be played on a fixed\set (on original Coordinated International Match Calendar) date. That could be the reason why Club Liga Mulcumana de Maputo is clinging on to Kamwendo.
The Group F matches will be played on 5 June (Not a fixed/set date). The original dates were 7-11 June 2013. That's why I still don't understand why even the Malawi match (not involving Nigeria) had to be moved to 5 June. Nigeria didn't want Malawi to have "undue advantage"? What "undue advantage"?
Posted from
United States

sscouser that was funny too especially the part where the FUFA vice president and main striker Hakim took turns to drive.

I wondered why they had to take turns driving. It's not a long drive.
On the bright side, this time round, the build-up to the match has come and gone without the melodrama and circus parade atmosphere that bedeviled past Cranes preparations.
Let's hope it stays that way. We have come a long way.

"I wondered why they had to take turns driving. It's not a long drive."
No potholes?
"Let's hope it stays that way. We have come a long way.
"
You are not there yet.
The Uganda Cranes arrived in Libya (via Turkey) earlier today and they will be staying at the magnificent Babal Bahar Hotel in Tripoli. The Libyan Prime minister has apparently invited the Cranes for a dinner ahead of the game. Am sure they will also go for a tour. But these tourists!
Posted from
United States

Fifa elect Burundi's Lydia Nsekera as first woman executive
BBC Sport (31 May 2013)

Burundi FA president Lydia Nsekera has been elected as the first woman to Fifa's powerful executive committee in the governing body's 109-year history.

Nsekera, 46, will serve a four-year term on the committee after winning the vote at the Fifa congress in Mauritius.

She collected 95 of the 203 votes ahead of Australian Moya Dodd and Sonia Bien-Aime, of Turks and Caicos Islands.

Nsekera said: "I will inspire women to believe they can lead and I will support women in member associations."

Nsekera, who last year became the first woman to be co-opted to the executive committee, has been head of the Burundi FA since 2004 and was a member of Fifa's organising committee for the 2008 and 2012 Olympic football tournaments.

A member of the International Olympic Committee, she is also on the independent governance committee set up in 2011 to tackle corruption within Fifa.

Dodd, who secured 70 votes, and Bien-Aime, who won 38, will both serve a one-year term as co-opted members.

And former Australia international Dodd says the election is a landmark moment for the game.

"It's a historic day for football and a great day for women," Dodd said.

"Football is the sport everybody loves; no-one should be excluded. And we should not only protect the game, but also fight against discrimination outside of football."
Reuters (6 May 2013) – … FIFA has faced accusations of sexism in the past. In 2004, Blatter drew outrage when he suggested women footballers should wear tighter shorts.
In March, anti-corruption expert and member of FIFA's reform committee Alexandra Wrage accused the world governing body of 'blatant sexism' after she said an unnamed FIFA official told her that it was not acceptable for a woman to hold such a role in the organisation. She resigned in April.
Dodd said that women had long faced struggles at all levels in the game but that the newly-created role was not an attempt by FIFA to plaster over past sexism accusations.
"Is it a token position? I wouldn't treat it as that. If you are given an opportunity to contribute to the top table then you have got to make the most of that opportunity.
"I do think the football world is tilted against women from the time they begin to play or don't, as the case may be, right through to the opportunities for coaching, refereeing and other non playing on-field activities through to the governance structures, committee rooms and boardrooms.
"That is the world we live in and that's why it's so important that these positions are being created for female members around the world.
"I have sat in boardrooms and it is easy for women's football to slip off the agenda or become a low priority. If we have women in the boardroom advocating for it, then it is going to be much better represented and I hope I can do it."
Posted from
United States

Friendly Matches Results:
31 May 2013: Mexico 2:2 Nigeria
Nigeria were held to a 2-2 draw by 10-man Mexico in a friendly played in Houston, USA on Friday in front of a mostly pro-Mexico crowd of 62,107.

Manchester United's Javier Hernandez gave Mexico a 1-0 lead in the 21st minute, taking a cross from Pablo Barrera and sending a low line drive inside the near post from 9 yards.

Brown Ideye converted a penalty in the 29th minute to equalize, with Barrera being sent off for handball in the box.

Nigeria capitalized on being a man up, taking the lead in the 40th minute as John Ogu shot from outside the box was deflected by Mexico's Diego Reyes and into the goal.

Nnamdi Oduamadi had his shot bounce off the crossbar in the 63rd minute, and Mexico made the most of that reprieve when Hernandez equalized in the 70th minute, tapping in an Angel Reyna cross.
01 June 2013: Libya 3:0 Uganda (surprise, surprise)

sscouser The Cranes are testing a lot of new players and combinations. For this friendly.
Many players either have not played for the Cranes in a long time or are making their debuts. We are not yet there but we have come a long way and are making quick progress.
I cannot say the same for the Malawi Flames.
Posted from
United States

The Ugandan…, so you lost because "many players either had not played for the Cranes in a long time or were making their debuts"?
"If you look at the goals we conceded, one was offside and it was never a penalty for the third goal in my opinion but we played a highly experienced side." – Uganda Coach Mulitin "Micho" Sredojevic
There is nothing for free these days
"The game has given us answers to the question on which players are in contention for a starting berth against Liberia and Angola since they are competitive games" – Micho
Based on one friendly match? By the way, if the Uganda Cranes did honour the State House Banquet (a few hours before the match) invitation, I am sure each one of them had a yummy 5 course meal.
"…we have come a long way and are making quick progress. I cannot say the same for the Malawi Flames.
" – The Ugandan…
While I was watching the Mexico 2:2 Nigeria friendly match Friday night, I heard the commentator say: "The Super Eagles (African Champions) are level on points with Malawi at the TOP of World Cup qualifying Group F."
Let me look at Group J Standings. Uganda last?
Quick progress?

Keshi hits out at Nigeria authorities over travel plans
BBC Sport 2 June 2013

Nigeria coach Stephen Keshi has expressed his frustration with the travel arrangements made by his country's football authority for the team's 2014 World Cup qualifier in Kenya on Wednesday.

The African champions flew from Houston, Texas on Saturday at 4pm local time to reach their training camp in Nuremburg, Germany.

They will then arrive in Kenya via Ethiopia on Tuesday ahead of the crucial match against the Harambee Stars.

The round trip from Germany to USA, back to Germany and then from Ethiopia to Kenya is calculated at more than 22 thousand kilometres.

They were in Houston for a friendly international against Mexico on Friday. The match finished 2-2 .

Keshi concedes there is a clear reason why the Super Eagles needed to go to Kenya via Europe.

"It's the only way we can have an easy connecting flight to Kenya," Keshi said.

However, coach Keshi admitted that the significant travelling time will affect the team:

"Yes somehow it will have an effect, because you're coming from another continent, with different weather. Everything together is going to have an effect."

Keshi is disappointed that his players will not get a chance to train in Nairobi before Wednesday's vital qualifier which had to be brought forward because of the Super Eagles' participation in the forthcoming FIFA Confederations Cup in Brazil:

"Now that we're playing on Wednesday in Kenya, we probably will not have time to even practice before we play the game, that's very tough," Keshi said.

"It's frustrating that you have a team and cannot practice with the team before a very major game."

The coach is staying positive and is hopeful to get an opportunity to train.

"Hopefully if we get an opportunity to practice, we will take it, because we need every training session to correct some few things," Keshi said.

"Any little time that we have, we will try to manage it well."

The Super Eagles are level on points with Malawi at the top of World Cup qualifying Group F.

After three matches, both the Nigerians and the Flames have five points, with only the top team in each group going through to the next round to challenge for a place at the World Cup finals in Brazil next year.

Sangala, Wadabwa jet in
Sunday Nation (2 June 2013)

Angola-based sweeper James 'Shareholder' Sangala and Peter Wadabwa, who plays in South Africa, arrived in the country on Saturday as the Flames engaged an extra gear in preparation for Wednesday's 2014 crucial World Cup qualifier against Namibia's Brave Warriors.

Only Mozambique-based captain Joseph 'Shakira' Kamwendo is yet to arrive due to club commitments and he is only expected to arrive on Monday.

FAM commercial and public relations manager Casper Jangale confirmed the duo's arrival.

"Save for Joseph who is expected in the country on Monday, the rest of the foreign contingent is now in," said Jangale.

The arrival of Sangala and Wadabwa has increased the number of foreign-based players to 10. Others are Moses Chavula, Limbikani Mzava, Harry Nyirenda, Robert Ng'ambi, Esau Kanyenda, Robin Ngalande, Atusaye Nyondo and Chiukepo Msowoya.

Meanwhile, roving winger Ndaziona Chatsalira has been ruled out after sustaining an ankle injury.

Six others—Sankhani Mkandawire, George Nyirenda, Victor Limbani, Patrick Gunde, Rodrick Gonani and Joel Chopfya—were dropped from the squad on Friday in order to maintain the required figure of players in camp which is 25.

FIFA Confederation Cup Brazil 2013
Group A: Brazil, Japan, Mexico, Italy
Group B: Spain, Uruguay, Tahiti, Nigeria
15 June: Brazil vs Japan
16 June: Mexico vs Italy; Spain vs Uruguay
17 June: Tahiti vs Nigeria
19 June: Brazil vs Mexico; Italy vs Japan
20 June: Spain vs Tahiti; Nigeria vs Uruguay
22 June: Japan vs Mexico; Italy vs Brazil
23 June: Nigeria vs Spain; Uruguay vs Tahiti
26 June (Semi Finals) : Winner Group A vs 2nd Group B
27 June (Semi Finals) : Winner Group B vs 2nd Group A
30 June: Finals and 3rd Place Play-Off
Posted from
United States
Comments are closed