Namibia vs Malawi (2014 World Cup Qualifiers – CAF 2nd Round)
March 22nd, 2013 | by: sscouser |

Comments(9)
World Cup Brazil 2014 Qualifiers (CAF – 2nd Round) – Group F:
NAMIBIA vs MALAWI (Click HERE for Starting Line-Ups)
Kick-Off: 5pm Local Time (Saturday, 23 March 2013) – 11am EDT (This Blog's Time)
Referee: Med KORDI (Tunisia)
AR1: Bechir HASSANI (Tunisia)
AR2: Mohsen BEN SALEM (Tunisia)
4th official: Nasrallah JAOUADI (Tunisia)
Click HERE for Match Officials for this weekend's fixtures (all groups):
Group A: South Africa vs C.A.R.; Ethiopia vs Botswana
Group B: Tunisia vs Sierra Leone; Eq. Guinea vs Cape Verde
Group C: Côte d'Ivoire vs Gambia; Tanzania vs Morocco
Group D: Ghana vs Sudan; Lesotho vs Zambia
Group E: Burkina Faso vs Niger; Congo vs Gabon
Group F: Namibia vs Malawi; Nigeria vs Kenya
Group G: Egypt vs Zimbabwe; Mozambique vs Guinea
Group H: Algeria vs Benin; Rwanda vs Mali
Group I: Cameroon vs Togo; Congo DR vs Libya
Group J: Senegal vs Angola; Liberia vs Uganda
For Match Day 1 Results click HERE
For Match Day 2 Results click HERE
Standings before this weekend's results: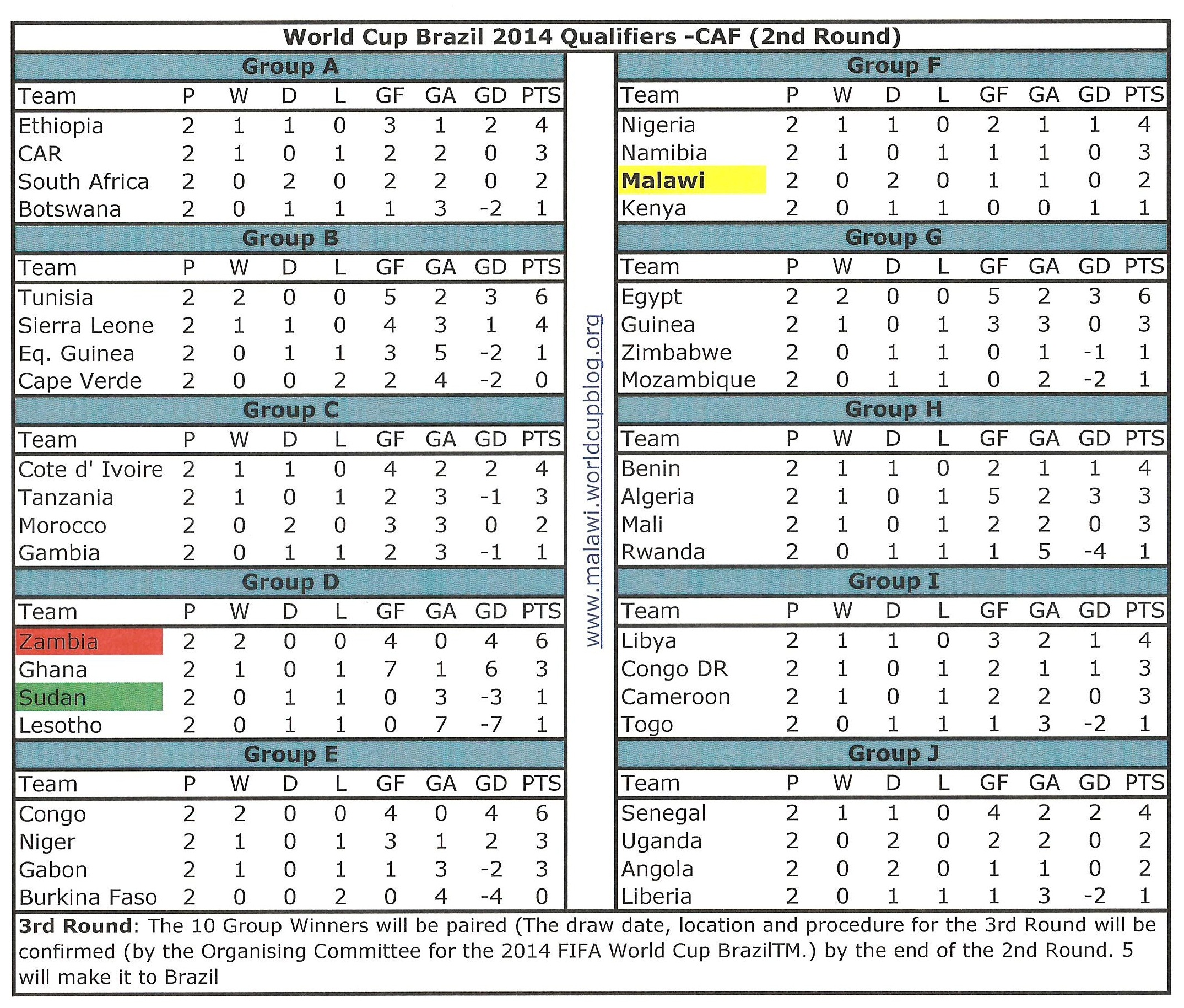 Related Posts:
- World Cup Brazil 2014 Qualifiers (CAF – 2nd Round) – Is it 2014 yet?
- Namibia vs Malawi (World Cup Brazil 2014 Qualifiers) – Malawi 25-man squad
Subscribe

Malawi World Cup Team Blog RSS Feed

Share
Comments

20-Man Malawi Squad for the Namibia match:
Goalkeepers:
1. Owen Chaima (Big Bullets, Malawi)
2. Richard Chipuwa (Mighty Wanderers, Malawi)
Defenders:
3. Moses Chavula (CD Costa de Sol, Mozambique)
4. James Sangala (Benfica, Angola),
5. Limbikani Mzava (Blomfontein Celtics, South Africa)
6. Harry Nyirenda (Black Leopards, South Africa)
7. Steve Chagoma (Blue Eagles, Malawi)
8. Lucky Malata (Silver Strikers, Malawi)
9. Douglas Chirambo (Big Bullets, Malawi)
Midfielders:
10. Robert Ng'ambi (Platinum Stars, South Africa)
11. Joseph Kamwendo (Maculmana, Mozambique)
12. Peter Wadabwa (Thanda Royal Zulu, South Africa)
13. Fischer Kondowe (Big Bullets, Malawi)
14. Chimango Kayira (Big Bullets, Malawi)
15. Ndaziona Chatsalira (Silver Strikers, Malawi)
16. Young Chimodzi Jnr (Silver Strikers, Malawi)
Strikers:
17. Atusaye Nyondo (Supersport, South Africa)
18. Zicco Mkanda (Maculmana, Mozambique)
19. Gastin Simkonda (Moyale Barracks, Malawi)
20. Gabadhino Mhango (Big Bullets, Malawi)
Botswana 1:0 Malawi (International Friendly played on Tuesday):
Malawi line-up:
Goalkeeper: Owen Chaima
Defenders: Moses Chavula, Harry Nyirenda, James Sangala, Limbikani Mzava
Midfielders: Douglas Chirambo (Ndaziona Chatsalira), Chimango Kayira, Young Chimodzi Jnr. (Lucky Malata), Robert Ng'ambi, Fischer Kondowe (Peter Wadabwa)
Striker: Gastin Simukonda (Gabadinho Mhango)
Click HERE for the Namibia Squad

Flames revert to 4-4-2 formation
Daily Times (22 March 2013)

Flames coach Eddington Ng'onamo has revealed that he will make some drastic changes to the squad as he reverts to Malawi national team's traditional 4-4-2 system when the team faces Namibia in World Cup qualifier at Independence Stadium tomorrow.

Ng'onamo, in a telephone interview from Windhoek, said unlike in the friendly against Botswana on Tuesday, the Flames would go flat out.

"We will attack all the way. That's why we will go back to the 4-4-2 system," he said.

"In Botswana I was trying to assess players' performance that's why I had to change the system, but now it's serious business."

In the Botswana game, the coach used Gastin Simkonda as a lone striker, but has now said two strikers are a must.

"I will either use Zicco Mkanda and Atusaye Nyondo combination or Gabadihno (Mhango) and Gastin (Simkonda)," he said.

"Gabadinho played very well after coming in for Gastin. But it all depends on how the players respond during this afternoon's training."

In the game against Botswana, the coach packed the midfield with five players; Young Chimodzi Jnr, Fischer Kondowe, Douglas Chirambo, Robert Ng'ambi and Chimango Kayira.

This time he said he would have to accommodate captain Joseph Kamwendo who missed the friendly due to club commitments.

"The coming of Kamwendo is a morale booster. He will definitely get his place on Saturday," he said.

"We need to win this game to be at five points. That's our goal."

Meanwhile, the team has to cope with the high temperatures of arid climate in Windhoek.

Leader of delegation Paul Mzungu said he hoped the temperatures would drop tomorrow evening.

"It's hot here. It's really hot," he said. "It's just 9am yet it's scorching."

"But the good news is, all the players have arrived and we don't have any injuries."

BREAKING NEWS: Flames coach loses son
Daily Times (22 March 2013)

Flames have been dealt another blow ahead of tomorrow's World cup qualifier against the Brave Warriors following the death of Coach Edingtone Ng'onamo's child.

The coach, who was with the team in Windhoek, Namibia is expected back home tomorrow (Saturday) when the team battles with the Warriors.

FAM Media and Commercial Manager Casper Jangale confirmed the demise of Ng'onamo's child this morning but details of the funeral arrangements and the particulars of the deceased are still sketchy.

Jangale could also not say whether the coach would still be the in-charge of tomorrow's game.

"For now let us leave football aside. We should just concentrate on the funeral arrangements. There are others who can still take over," he said.

Jangale said FAM and the entire football family is saddened with the demise of Ng'onamo's child.
Quite unfortunate. Coach, our thoughts and prayers go out to you and your family. May his soul rest in eternal peace.

Nigeria vs Kenya
STAND-IN captain Vincent Enyeama says Nigeria's Super Eagles will do well to put aside the success of the Africa Cup of Nations and concentrate on beating the Harambee Stars in Calabar tomorrow.

Nigeria hold the African title after beating Burkina Faso last month in the final of the 2013 Africa Cup of Nations.

However, Enyeama warns that the team must maintain the mentality that saw them to the Nations Cup title.

"We shall have a title to defend when we go back to the Nations Cup in two years' time. But against Kenya, we are not the champions,'' he said.

He revealed that humility was the strength of the Eagles until they captured the rest of Africa in South Africa.

"We played every game like an underdog and that took pressure from us. We need the same approach against Kenya,'' he cautioned.
"The players are ready, there is a lot of mental strength among them and we are hopeful of a favourable result against Nigeria. Everything is possible in football and Kenya can win in Nigeria – it is time the Harambee Stars moved forward in international football." – Kenya and Celtic midfielder Victor Wanyama
"Marking Wanyama and co on Saturday will be a big task to me as I see the job of marking every player as a big one, but I am ready to do it well to the best of my ability. I am sure God will take control as he did for me against the likes of Drogba and (Seydou) Keita. With God on our side, we are going to triumph." – Nigeria defender Godfrey Oboabona
"We would be going all out for victory on Saturday, that is not to say that the Kenyans are pushovers. We have respect for them. As it is now, we don't know their plans so also they do not know our plans. I know they would be afraid of us as African champions but we will also panic a little because we don't know what they are planning. But I am confident we will get victory on Saturday" – Nigeria Striker Brown Ideye
"We know what is expected of us in the game, and we are ready. If we were to play as a team as we did in South Africa, we have no problems" – Nigeria and Chelsea striker Victor Moses

Atusaye and Gaba should start

We can beat the African Champions. Come on Harambee Stars.

Malawi Starting 11:
Goalkeeper: Owen Chaima
Defenders: Moses Chavula, Harry Nyirenda, James Sangala, Limbikani Mzava
Midfielders: Joseph Kamwendo, Douglas Chirambo, Robert Ng'ambi, Fischer Kondowe
Strikers: Atusaye Nyondo, Zicco Mkanda
Subs: Richard Chipuwa, Peter Wadabwa, Young Chimodzi Jnr, Ndaziona Chatsalira (In for Douglas Chirambo 25′, Chimango Kayira, Lucky Malata, Gabadinho Mhango (In for Atusaye Nyondo 59′)
Namibia Starting 11: Vries, Hoaseb, Ngatjizeko, Mwandihanga, Da Costa, Botes, Shipahu, Kariombi, Ketjijere, Bester, Starke
Subs: Subeb, Horaeb, Stephanus (in for Bester 62′), Emilio, Bantam, Urikhob (In for Shipahu 85′), Petrus (In for Starke 55′), Tjiueza, Lombard

Live Scores:
Congo 1:0 Gabon (Full Time)
Cameroon 2:1 Togo (Full Time)
Nigeria 1:1 Kenya (Full Time) – (Goal! Francis Kahata 39′; N. Oduamadi 90′ +3)
Namibia 0:1 Malawi (Full Time) – (Goaaaaaaaaaaaaaal! Gabadinho Mhango 70′)
Senegal v Angola (1700 GMT)
Ivory Coast v Gambia (1700 GMT)
Burkina Faso v Niger (1800 GMT)
Tunisia v Sierra Leone (1810 GMT)
South Africa v Central African Republic (1815 GMT)

Namibia lose 1-0 to Malawi – Namibia Sport
Malawi beat Namibia 1-0 in their FIFA World Cup qualifier at the Windhoek Independence Stadium on Saturday afternoon.
Substitute Gabadhini Mhango scored the winning goal midway through the second half when he fired home a cross by Fisher Kondowe.
It was a poor performance by Namibia who looked disjointed and out of sorts, while chances were few and far between.
Malawi had the better chances, with Jamu Ngatjizeko clearing a shot off the line, while Namibia hardly had any of note.
Here is the Live Commentary of the match:
16:58 
We have kickoff
17:06 
Starke sent flying but ref waves play on. Crowd dont like that!
17:11 
Fisher Kondowe nearly scores after passing Jamu in box but shoots just wide
17:14
 Shipahu counterattack to Bester but its cleared. Nam freekick but Kaimbi blasts over
17:16
 Bester cross to Botes who collides with Chaima
17:21 
Nam 25m freekick but Starke curls it over
17:25 
Douglas Chirambo off Ndaziona Chatsalira on
17:26
 Defensive mixup between Vries and Angula but Ketjijere clears
17:30
 Good run by Starke wins a corner. Calls for handball turned down
17:35
 Shipahu good run does a 1-2 with Botes but passes again and no one is there. He should have taken a shot there!
17:39
 Cracker by Bester flies over!
17:40
 Close! Fisher Kondowe shot cleared off line by Jamu
17:44
 Starke shot blocked by Owen Chaima. Botes tries bicycle kick on rebound but it doesnt work.
17;45
 Thats halftime its 0-0
18:03
 2nd half starts
18:06
 Kaimbi good run but cross cleared
18:08
 Starke corner Mwedihanga header saved
18:12
 Starke off Shitembi on
18:13
 Zicco Mkanda shot saved
18:18
 Shitembi shot goes over
18:21 
Shitembi shot blocked
18:26
 Malawi quick counter and Fisher Kondowe shoots over
18:27
 Goal!!!!!!!!!!!!!!!!!!!!!! Gabadhini Mhango scores from Fisher Kondowe cross
18:32
 Awilo shot saved
18:36
 Haoseb freekick into wall
18;41 
Urikhob on for Shipahu
18:51
 And thats the final whistle Malawi win 1-0
Comments are closed