World Cup Brazil 2014 Qualifiers (CAF – 2nd Round) – Is it 2014 yet?
February 13th, 2013 | by: sscouser |

Comments(31)
The Super Eagles (Nigeria) are the AFCON 2013 Champions. Will they qualify for the World Cup Brazil 2014? "There are teams such as Malawi and Namibia that could put the spanners in our works. We need to be cautious," Nigeria Coach Keshi told the media on Sunday. Be afraid, be very afraid.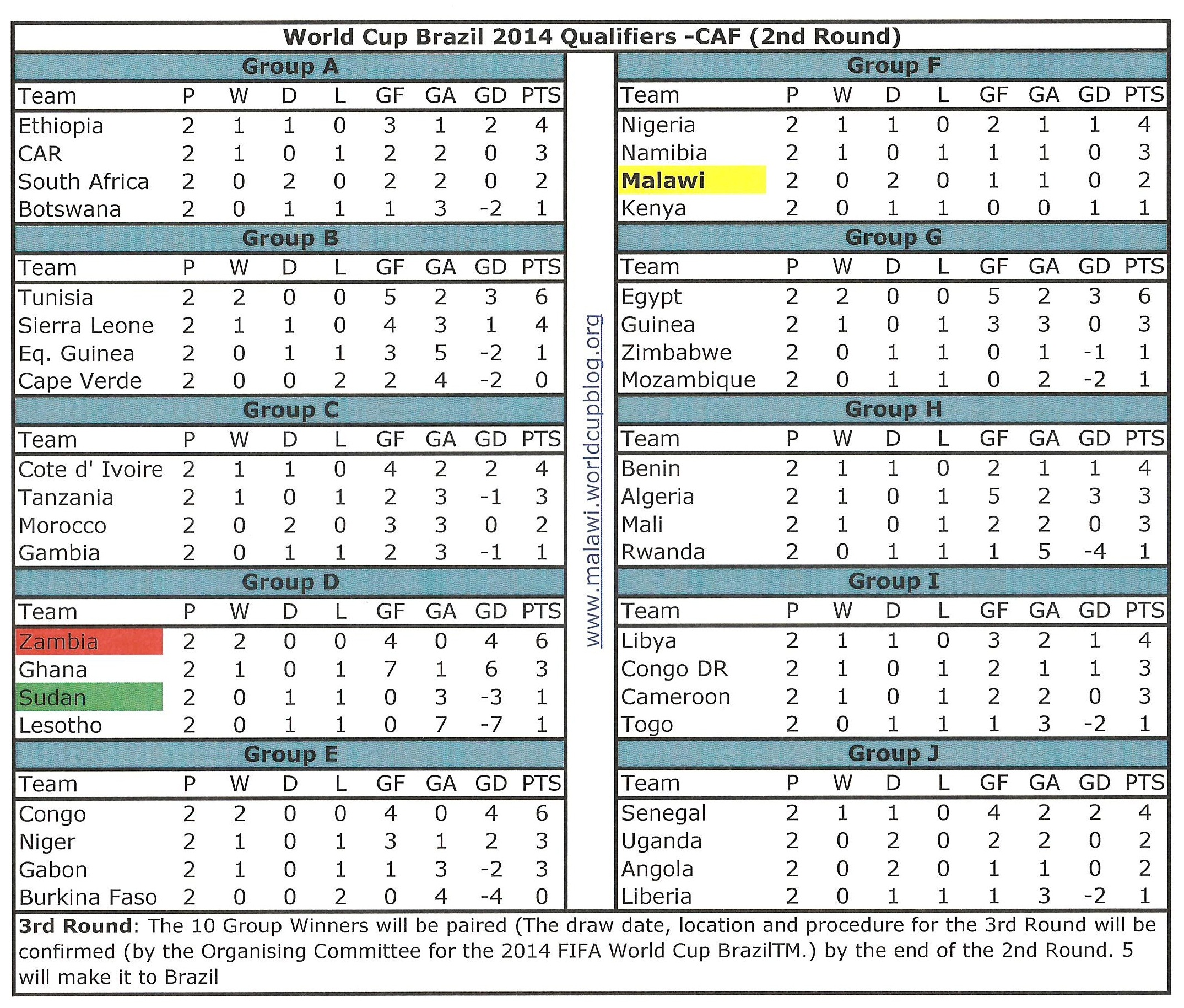 Click here for Match 1 Results
Click here for Match 2 Results
Match 3 Fixtures (22-26 March 2013)
Group A: South Africa vs C.A.R.; Ethiopia vs Botswana
Group B: Tunisia vs Sierra Leone; Eq. Guinea vs Cape Verde
Group C: Côte d'Ivoire vs Gambia; Tanzania vs Morocco
Group D: Ghana vs Sudan; Lesotho vs Zambia
Group E: Burkina Faso vs Niger; Congo vs Gabon
Group F: Namibia vs Malawi; Nigeria vs Kenya
Group G: Egypt vs Zimbabwe; Mozambique vs Guinea
Group H: Algeria vs Benin; Rwanda vs Mali
Group I: Cameroon vs Togo; Congo DR vs Libya
Group J: Senegal vs Angola; Liberia vs Uganda
1. Nigeria = 4 points (Nigeria 1:0 Namibia; Malawi 1:1 Nigeria)
2. Namibia = 3 points (Nigeria 1:0 Namibia; Namibia 1:0 Kenya)
3. Malawi = 2 points (Kenya 0:0 Malawi; Malawi 1:1 Nigeria)
4. Kenya = 1 point (Kenya 0:0 Malawi; Namibia 1:0 Kenya)

Remaining Fixtures:
22-26 March 2013: Namibia vs Malawi; Nigeria vs Kenya
07-11 June 2013: Malawi vs Namibia; Kenya vs Nigeria
14-18 June 2013: Malawi vs Kenya; Namibia vs Nigeria
06-10 Sept 2013: Nigeria vs Malawi; Kenya vs Namibia
By the way, FAM (Football Association of Malawi) fired Malawi National Team Coach Kinnah Phiri on 12 January 2013. Last week FAM appointed Bullets FC coach Eddington Ng'onamo as caretaker coach and also appointed former Malawi National Team players Earnest "Wire" Mtawali and Patrick "General" Mabedi as his assistants. The three are yet to be offered the contractual Terms Of Reference. FAM President Walter Nyamilandu knows that time is of the essence. The caretaker coaches need to be offered the TORs forthwith! "We cannot go beyond next week. We don't have enough time (to prepare for the match against Namibia)."
The Flames' last match was a friendly against South Africa on 12 December 2012.
In his acceptance speech, FAM President Walter Nyamilandu promised to deliver on his campaign promises including: "I have a vision, I am visionary. When I announced in 2004 that Malawi will go either to the World Cup / 2010 Africa Cup of Nations people said I was dreaming. Today Am coming up again with another vision. Malawi can go to the World Cup in 2014…."
YES WE CAN?
Here is a poll:

Subscribe

Malawi World Cup Team Blog RSS Feed

Share
Comments

February FIFA Ranking:
AFCON finalists leave their mark
FIFA.com (14 February 2013)

The February edition of the FIFA/Coca-Cola World Ranking is dominated by the CAF Africa Cup of Nations in South Africa. By claiming their third title, Nigeria (30th, up 22) have not only ended a 19-year drought since they last won the tournament, but have also climbed 22 places to 30th – their best ranking since August 2010 – while beaten finalists Burkina Faso (55th, up 37) have moved up a massive 37 places to 55th. Hosts South Africa (60th, up 25) have also enjoyed a significant leap of 25 places.

Although former Africa Cup of Nations winners Côte d'Ivoire (12th, up 2) bowed out at the quarter-final stage, last year's runners-up have achieved their best-ever world ranking (12th). However, the Elephants have not made it into the top ten, where Spain (1st, unchanged) continue to reign supreme ahead of Germany (2nd, unchanged) and Argentina (3rd, unchanged). England (4th, up 2) complete the top four after their home win over Brazil.

The first matches of the latest round of CONCACAF qualifying matches for the 2014 FIFA World Cup Brazil™ have resulted in improved rankings for nearly all of the teams involved, with Panama (42nd, up 4), Honduras (51st, up 8), Costa Rica (53rd, up 13) and Jamaica (56th, up 2) all making progress once again. Only the USA (32nd, down 4) have fallen in the ranking. Olympic champions Mexico remain in 15th place despite their goalless draw against Jamaica in the Aztec Stadium.

Venezuela (45th, up 10) have returned to the top 50, which now contains all ten CONMEBOL teams.

The next FIFA/Coca-Cola World Ranking will be published on 14 March 2013.
Top 10 (CAF)
1) Cote d' Ivoire (World = 12; CAF = 1)
2) Ghana (World = 19; CAF = 2)
3) Mali (World = 25; CAF = 3)
4) Nigeria (World = 30; CAF = 4)
5) Algeria (World = 35; CAF = 5)
6) Tunisia (World = 42, CAF = 6)
7) Zambia (World = 47; CAF = 7)
8 ) C.A.R (World = 51; CAF = 8 )
9) Burkina Faso (World = 55; CAF = 9)
10) South Africa (World = 60; CAF = 10)
…
Uganda (World = 84; CAF = 21)
Malawi (World = 113; CAF = 31)
Botswana (World = 138; CAF = 38)

sscouser 2e says that suspensions are carried over to fifa competition.

Moses, did you read this?:
38 Carrying over match suspensions
1. As a general rule, every match suspension (of players and other persons) is carried over from one round to the next in the same competition.
2. Match suspensions in relation to an expulsion pronounced on a player outside of a competition (separate match[es]) or not served during the competition for which they were intended (elimination or the last match in the competition) are carried over as follows:
…
Was the Sudan player suspended in relation to an expulsion pronounced on him outside of AFCON 2012 (separate match[es])?
Wasn't the suspension applicable only to AFCON Matches and/or the matches of any another competition organised by CAF?
AFCON Regulations:

36.1. For the Preliminary and final tournament (AFCON), a player who receives two cautions shall be automatically suspended from playing the following match. This automatic suspension shall be communicated by the Secretariat to the Associations concerned.
36.2. The cautions received during the matches of the Preliminary tournament shall not be taken into account for the matches of the Final tournament. At the end of the first phase of the final tournament (group matches), all cautions received shall be cancelled for the rest of the competition. Nevertheless, a player having collected two yellow cards will sustain the one match suspension.
36.3.- A player expelled from the field by the referee is automatically suspended for the following match in the framework of the same competition (AFCON), without prejudice to other sanctions that might be imposed upon him subsequently.
If the FIFA Appeals committee rejected the appeal based on 38-2(e), then someone is slacking somewhere.
35 Centralisation of sanctions
1. Records of cautions, expulsions and match suspensions are stored in the central computer system of FIFA. The Disciplinary Committee secretary confirms them in writing to the association or club concerned or, in the case of final competitions, to the head of the delegation concerned.
2. This communication serves only as confirmation: sanctions (cautions, expulsions, automatic match suspensions) have an immediate effect on subsequent matches even if the letter of confirmation reaches the association, club or head of delegation concerned later.
3. To ensure that the relevant records are complete, the confederations shall inform FIFA of all sanctions that have been pronounced during their own competitions and are likely to be carried over to a FIFA competition (cf. art. 38 par. 2) or future competitions organised by the confederations.
"SFA (SUDAN FA) confirms they did not receive verbal or written notice by FIFA or CAF preventing him (Saifeldin Ali Idris from involving the player in the mentioned game," Sudan FA said in a statement in October 2012.
Posted from
United States

Ethiopia will be winners of group A. Come on Ethiopia.

@Ben Mulenga
4. In no case may match suspensions resulting from several cautions issued to a player in different matches of the same competition be carried over to another competition.
It doesn't get any clearer than this, does it?

The Ugandan…, "Ali had been sent off for receiving two yellow cards when Zambia beat the Sudanese in their Cup of Nations quarterfinal in February (AFCON Gabon/Equatorial Guinea 2012)"
AFCON Gabon/Equatorial Guinea 2012 1/4 Finals: Sudan's hopes of an upset at a near-deserted Estadio de Bata slipped away when defender Saifeldin Ali Idris was sent off in the 65th minute (the ref first produced a yellow then red card) for a reckless foul on Rainford Kalaba that led to Katongo's spot kick.
Several other reports are stating that Ali got the first yellow on munite 36. However, the CAF match report is showing that the yellow card on minute 36 was to Ahmed M. Hamouda K. The report also states that Ali received two yellow cards. When did he receive the first yellow card? Minute 34?
Sudan, forget it!

Sudan's argument is that they were not informed that the player was ineligible to play.

I voted second round group rankings. Group A winners should play against Group J winners, Group B winners should play against Group I winners. Group C winners should play against Group H winners and so on

@Gabie, I like your suggestion.

Pat, the player warned the Sudan FA: "I told the technical staff that I can't play in the Zambia match after I got the red card in the last AFCON match but they told me that I would play against Zambia because CAF did not notify them that I was banned."
The Sudan FA should have contacted CAF/FIFA before the match. Better safe than sorry.
Again, sanctions (cautions, expulsions, automatic match suspensions) have an immediate effect on subsequent matches even if the letter of confirmation reaches the association, club or head of delegation concerned later. Match suspensions not served during the competition for which they were intended (elimination or the last match in the competition) are carried over as follows: e) confederation competitions for representative teams: carried over to the representative team's next official match in a competition organised by FIFA;
Gabie, or Winners A vs B, C vs D, E vs F, G vs I, H vs J. Cote d' Ivoire or Ghana/Zambia wouldn't make it. I think they will use FIFA ranking.
The Ugandan…Uganda, will not even finish 2nd in Group J. Speaking of Uganda, Ugandan players are flocking to Kenya. The new South Africa?
And it seems even the Uganda coach will follow suit. The Kenya FA is looking for the Harambee Stars (Kenya National Team) coach and it has shortlisted two coaches – Uganda Coach Bobby Williamson and Rwanda Coach Rwanda Milutin Sredojevic. According to FKF (Kenya FA) media officer John Kariuki.
"In case he wants to move then our contract with him will be key because he has to compensate us. He told us he has never had any contact with Kenya, but if he decides to move, then that is his choice" – Uganda FA spokeman Rogers Mulindwa as quoted by MTN.

FIFA launches GLT tender for Brazil 2013/14
After a successful implementation of Goal-Line Technology (GLT) at the FIFA Club World Cup in Japan in December 2012, FIFA has decided to use GLT at the FIFA Confederations Cup Brazil 2013 and 2014 FIFA World Cup Brazil™.

The aim is to use GLT in order to support the match officials and to install a system in all stadia, pending the successful installation, and pre-match referee tests.

With different technologies on the market, FIFA has launched a tender today, setting out the technical requirements for the two forthcoming competitions in Brazil.

The two GLT providers already licensed under FIFA's Quality Programme for GLT, and other GLT providers currently in the licensing process (that must have passed all relevant tests as of today) are invited to submit tenders.

Interested GLT companies will be invited to join an inspection visit to the Confederations Cup venues, currently scheduled for mid-March, with a final decision due to be confirmed in early April.
"The referees had a full training with the system yesterday. We will make sure that they know how to use the technology. 90 minutes before each game, the referee will test the system. Based on his test, he will decide whether or not it will be used. This is the way it will be forever. The referee makes the final decision. If he has a doubt, for any reason, he has the right to not use it. The referee is the most important person in this process." – FIFA Secretary General Jérôme Valcke (speaking at a press conference held on 5 December 2012 at the Ritz-Carlton Tokyo following a meeting of the Organising Committee for the FIFA Club World Cup Japan 2012)

Amrouche new Kenya boss
Football411 (20 Feb 2013)
Adel Amrouche is officially the Kenya coach and plans to rebuild the Harambee Stars in to a force on the African continent.
The former Equitorial Guinea and Burundi manager takes over from Frenchman Henry Michel, who was at the helm for the 2013 Africa Cup of Nations.
AFCON-winning Nigeria coach Stephen Keshi admonished African countries that appoint European coaches, and Amrouche agrees with his Super Eagles counterpart.
"I totally agree with Keshi's sentiments as we have so many foreign coaches who come to Africa to only make quick money but they don't have the passion for the teams they are coaching that is why you see different coaches trying only staying in their post for few months," he told SuperSport.
"The Kenyan job was vacant but you could see some foreign coaches who are already in different positions in neighbouring countries also applied for the job which is greed and hypocrisy as they have shown lack of commitment to the teams they coach.
"My short term plan is to create a conducive atmosphere in the team by ensuring communication between me, the players and the federation as I believe it's important to have a rapport with the players as I want on team, one philosophy, one spirit and one family.
"My long term plan is to effectively rebuild a new team with creativity, character, and new conception and to have a new crop of players who will be at the same level with the professional players .I want to use the experience of professional players and give it back to the local players to excel.
"I want to go round the country. I want to build a Kenyan team beyond ethnicity and to ensure that anybody that has got talent can be given a chance to prove themselves at the highest level as we want more and more Wanyama's ,Oliech's and Origi's in the team.
"I want to choose quality and I am not scared to take a player from a small team as long as he has the talent that can help the national team some of them will also be used in the youth teams."
Kenya face Nigeria in a 2014 World Cup qualification match in March and Amrouche says they will be prepared for the African champions.
The Harambee Stars have only one point while the Super Eagles leads Group F with four.
Namibia and Malawi follow the group leaders with three and two points respectively.
Amrouche added: "The game against Nigeria will be like any other match and I believe it's only a foolish coach that would instil fear to his players ahead of a crucial match.
"I respect Nigeria and I even sent Stephen Keshi a congratulatory message but as a coach my philosophy is always to win."
Kenya names Amrouche as new coach
cafonline (21 February 2013)

Kenya has appointed former Algerian international Adel Amrouche as their national football coach to take over from Frenchman Henri Michel whose contract was terminated in December. The 44-year-old naturalised Belgian, who quit his five-year stint as manager of Burundi after the team lost 2-1 to Zimbabwe in qualifying for the 2013 Africa Cup of Nations a year ago, beat out 20 other applicants for the vacant job.

"Maybe the Football Kenya Federation (FKF) did not pick a big name, but I can assure you they have picked a hard worker – someone who can change the face of Kenyan football and is ready to open doors of opportunity for Kenyan footballers everywhere in the world," said Amrouche at a news conference.

"I have followed Kenyan football for quite sometime now and I believe it is time for a new approach for the future so that we can make Kenya one of the big names in the continent and in the world," he added.

Amrouche said his immediate task was to prepare the Harambee Stars for the 2014 World Cup qualifying match against newly-crowned African champions, Nigeria in Calabar on March 23.

"My mission with Kenya is to win the qualifiers for both the 2014 World Cup and 2015 Africa Cup of Nations. It is a big challenge but I want to write my name in African football," said Amrouche, who has also coached Equatorial Guinea and managed a number of Algerian clubs.

I suspect that FIFA, more specifically IFAB signed off on the GLT Tech after Lampard's goal was disallowed in SA 2010.
There will still be controversy. It's part of the game.
I just pray and hope the Uganda Cranes benefit from it in Brazil 2014.

The Ugandan…,
…

Despite widespread support for the use of goal-line technology, UEFA president Michel Platini has repeatedly stated his opposition. In December, in light of the trials at the Club World Cup, he had said it was an unnecessary expense.

"I prefer to give €50 million to grassroots than goal-line technology for perhaps one or two goals a year," he said then. "If the goal-line referee is one metre from the line and he has good glasses, he can see whether the ball is inside or not."

He has also expressed the view that technology should not be introduced until it can cover all aspects of the game.

At the 2012 European Championship, the officials had failed to spot that Marko Devic's shot had crossed the line before being cleared by John Terry in a match between Ukraine and England, yet there had been an offside in the build-up.

"The goal between England and Ukraine: it was a goal," Platini said in June. "It was a mistake from the referee, but there was an offside before then. If the officials had given offside there wouldn't have been a goal, so why don't we have technology for offside decisions as well? Where does it stop?"

He added: "If tomorrow someone handballs it on the line and the referee doesn't see it, what then? We can't just have goal-line technology. We also need sensors to see if someone has handballed it. We need cameras to see if it should be a goal or not."
"I suspect that FIFA, more specifically IFAB signed off on the GLT Tech after Lampard's goal was disallowed in SA 2010." – The Ugandan…
There were other controversial calls after World Cup South Africa 2010. Remember Chelsea's 2–1 victory over Tottenham in 2011?
Frank Lampard hit a shot just before halftime that slipped through the legs of Tottenham's goalkeeper Heurelho Gomes, and almost crossed the line before being tipped back into play, however the assistant called for a goal and Chelsea tied the game. Chelsea were credited with another goal that did not cross the line against the same opponents in the 2012 FA Cup semi-finals, leading again to calls for goal-line technology.

I'm not afraid of Nigeria – Kenya coach
The Tribune (22 February 2013)

Newly-appointed Harambee Stars Coach Adel Amrouche says he is not afraid of Nigeria.

Kenya will face the Super Eagles in the first leg match of the 2014 World Cup qualifier on March 23, in Calabar.

Speaking during his unveiling ceremony at the Boulevard Hotel, the Algerian-born tactician said he is up to the task.

"Nigeria match is not yet. But the motivation is normally there when you play against Nigeria. It's a big game, whether for qualification or not.

"The first thing is to build our team and that will start by communicating with players, build our philosophy, conception and change their spirit, mentality push them to work extra harder."

Asked whether he will cope with fans' demand to produce instant results, Amrouche said

"This is a problem not only in Kenya, but also in the continent. Don't believe and rely always on what people say, when you don't work with passion you cannot achieve results.

"I said it before, I don't have a big name, but the first thing is to work and I want to write my name in Africa. If you don't love your players and place of work, forget about the results.

"All of us are behind same country called Kenya. If you play against 'we' you are not a Kenyan," he insisted.

Kenya are at the bottom of Group F with one point, three points behind leaders Nigeria

Michel Platini is right on this one.
@Sccouser, I don't think that IFAB give a damn about Chelsea or Tottenham unless they are fans or have close associations to these clubs.
How many other teams have had these same issues with no changes. However, the moment the issue affects a British international team, IFAB will perk up.
Posted from
United States

The Ugandan…, Platini is right on which one? That Goal-line technology is unneccessary expense? That we also need sensors to see if a player has handled the ball? …
"@Sccouser, I don't think that IFAB give a damn about Chelsea or Tottenham unless they are fans or have close associations to these clubs."
Interest was ignited in the United Kingdom after a game between Manchester United and Tottenham Hotspur in January 2005, in which Tottenham midfielder Pedro Mendes hit a shot 55 yards from goal. United goalkeeper Roy Carroll caught the ball and then dropped it at least a yard over the line before hitting it back out, but neither the referee nor the linesmen saw the ball cross the line. In response to this, FIFA decided to test a system by Adidas in which a football with an embedded microchip would send a signal to the referee if it crossed a sensor going through the goal. According to FIFA president Sepp Blatter: "We did different tests at the Under-17 World Cup in Peru but the evidence wasn't clear so we will carry out trials in junior competitions in 2007″. However, those trials did not materialise and by 2008, Blatter had rejected the system outright, describing the technology as 'only 95% accurate'
Both the Hawk-Eye and GoalRef systems inform referees the ball has crossed the goal-line in a split second via a vibrating wristwatch flashing the word "GOAL".
"United goalkeeper Roy Carroll caught the ball and then dropped it at least a yard over the line before hitting it back out, but neither the referee nor the linesmen saw the ball cross the line"
We expect the same match officials to notice a vibrating wristwatch flashing the word "GOAL"?

Now this makes me feel better.
FIFA to allow fans to see goal-line tech decisions
AP (1 March 2013)

EDINBURGH, Scotland (AP) — FIFA is willing to allow goal-line technology decisions to be shown to fans on big screens in stadiums and television viewers.

In a document to be assessed by soccer's rule-makers on Saturday, FIFA has reversed its previous stance that referees could be undermined if the results from the high-tech aids were revealed.

FIFA will allow leagues, such as the MLS, to decide whether to use replays that are shown to fans. However, referees will have the power to ignore the goal-line decisions.

"The question of whether and how replays are shown on TV or on an LED screen in a stadium should be one of the first discussion points when starting the implementation of goal-line technology in a competition," says a FIFA document on the implementation of goal-line technology. "FIFA recommends involving referees in this discussion as well, due to the fact that the main objective of GLT (goal-line technology) is to support and protect the referee."

Goal-line technology had divided meetings of soccer's rule-making panel for years until FIFA President Sepp Blatter reversed his opposition and it was officially sanctioned last July.

The International Football Association Board annual meeting returns to Scotland on Saturday for its first visit since it decided five years ago that the sport should be free of non-human intervention in decision-making.

The big decisions will now center on which goal-line technology systems to use.

As FIFA's leadership was arriving in Edinburgh, the organization announced on Friday that a fourth system had been licensed. GoalControl-4D, which uses seven high-speed cameras aimed at each goalmouth, joins another camera-based system, Hawk-Eye, and two other projects – GoalRef and Cairos – which use magnetic field technology to judge if the ball crossed the line.

All four systems meet FIFA's requirement that a signal is transmitted to the referee's watch within one second if a goal should be awarded.

Hawk-Eye and GoalRef were approved last year and used at the Club World Cup in Japan in December. FIFA has invited tenders for selection to be used at the Confederations Cup in Brazil in June and the 2014 World Cup.

Domestic competitions are also racing to introduce technology, with the Premier League on course for systems to be installed by the new season in August.

But FIFA also disclosed in its latest document that referees harboring doubts about the accuracy of technology in a particular stadium can decide up to 45 minutes before kickoff to switch it off.

"If the referee check does not satisfy the referee (i.e. the technology fails one or more tests), the referee must reject the use of the GLT system for the relevant match," FIFA says.

IFAB, which comprises officials from FIFA and the four British football associations, will consider clarifying the contentious offside rule.

FIFA is proposing that an attacker should be considered offside when "gaining an advantage by being in that position," including receiving the ball from a rebound or deflection from the goal frame or a player in the defending team attempting a tackle, block or save.

However, an attacker should be allowed to play on when receiving a deliberate pass, such as a back pass, from the defending team.

The IFAB panel also will consider closing a loophole on uncontested dropped balls after a contentious goal in a Champions League match in November.

Ignoring the unwritten code of sportsmanship, Shakhtar Donetsk forward Luiz Adriano chased a long kick following an uncontested drop ball and scored against Nordsjaelland, whose injured player had forced play to be stopped.

IFAB will consider amending the rules to ensure that a goal cannot be allowed if one team expecting to receive the ball after an uncontested drop has not touched it.

The panel will be asked to approve trials of an electronic chip in players' shirts, which could potentially warn of medical problems.

Electronic communication between players and staff is currently banned, but the importance of safeguarding players' health was highlighted last March when Bolton player Fabrice Muamba had a cardiac arrest during a match in England. Muamba recovered but was forced to retire.

"Chips can monitor heart performance, distance run, changes in a person's body function," said Stewart Regan, chief executive of the Scottish FA.

Sudan lose appeal to Cas over match forfeited to Zambia
BBC Sport (5 March 2013)

Sudan have lost an appeal against Fifa's decision to overturn their 2-0 World Cup qualifying victory over Zambia in June and award a 3-0 win to their opponents.

The ruling by the Court of Arbitration for Sport (CAS) means Zambia go top of Group D in the second round of the African qualifiers for Brazil 2014.

Fifa had found Sudan guilty of fielding an ineligible player in the match.

Saif Ali was included in the team despite being suspended.

He scored the second goal despite having been sent off in their previous competitive game.

Cas rejected Sudan's argument they had not been "properly informed" of Saif Ali's suspension from the match.

The player was dismissed in the African Nations Cup quarter-finals, coincidentally against the same opponents, the previous February.

"The Confederation of African Football had indeed informed the Sudan Football Association (SFA) the player … would be suspended during the next official match of the national team," said Cas.

"Following the sending-off of the player during the last match of the African Nations Cup, the SFA couldn't be unaware of the fact the player was suspended and, in the case of doubt, it should have confirmed the player's eligibility."

Zambia, who beat Ghana 1-0 in their other match, go top of the group with six points from two games.

Ghana, Africa's best performers in the 2010 World Cup when they reached the quarter-finals, are three points behind while Sudan are level with Lesotho on one point.

we will not allow that missile throwing nation win our group. they must be high of marijuana and their altitude to think they gone win this one. lol.
Posted from
Malaysia

But you will let C.A.R or South Africa win your group? How the mighty Zebras have fallen!

AFCON 2015 draw to be held in the beginning of 2014
cafonline (10 March 2013)

…

The draw for the qualifying stages of the Orange AFCON 2015 will take place either in January or in the beginning of February 2014 in South Africa in line with the 3rd African Nations Championship. The following format was agreed upon:

A preliminary round composed of 10 teams who will each go head-to-head against one another in 2-leg matches. The 5 qualifying teams will then join the other 43 teams to form 12 groups of 4 teams. The winner from each group will qualify for a place in the final tournament in Morocco along with the 3 best second placed teams.

For the preliminary round, the CAF will make use of the FIFA rankings. As for the group stages, the CAF rankings shall be used as reference.

…
Will Uganda and Botswana make it?
By the way, Cameroonian Issa Hayatou has been re-elected unopposed as Confederation of African Football (CAF) president for a final four-year term in office. The 66-year-old, who was voted into power in 1988, has already said this seventh term will be his final period as head of the organisation.

Tanzanian FA given warning by Fifa
BBC Sport (13 March 2013)
Tanzania has been warned by world governing body Fifa over alleged government interference in the country's football federation.
"We can confirm that Fifa secretary general Jerome Valcke has sent a letter to the president of the Tanzanian Football Federation, Leodegar Tenga, concerning alleged governmental interference in the internal affairs of the TFF," said Fifa in a statement.
"Fifa is in contact with the TFF president who is optimistic that the matter can be sorted out between TFF, Fifa and the Tanzanian authorities.
"Furthermore, we can confirm that Fifa is also planning to send a mission to assess the situation with regard to the electoral process as soon as the current matter of alleged interference has been clarified."
Tanzanian media said that the government has declared the TFF's new statutes illegal and told it to use the old ones for upcoming elections.
Fifa statutes state that its member associations must remain independent of their respective national governments and routinely suspends those who break the rules.
Suspension for Tanzania would mean that they would be excluded from the 2014 World Cup qualifiers and their clubs would be kicked out of African competitions.
Tanzania, who have never qualified for the World Cup, are second in African qualifying Group C with three points from two games, one behind leaders Ivory Coast.

ETHIOPIA vs BOTSWANA
Referee: Redouane JIYED (MAR)
AR1: Mohamed LAHMIDI (MAR)
AR2: Mouhib FILALI (MAR)
4th Official: Hicham TIAZI (MAR)
SOUTH AFRICA vs CENTRAL AFRICA
Referee: Ali KALYANGO (UGA)
AR1: Balikoowa NGOBI (UGA)
AR2: Hussein BUGEMBE (UGA)
4th Official: Denis BATTE (UGA)
TUNISIA vs SIERRA LEONE
Referee: Mal MOHAMADOU (CMR)
AR1: Pierre ENYEGUE (CMR)
AR2: Joseph LAMBI (CMR)
4th Official: Mandeng COSMAS (CMR)
EQUATORIAL GUINEA vs CAPE VERDE
Referee: Mahamadou KEITA (MLI)
AR1: Balla DIARRA (MLI)
AR2: Drissa NIARE (MLI)
4th Official: Ousmane KAREMBE (MLI)
IVORY COAST vs GAMBIA
Referee: Eric OTOGO-CASTANE (GAB)
AR1: Theophile VINGA (GAB)
AR2: Jean ENGONE (GAB)
4th official: Yves ROPONAT (GAB)
TANZANIA vs MOROCCO
Referee: Helder MARTINS DE CARVALHO (ANG)
AR1: Inacio MANUEL CANDIDO (ANG)
AR2: Ricardo DANIEL (ANG)
4th Official: Antonio MUACHIHUISSA (ANG)
LESOTHO vs ZAMBIA
Referee: Malang DIEDHIOU (SEN)
AR1: Moussa DIAKHATE (SEN)
AR2: Ababacar SENE (SEN)
4th Official: Ousmane FALL (SEN)
GHANA vs SUDAN
Referee: Anthony RAPHAEL (MWI)
AR1: Jones CHIMEZA (MWI)
AR2: Clemence KANDUKU (MWI)
4th Official: Dennis NGULUWE (MWI)
CONGO vs GABON
Referee: Bakary GASSAMA (GAM)
AR1: Angesom OGBAMARIAM (ERI)
AR2: Felicien KABANDA (RWA)
4th official: Sheriff NJIE (GAM)
BURKINA FASO vs NIGER
Referee: Noumandiez DOUE (CIV)
AR1: Songuifolo YEO (CIV)
AR2: Jean Claude BIRUMUSHAHU (BDI)
4th Official: Abou COULIBALY (CIV)
NIGERIA vs KENYA
Referee: Joshua BONDO (BOT)
AR1: Meshack MEDUPI (BOT)
AR2: Moemedi MONAKWANE (BOT)
4th official: Kutlwano LESO (BOT)
NAMIBIA vs MALAWI
Referee: Med KORDI (TUN)
AR1: Bechir HASSANI (TUN)
AR2: Mohsen BEN SALEM (TUN)
4th official: Nasrallah JAOUADI (TUN)
EGYPT vs ZIMBABWE
Referee: Badara DIATTA (SEN)
AR1: Djibril CAMARA (SEN)
AR2: Serigne TOURE (SEN)
4th Official: Daouda GUEYE (SEN)
MOZAMBIQUE vs GUINEA
Referee: El Fadil MOHAMED (SDN)
AR1: Waleed AHMED (SDN)
AR2: Mohammed HAMID (SDN)
4th Official: Mutaz KHAIRALLA (SDN)
RWANDA vs MALI
Referee: Hamada NAMPIANDRAZA (MAD)
AR1: Velomanana JINORO (MAD)
AR2: Pierre ANDRIVOAVONJY (MAD)
4th Official: Abdoul KANOSO (MAD)
ALGERIA vs BENIN
Referee: Rajindraparsad SEECHURN (MRI)
AR1: Vivian VALLY (MRI)
AR2: Akhtar ROSSAYE (MRI)
4th Official: Parmendra NUNKOO (MRI)
DR CONGO vs LIBYA
Referee: William AGBOVI (GHA)
AR1: Malik SALIFU (GHA)
AR2: David LARYEA (GHA)
4th Official: Cecil FLEISCHER (GHA)
CAMEROON vs TOGO
Referee: Djamel HAIMOUDI (ALG)
AR1: Redouane ACHIK (MAR)
AR2: Hamza HAMMOU (ALG)
4th official: Mokhtar AMALOU (ALG)
LIBERIA vs UGANDA
Referee: Mohamed FAROUK (EGY)
AR1: Sherif HASSAN (EGY)
AR2: Tamer DORRY (EGY)
4th Official: Yasser YOUNIS (EGY)
SENEGAL vs ANGOLA
Referee: Neant ALIOUM (CMR)
AR1: Evarist MENKOUANDE (CMR)
AR2: Peter EDIBI (NGA)
4th official: Antoine EFFA (CMR)

Nigeria won the Afcon 2013 by mere fluke , so I am not suprise by thire result against Kenya
Comments are closed